Review: Cherish Hard by Nalini Singh
I received this book for free in exchange for an honest review. This does not affect my opinion of the book or the content of my review.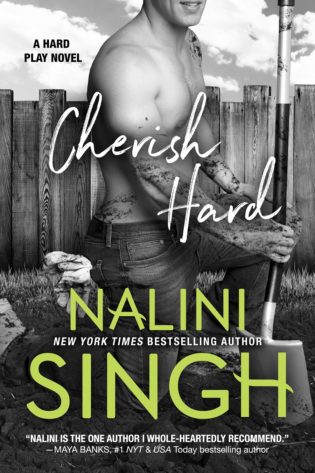 Cherish Hard
by
Nalini Singh
Series:
Hard Play #1
Published by
TKA Distribution
on 14 November 2017
Genres:
Contemporary
,
Romance
,
Romantic Comedy
Pages:
372
Format:
eARC
Source:
the Author
Buy on Amazon US
, 
Buy on Amazon UK
, 
Buy on Kobo
, 
Buy on itunes
, 
Buy on B&N

New York Times bestselling author Nalini Singh kicks off her new Hard Play contemporary romance series with a sizzling story that'll leave you smiling…
Sailor Bishop has only one goal for his future – to create a successful landscaping business. No distractions allowed. Then he comes face-to-face and lips-to-lips with a woman who blushes like an innocent… and kisses like pure sin.
Ísa Rain craves a man who will cherish her, aches to create a loving family of her own. Trading steamy kisses with a hot gardener in a parking lot? Not the way to true love. Then a deal with the devil (aka her CEO-mother) makes Ísa a corporate VP for the summer. Her main task? Working closely with a certain hot gardener.
And Sailor Bishop has wickedness on his mind.
As Ísa starts to fall for a man who makes her want to throttle and pounce on him at the same time, she knows she has to choose – play it safe and steady, or risk all her dreams and hope Sailor doesn't destroy her heart.
This was such a sweet and adorable romance! I had been eagerly waiting for the next Esera/Bishop book ever since reading Rock Hard which is one of favourite contemporaries, it's just so beautifully written and the couple is amazing so when I heard that Sailor would be getting his book next my excitement couldn't be contained.
Sailor Bishop, brother to Gabriel Bishop (Rock Hard) is a Gardner and like his brother, his childhood has made him the man he is. His biological fathers' behaviour had left a mark on him and made him determined to be the opposite to the man he was. Sailor at 23 years of age has big plans for his future, is constantly working with the goal of achieving his dreams and doesn't really have time for a relationship. 
Ísalind 'Ísa' Rain is an english teacher, an heiress with a shark of a mother. Ísa wants nothing to do with her mothers business and she wouldn't have to if not for her siblings who desperately need her since her mother doesn't seem to care. Ísa at 28 years, really wants love, a family and is ready to settle down. 
I really enjoyed the light, low on angst vibe this book had. I mean there is angst but it's not like full on, it's mixed with romance and sweet moments that make you really root for the couple. I loved the tender moments we got between Ísa and Sailor. 
Sailor and Ísa had a playful relationship, despite their age difference they understood each other and wanted to be there for each other. I liked how the hurdles between them and their happy ending got resolved because it showed their willingness to be there for each other and making it work while not giving up on the person they want to be. I also loved that they didn't have to compromise themselves and their dreams. They were adorable together, Nalini Singh writes such beautiful romance which very easy to get lost into. 
I really liked that we get to actually know the characters, there moments separate from the romance, with their friends and family. It makes it easier to understand their motives and makes them feel more real in a sense.
We also had a bit of second romance going on between Ísa and Sailor's friends, they were also cute! Overall, a lovely and sweet romance with strong individuals who fall very hard for each other.  
I'm pretty excited for next book in the series!! Happy Reading!!
Related Posts