Review: Deadmen Walking by Sherrilyn Kenyon
I received this book for free in exchange for an honest review. This does not affect my opinion of the book or the content of my review.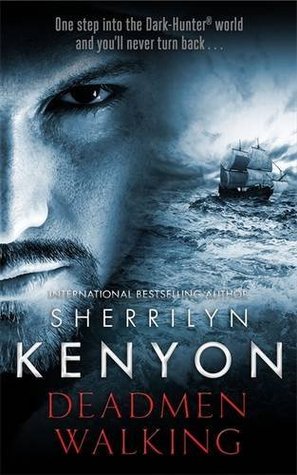 Deadmen Walking
by
Sherrilyn Kenyon
on 9th May 2017
Format:
ARC
,
Hardback
Buy on Amazon US
, 
Buy on Amazon UK
, 
Buy on Kobo
, 
Buy on itunes
, 
Buy on B&N
Hell hath no fury as a demon caged . . .
Centuries ago, a bitter war for humanity was fought and lucky for us, the Sons of Darkness were put down. Yet nothing lasts forever. When one of their most capable generals is unknowingly released from her infernal prison, Vine sets out to free her brethren and retake what was once theirs.
But things have changed, and now an old dalliance is her sworn enemy. Devyl Bane hasn't forgotten the betrayal that damned his soul, nor is he willing to forgo his one chance at redemption. With a new crew of Deadmen at his command, he is the last hope humanity has to close the cracked Carian Gate and ensure once and for all that the Cimmerian forces never again see the light of day. And nothing will stand in his way . . . this time.
Join Captain Bane and his crew . . .
Deadmen Walking is the first book in the Deadmen's Cross triology, a historical spin off from Dark-Hunter and the hell-hounds universe and Oh my this was such a great read and a fantastic start to the trilogy!
Captain Devyl Bane used to be an evil warlord and is currently the dead Captain of the ship, sailing of to save the gates that will unleash hell on earth if the gates open. The gates are keeping the evil and ancient gods bend on destruction and chaos. He and his crew made a pact with Thorn to protect the seas and keep the gates from opening. On their mission they end up picking up a human who seems to have strange medallion and wants to find her brother.  His ship, the sea witch happens to be the one woman who hates his existence probably about the same as his ex-wife, Marcelina. Bound together as they are in life, Mara and Devyl have a very complicated relationship spanning years and death.
It's such a surreal concept of having a ship that actually also a woman, a very powerful woman at that but it's done in a such a fantastic way that it makes sense. I really liked Mara and Devyl together, Devyl is a anti-hero and bit suicidal with his thoughts of getting back at his ex-wife but his behaviour and the love he felt only endeared him more to me (and to Mara). It's a classic tale of enemies to lovers apart from the fact they on quest to save humanity and are dead themselves 😛 .  Their relationship is pretty well developed and I really that we get to see how they met and how over the years the relationship had changed.
Most of the book is of course focused on Devyl and Mara's story but it also included multiple POV's from secondary characters  which made the story all the more interesting and of course gave perspective to different things in the book and moved the plot forward. I really liked Cameron, the human who gets aboard the Sea-Witch with all it undead crew members to search for her brother and Kalder (a very interesting guy) who will be getting his book next (CAN'T WAIT). All the crew members seem so interesting and the more we get to know about the more I wish they all get their happily ever afters.
I just loved the new paranormal creatures, lore and the new characters that were introduced. Honestly, Sherrilyn Kenyon is the best at creating new worlds and bringing them to life in such exciting ways and this book is no exception. I loved getting to know about who Devyl and Mara's people were and how their history was connected and it related to viking lore. 
It's full on ride from start to finish! A pirate romance, filled with epic adventures, fantastical creatures and an epic romance. What's not to love?!