Review: The Untamed Vampire by Kate Baxter
I received this book for free in exchange for an honest review. This does not affect my opinion of the book or the content of my review.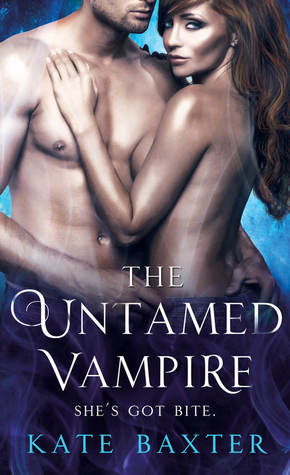 The Untamed Vampire
by
Kate Baxter
Published by
St. Martin's Paperbacks
on May 2nd 2017
Genres:
Paranormal
,
Romance
Pages:
384
Format:
eARC
Source:
Netgalley
Buy on Amazon US
, 
Buy on Amazon UK
, 
Buy on Kobo
, 
Buy on itunes

WILD AT HEART
Chelle is not your typical vampire. Turned not with a bite but an age-old magic, she s the only one of her kind and more powerful than most. Still adjusting to her endless thirst and lethal fangs, she s desperate to discover what sets her apart. When she encounters a brutally virile alpha werewolf, she soon learns that she s not immune to the mating call and her own primal longing
The leader of the ancient Forkbeard pack, Gunnar is stunned by Chelle s lush beauty. The wild wolf inside him howls for her, but unions between vampire and werewolf are strictly taboo even if their clans weren t on the verge of war. Desire has never been so dangerous but, as a malevolent new power rises, Chelle and Gunnar face an even more frightening threat. Together, they might find a way to save their clans. But can they claim their passion, in The Untamed Vampire by Kate Baxter.
"
Rating ~ 4.25 Stars 
This review was supposed to be up on release day but I didn't get much free time in the last few weeks to post it so without further ado here it is.
If anyone isn't aware PNR romance was first love so every time I find a great PNR book/series these days I consider it a gift because lately there haven't been that many newer pnr books being published (from what I see and if you know any good author please let me know).
One of my newer finds is the Last vampire series by Kate Baxter, it's has a very different and unique take on the whole vampire/dhampir lore along with the concept of mating and souls, it's very interesting and every book introduces a newer element that makes the story/world all the more exciting.
This time around it about a very special vampire Chelle that got created by accident and by magic instead of the usual bite. She is extremely powerful, perhaps giving the Vampire king a run for his money. However, being a vampire isn't something that she had wanted especially not one that doesn't know how to control her new and dangerous powers and is different from the rest of the vampires. Her mate, Gunnar happens to be the Alpha of an ancient wolf pack and a viking at that has enough on his plate already without a vampire mate thrown in the mix who also happens to be a thief.
Chelle wants answers and the only she thinks she will get them is by entering the Alexandria Library, theres only one teeny tiny problem, she only has one third of the key, finding the keys to the mystical Alexandria Library will be tough enough, getting them from their current owner even more and thrown in finding her mate and the uprising and power struggles happening in their world. Chelle would have to go through a lot to get those answers.
I really liked Chelle, I mean the woman is entertaining as hell. She's strong, vulnerable, loving and caring and could a pain in the ass (to Gunnar and her twin and probably the Kind) but loveable. I really enjoyed her finally accepting herself, her powers. Gunnar was also pretty likeable. He had finally found a mate but in the wrong species since Vampire and werewolf mating is forbidden which made everything in his life complicated.
Sparks fly and a body tackle happen when they meet for the first time. Gunnar and Chelle start of adversaries, with Chelle trying to steal from him. Finding out that there are mates is a shock to both of them of them. I really enjoyed them together, they had chemistry, enemies to lovers trope and thrown in the plot of betrayal, some fights, evil people eviling makes it a very enjoyable read.
I'm can't wait to know about more about the mysterious red headed fae and Saeed Almasi, the poor vampire who's going crazy and will have his own book ( The Lost Vampire, I believe it'll release in august).). I'm also pretty excited to more about Vanessa's seer abilities and how they will come into play in the future.