Short Review: Bear Attraction by Jennifer Ashely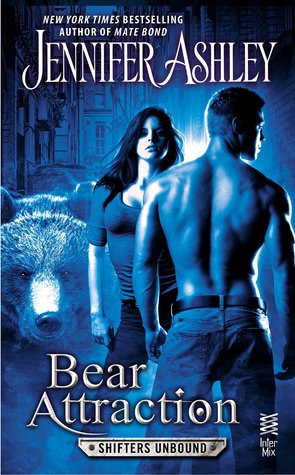 Bear Attraction
by
Jennifer Ashely
Series:
Shifters Unbound #6.5
Published by
InterMix
on February 17th 2015
Genres:
Fantasy
,
Paranormal
,
Romance
Pages:
167 pages
Format:
eBook
Jennifer Ashley's New York Times bestselling Shifters Unbound series continues as a shifter and a human are faced with the unexpected, undeniable pull of a bond.
As the military liaison between the human Shifter Bureau and Shiftertown, Walker is often stuck trying to appease both sides—and angering both. So when bear-Shifter Rebecca is captured taking a run in a restricted area, Walker comes up with a compromise: if Rebecca helps him find a missing woman—thought to have been abducted by a Shifter—she won't be charged and executed.
As a bear used to roaming for miles, Rebecca hates being confined, distrusts anything involving humans, and—worst of all—the strong and handsome Walker starts triggering her mating need. They have no choice but to work together but both Walker and Rebecca find it hard not to mix business with pleasure…
Review
I really enjoy this series, who doesn't love a good shifter story? This is novella length book about Walker Danielson (Human, military liaison between the human Shifter Bureau and Shiftertown) and Rebecca (an alpha bear-shifter). Both the characters have been previously part of the other books in the series as secondary characters. Though it's a novella we get to see their relationship develop and learn more about them as characters. I really liked them both, they were both head strong if a little stubborn at times but they respected and cared about each other . They also had great chemistry and really enjoyed teasing/annoying each other. I think it's pretty difficult to write the story between a female who is an alpha and a shifter and the male is human and do both characters justice. Ms. Ashley did a good job on that front without making their relationship look unbalanced and the characters, jerks. The book also introduced a newer plotline to the series which I'm forward to read more about.
I think the book can work as a standalone but we do some of their earlier interactions in the other books which made me look forward to this book. It may not be my personal favourite novella in the series but it was a good edition to the series. Happy Reading!
Author Info
New York Times and USA Today Bestselling author Jennifer Ashley has lived and traveled all over the world, and now lives in the Southwest. She writes historical, paranormal, and contemporary romance as Jennifer Ashley; mysteries as Ashley Gardner; and paranormal romance and urban fantasy as Allyson James.
Author Links: Website | Facebook | Twitter | Goodreads
Related Posts