ARC Review: Charming the Beast by Cynthia Eden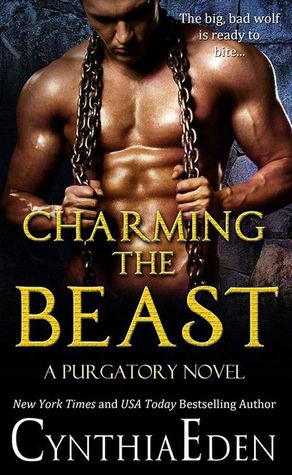 Book Blurb:
He's a man with a beast inside…
Connor Marrok never intended to work for the Seattle Para Unit. He's not one of the good guys—he's a real monster, and the beast he carries doesn't exactly play nicely. But now he finds himself being blackmailed into a new assignment. It's supposed to be his last gig. His mission? Protect the beautiful Chloe Quick. Keep her alive. Destroy her enemies. Easy enough…until he starts to fall for Chloe.
She just wants to escape.
Chloe is tired of being a prisoner. She wants to get away from her Para Unit guard and run fast into the night. So what if Connor is the sexiest guy she's ever met? Chloe knows trouble when she sees it, and Connor is one big, dangerous package of trouble. But, when an obsessed werewolf begins stalking Chloe, she realizes that her paranormal bodyguard may just be the one man she needs the most.
Their attraction is primal.
Every moment that Chloe and Connor spend together increases their attraction. Chloe has never felt a need so strong or a desire so dark. The beast that Chloe carries inside has always been silent, but Connor is stirring up her animal instincts. And as the danger and desire begin to twist together, Chloe wonders just how far she'd be willing to go…in order to spend one more night in Connor's arms.
ARC generously provided by the publisher via Netgalley in exchange for an honest review
Rating~ 3.5 stars.
This is the third book in the purgatory series by Cynthia Eden. This time it's about Connor marrok and Chloe Quick.
Connor Marrok was first introduced as the mentally unstable, psychotic killer and brother of Duncan ( the hero of the first book in the series The Wolf Within (Purgatory Book 1)
 ).  He tried to kill Duncan in that book, later he gets transferred to purgatory where he almost dies but wakes up as a super beast ( half wolf/ half vampire). He wasn't actually psychotic don't worry, but he did hate his brother for a while because he was left under the not so tender mercy of his actually psychotic father. He has been working with Eric in lieu of him getting out of purgatory and to make amends of all the things he did. His last assignment for the para unit and Eric, is guarding Chloe Quick.
Chloe Quick is the best friend of Olivia (heroine of the second book Marked By The Vampire (Purgatory Book 2)
). She was bitten when she was sixteen yet she couldn't ever transform much to dismay of her father, who wanted to a werewolf himself and treated Chloe as an experiment. In the last book her father kills her and she dies but comes back alive both due to the wish of a dijinn. Now she's unknown to the para unit since she isn't a werewolf anymore but gives out a scent that makes her prey to the werewolves.
Both the protagonists had a connection and chemistry that was plain to see, it just did not get that much screen time. They only got those end of fighting day scenes or random encounters. The plot took over more of what should have been their relationship build up.
The story I thought was about protecting Chloe and it was supposed to be Chloe and Connor's story instead it was more about the experiments that Chloe's father did and the werewolf pack that got screwed over by him. The book was also short compared to the others in the series, it felt rushed in the romance area as well. Though it had the usual interesting twists and turns of Cynthia Eden's books, which keeps the reader on the edge. But this time I did feel that one particular twists wasn't necessary at all, it just added unnecessary drama near the end.
Overall it was a enjoyable and goodish read, I just felt this wasn't up to par with Cynthia Eden's usual delish books that I devour. My favourite of the series remains the first one. I am though looking forward to reading about that mysterious lady vampire and Eric pate. Happy reading!
Izy.