Review: Sure Shot by Sarina Bowen
I received this book for free in exchange for an honest review. This does not affect my opinion of the book or the content of my review.
Sure Shot
by
Sarina Bowen
Series:
Brooklyn #4
Published by
LLC
on 12th May 2020
Genres:
Contemporary Romance
,
Sports
Pages:
307
Format:
eARC
Source:
the Author
Buy on Amazon US
, 
Buy on Amazon UK
, 
Buy on Kobo
, 
Buy on itunes
, 
Buy on B&N
, 
Buy on Amazon
, 
Buy on Audible


A new stand-alone hockey romance from USA Today bestseller Sarina Bowen.

On the eve of her thirtieth birthday, sports agent Bess Beringer is ready to make some changes. Armed with a five-year plan—indexed and color coded—she'll tackle her personal life with the same zeal that she brings to her successful agency.
A big, tall, ripped hunk of hockey player who's just been traded to the Brooklyn Bruisers is not a part of that plan. Mark "Tank" Tankiewicz has a lot of baggage. He's a ride-or-die loner with a bad reputation. He's on the rebound. He's also the sexiest thing on two legs, and for some crazy reason it's Bess that he wants.
She knows better. But then she falls stupid in love with him anyway. And for a while it seems like maybe he'll do the same.
Until she asks him for the one thing he can never give her…
4-4.5 stars
Bess Beringer, kickass sports agent getting those fab contracts, sponsorships and managing those easily hurt player egos.  
Mark "Tank" Tankiewicz,  great player newly traded to Brooklyn bruisers and in the process of getting divorced. 
Bess and Tank have a history, a lil affair back when they were both young and starting out in their respective careers. Now its 9 years later, they have been through stuff, lived in different places and lived a little more.
Sure Shot brings us a second chance at love trope, with additional angst of wanting the one you cant have, because an agent dating an athlete is a NO NO with additional  baggage of being recently out of a relationship and a woman wanting to follow her 5 year plan.
Bess and Tank had such great chemistry, their connection to each other was lovely. Both couldn't resist each other not that Tank tired to but…Bess and Tank have a way to go before they can get their HEA with the Tank having a hard time making friends with the team seeing as he used to play for their nemesis and Bess wanting a serious relationship and baby. And those are just the beginning of their obstacles.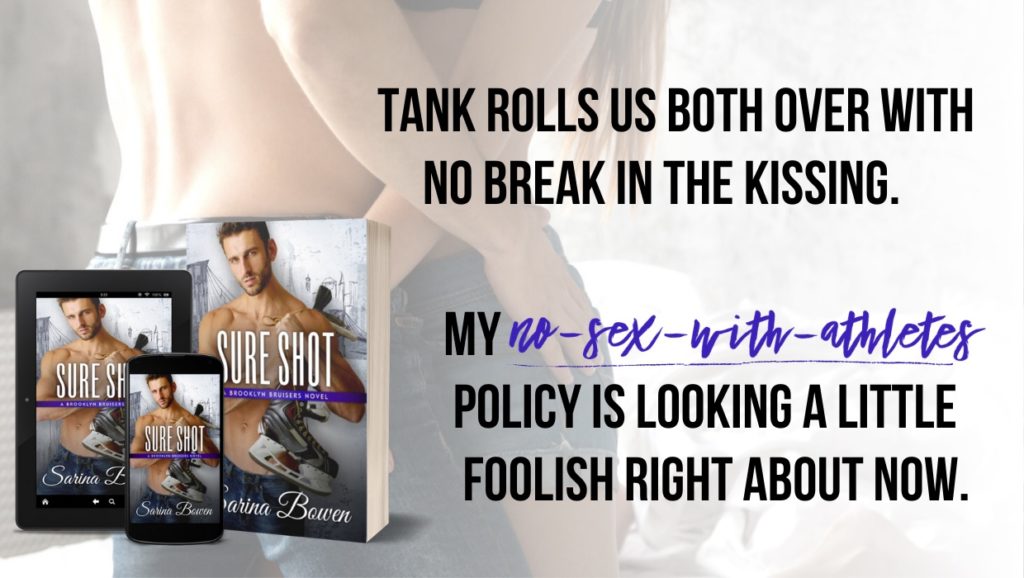 I dont know how Sarina Bowen does it but her characters and the storylines are just so likeable and easy to slip into? They feel like comfort blanket. Make you feel all snug, warm and happy. I think part of the reason I like Sarina Bowens characters is that how mature they act, there is drama and angst but it feels organic to the story.
Also here Sarina Bowen does a great job tackling a sensitive topic, its very difficult not to mention how vulnerable and insecure it makes you feel as a human especially because how our society views it, makes it difficult for people to open up because they might exploit it to hurt. We as the reader already get an idea of why Tank is acting the way he is, you want him to tell her but at the same time you understand why he can't do it. It made my connection to his character a lot stronger. Also I loved the what if bits like you can't help but think maybe maybe it might happen. Its very human, again it made me like them more as a couple.
This had all the elements for a great read, great characters, fab chemistry, humour, heart tugging emotions and sweetness mixed with steamy.
Overall another great read by Sarina Bowen! Really looking forward to what Sarina Bowen brings us next.
P.S Also really nice to include a bit about the women athletes (they really get shitty pay and treatment compared to their make counterparts) and if that was a hint of us getting women hockey player books then I'm all for it.
Related Posts