Review and Giveaway: Hunting Danger by Katie Reus
I received this book for free in exchange for an honest review. This does not affect my opinion of the book or the content of my review.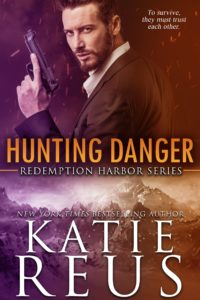 Hunting Danger
by
Katie Reus
Series:
Redemption Harbor #5
Published by
LLC
on 25th September 2018
Genres:
Contemporary Romance
,
Military
,
Romantic Suspense
Format:
eARC
Source:
the Author
Buy on Amazon US
, 
Buy on Amazon UK
, 
Buy on Kobo
, 
Buy on itunes
, 
Buy on B&N

From USA Today bestselling author Katie Reus comes the next story in the explosive Redemption Harbor series where sparks fly and so do bullets…
The one woman he wants…
When a childhood friend needs help, Nova doesn't hesitate. They endured the foster system together, forging a bond Nova can't ignore. Relying on her friends from Redemption Harbor Consulting—including Gage, the computer genius she's falling for—is out of the question. She used to work for the CIA and she's trained—she can handle this. Besides, the whole team is working on their own important jobs. She's not going to drag anyone away when she's not sure it's necessary.
Is the one he can't have…
When Nova asks for time off out of the blue—and use of the company jet—former Marine Gage takes note. Of course, he notices everything about Nova. But as one of her bosses, his growing attraction to her is a line he won't cross. However, that doesn't mean he'll let her run straight into danger—and a quick hack of her computer proves she's gotten in over her head. Gage is coming along for the ride, whether the sassy assistant likes it or not. He'll do whatever's necessary to save her friend…and keep Nova out of the clutches of a lethal enemy who won't hesitate to kill anyone who gets in their way.
Length: NOVEL
Author note: This is a stand-alone novel in the Redemption Harbor series complete with an HEA and no cliffhanger.
Hunting Danger is Nova and Gage's story, introduced in the book prior to this one. They are finally getting their own story while they are in the other books in the series, they aren't any special/prominent scenes of them together so you can read this one as a standalone without missing anything.
When one of Nova's childhood friend Layla from foster care needs help, Nova decides to help her on her own without asking the team, not counting on one of her bosses, computer wiz Gage following her. But thank god he did!
Nova and Gage have both been attracted to each other, but have been unsure of how the other feels and seeing as they are in a kind of a boss/employee relationship, it would be unprofessional but all that hesitancy will be questioned under the danger they find themselves in.
Apart from minor issues here and there, mostly about the pacing and slight lack of development in their relationship in the second half and too many people but lack of pages. I really enjoyed this one! Gage and Nova were very adorable together. You can see how much they cared for each other and loved each other despite their reluctance to take things further. They had good chemistry together and I liked that Nova didn't back down from Gage. They were very well matched! Suspense and romance were balanced for most part in the book which I also liked.
Overall, its a quick read, with fast paced action and romance and great writing (as expected from Katie Reus) and a great addition to the series. I'm looking forward to the next book in the series!

Related Posts