ARC Review: Soul Enslaved by Keri Lake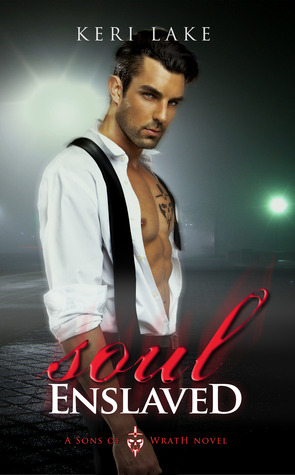 Soul Enslaved
by
Keri Lake
Series:
Sons of Wrath #3
on 5 Dec 2014
Genres:
Paranormal
,
Romance
,
Urban
Format:
eARC

Imprisonment in Obsidius. Enslavement to a soul-sucking succubus. A reproductive cycle that'd send a sex fiend running into the arms of celibacy. Given the choice, most demons would opt for death.
Gavin, eldest son of Wrath, has been sentenced to allthree.
When the succubus decides its time to collect, though, he fears his nightmares have only just begun.
And Sabelle's timing couldn't be worse.
With a bad case of uncontrollable lust, thanks to his Savidon, the last thing Gavin wants is a vengeful succubus stoking his darkest desires, but debts must be paid—he just didn't bank on enjoying his punishment so much.
Because the swinging bachelor may have found his perfect mate in the sexy seductress.
However, just as things seem to be looking up, past sins resurface, plunging the two into a deadly game of power and deception. As their worst fears merge into one unexpected threat, Gavin is determined to protect Sabelle and win her freedom.
Rating~ 4.75 Stars
ARC was generously provided by the author Keri Lake in exchange for an honest review.
This is one of those reads that you can't give away information because it would spoil the book. So I'm going to try and keep this as spoiler free as I can and yes this review will have gifs because I need them to explain my emotions.
Holy Smoke! What a ride this book was.
Gavin is the eldest son of Wrath, the demon prince. If you have read the earlier books you are then already aware of who he is if not then pay attention; he is the big brother of the group, always looking out for his siblings willing to anything for them. This includes not only going to hell but getting punished behalf of his brother and enslaving himself to succubus to save his brothers life. So when the poor guy finally wants to get some relief he ends up in even more trouble more. Now he is imprisoned in Obsidius (demon hell) and paying for that mistake.
Gavin as a character is amazing, he is not only sex on a stick but he is what I thought he would be from the previous books in the series with some extra awesome-ness I didn't even think of; insanely charming, slightly devious but very smart in negotiations, very strong (and I don't mean this in just the physically sense) and protective and from this book I found out how kind, possessive, funny, romantic and this one was a surprise a poet. Some of stuff that comes out of his mouth is extremely deep. Plus he's the boss. 
Gavin to Sabelle: "You are an eternal part of me. No matter what forces try to steal you from me, I will call upon the very blackest parts of my to soul to ensure that you remain safely at my side. "
Sabelle is a succubus. The same succubus that Gavin fired from his casino and the same succubus that Gavin is enslaved to, not that she actually wants anything to do with him since she has her twins (Thomas and Janie) to care for but circumstances force her to call the favor Gavin owes her.
Sabelle is a great heroine, she so loving and caring with her sister and children. A great mother. She is strong and independent and feisty. She dealt with so many bad cards that life threw at her yet she carried on even stronger and more determined to make her children's childhood and life better than the one she had. Which is especially hard because being a succubus means that people fear her and despise her because of her soul sucking abilities.
Sabelle to Gavin: "Love always prevails, in the end. Always."
Gavin and Sabelle's relationship was not quite what I expecting but what it was infinitely better. They were great together. Gavin and Sabelle had this connection, chemistry and later understanding of each other. They were both in a position where did not know what was going to happen and a love or even a relationship wasn't in the cards for them at the moment yet they couldn't stay away from each other. Their scenes showed  different aspects of their relationship; some flirty, some tender/heart felt, some hot and some tear inducing.
Sabelle calling in the favor results in Gavin getting out Obsidius which is great except this just results in all hell coming lose as well. Because of this plot line our couple get a lot of time together (almost the entire book) which I personally love because it shows the progression from how they used to be to far they have come and developed together. This didn't mean that we didn't see what the other 'sons' were upto, we did and those scenes just make you want to read their book and find out what will happen next. Two of those 'sons' are Zayne and Ferno. Both of them linked by an event and which has cause them nothing but pain and misery.
I really really want Ferno's book not only is he a arsonist but a suicidal one at that and the thing that Zayne said to him might just put him over the edge.
Ferno sat, clutching his skull. Lost in his own hell. 
Like any other Keri Lake book, this book also has villains some which we know and others who we don't expect to be which made the story not only interesting but also gripping and fact paced. So while it was different from other books it was a great thing here.
Quibbles: Sabelle not telling Gavin the truth and later her doing a stupid thing but she made it up later in the book and anybody who has or will be reading the book will come across that part where you don't want to hope but you do anyways just to see it get crushed. That part made me brawl, really it was tear inducing, heart and soul crushing event. It was written beautiful yet it was so cruel.  This was me:
I have kind of gotten over this event (not really) because while it did happen I just wish it hadn't so much!
Me: Sabelle and Gavin at the end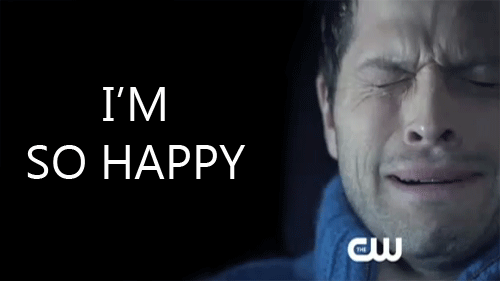 Me: That epilogue though was also a killer
To Keri:
Overall: This book had everything, love, hate, romance and fights with a good dose of suspense, twists that you don't see coming and heart breaking moments. Another wonderful addition to series. I cannot wait to read the next book. Happy Reading!
Related Posts