Review: I Do, Babe by Tillie Cole
I Do, Babe (Hades Hangmen, #5.5)
by
Tillie Cole
Series:
Hades Hangmen #5.5
on April 22 2017
Genres:
Adult
,
Contemporary Romance
,
Dark
,
MC Romance
,
Romance
Format:
eARC
Source:
Promotion Company
Buy on Amazon US
, 
Buy on Amazon UK
, 
Buy on Kobo
, 
Buy on itunes

WHEN DARKNESS AND LIGHT COMBINE, DESTINED SOULS WILL IGNITE . . .
Connected since childhood.
Two souls: one dark and one pure.
Bracing to take the greatest step of all.
River 'Styx' Nash loves his woman. Ever since he met Mae at the fence of the cult that had kept her captive as a child, he has never loved anyone else. He loves her black hair, her pale skin and of course, her ice-blue 'wolf eyes'.
Since Mae came crashing back into his life, his only wish has been to marry her; finally to make her his wife. But now the wedding is booked, and only weeks from forever having Mae by his side, a lifelong problem is plaguing him.
He wants to marry her; he has never wanted anything more . . .
. . . if only he could speak the words and declare it to the world.
Salome 'Mae' Nash's life had been filled with heartache and pain . . . until, at age eight, she met a strange dark-haired boy from the outside world. Years later, and reunited with her great love, Mae is ready to solder her heart to his. Finally, Mae is getting ready to marry her man. But her fiancé has become withdrawn. Something is deeply troubling him.
But Mae has no idea what.
Or what to do to help.
Can Styx open up and conquer his deepest pain? Or will the infamous Hangmen Mute allow his fears to overcome his love for Mae and watch their much-anticipated wedding crumble to dust?
EEEK! Tillie Cole, you have broken my heart once again.
Only this time there is no pain, only beautiful pieces. I Do, Babe is a Hades Hangmen novella that leaves you flying. This novella makes me want squeal and do happy dances. It is the perfect wedding story for our River and Salome Nash.
I Do, Babe tells the short story leading up to Styx's and Mae's wedding day. We met Styx and Mae in It Ain't Me, Babe. Mae is the girl with the wolf eyes that Styx met one day when he was 12. From that day on, he knew the only girl for him would be the one with the stunning eyes, his own Persephone. After many trials and tribulations, both find themselves together with one of the strongest loves seen in this series. In every book we are reinforced with the idea that Styx would do anything for Mae, his love and his love. Through finding all her sisters Styx and Mae finally come together once more.
The girl with the wolf eyes and the Hangmen Mute get their happy ending. I think what is most beautiful about the short story is the support Styx and Mae have from the people around them and the support that the two give to each other. It is so goddamn sweet!!
"There is no need for pride between us, River. There is no sin nor any perceived weakness that will make me love you less. In fact, helping you with your burdens welcomes you into my heart even more."
There's not much to say other than you must read this novella if you are a Tillie Cole fan. And I hope you feel the peace that comes with this book. Each book in this series has been wave after wave of pain and love. But this book is only love. It shows the affection and love between the couple that started this series. It's the continuation of the two characters who have made this story all that it has turned out to be and more.
"Because you are my Hades, my misunderstood, tortured dark lord. And I am your queen, your Persephone, the blue-eyed woman who saw through your shield and won the trophy of your heart. Forever to keep. Forever mine. And mine, forever yours."
Sigh… can you feel the love just in the words. Tillie Cole always captures the love felt between all her characters exceptionally well.
This deserves 5 stars.
It is a beautifully written short story that will make you heart tingle and sigh.
Thank you, Tillie Cole, for giving Styx and Mae the happy ending they finally deserve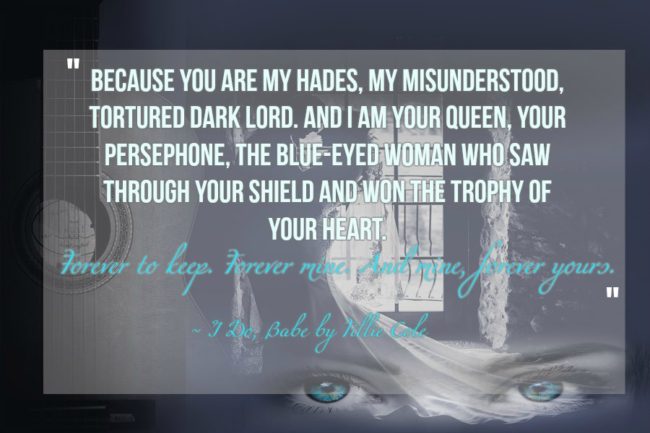 Related Posts