Review: Riot by Tillie Cole
Riot
by
Tillie Cole
Series:
Scarred Souls #4
Published by
St. Martin's Griffin
on March 7th 2017
Genres:
Contemporary Romance
,
Abuse
,
Dark
,
Romance
Pages:
352
Format:
eARC
Source:
Promotion Company
Buy on Amazon US
, 
Buy on Amazon UK
, 
Buy on Kobo
, 
Buy on itunes
, 
Buy on B&N

Stolen by the Arziani Georgian crime mob as a child, 152 was raised and conditioned to be a Mona—the most subservient of the Arziani Blood Pit slaves.
Gorgeous and kind, she has been and under the imprisoning influence of the Type B drug and under the command of the Blood Pit Master's sister, Mistress Arziani, for most of her life, until the Master calls her back home to Georgia.
He wants her under his total control, and Master always gets what he wants.
But when 152 is gifted to the Blood Pit's fearsome champion death match fighter as a prize, 152 suddenly finds out that the men who appear most brutal, may just own the kindest hearts. And love may be found, even when living in hell.
Freedom, family, love, 152 will have to fight for what she wants and ultimately make an impossible choice.
Wow. Um. Just.. Wow.
If I could have one wish, it would be that Riot would never end. I would wish for Tillie Cole not to end this series and keep Raze, the Bratva brothers and theirs loves alive and well. Yes, it is the most absurd request, but I'll make it, crazy be damned.
So if you haven't figured it out, Riot is amazing. It is a beautiful story that concludes the Scarred Souls series.  It's dark, gritty but a stunning read none the less. Tillie Cole is a master at creating worlds so dark and depraved yet are soul consuming to read and live in. Each book in this series is a testament to her amazing ability.
So Riot tells the story of Inessa Belrov and llya Konev. Both have immense mental and physical scars from the lives they have lived. Riot tells the story of how the two find love in the deepest of hells. It is a heart wrenching yet amazing journey to go on with them. They go from having no control of their lives to finding freedom which is worth living for. To get to the freedom any human deserves both our hero and heroine go through events no human should ever have to endure.
"Ilya, can you feel it?"
"What?" he questioned, the warmth of peace radiating from his worn body.
Freedom," I hushed out." Our freedom…our freedom at long last."
The challenges that they face in Riot are both thrilling and heat breaking.
You will cringe at the times they hurt to be free and get angry at the times they are hurt by another's' hand. You will hate Master with an intense passion and rejoice in  the pain he receives. That may sound like a bit of an exaggeration as I tell you this, but Tillie Cole's words can really make you feel. Master's character makes it easy to hate him right down to his sick sadistic core..
Enough about him.
Lets talk characters.
Ilya. He is the bravest of warriors. Known as the Pit Bull of the Arziani empire, he is highly skilled and an effective killer. Too effective it leads him to Inessa. I was wondering how Tillie would pull of their meeting but she surprises you. Once he meets Inessa, he can't do anything but fall in love. He sees the strength in her when Master tears her apart and he wants to protect her. He is strong, fierce and all the great qualities a hero should be. There is no doubt you will fall in love with him. His love for Inessa honestly shines from the moment the beginning.
Inessa. She is so damn brave. As the High Mona, she has to serve the sickest man alive, Master. She has to play his games as if his actions don't kill her inside. Her ability to handle all the situations she faced and the way she loved showed her true strength. She loves so fiercely and risks a lot to be with him. It is the sweetest thing to read.
So when they find each other, it is really finding home. They  have been through so much alone. And finding a comfort and a place to feel some sort of happiness in the hell they live in is beautiful.
"When it is me and you alone, there is no Master. When we are here, in your cell, there is no Blood Pit." A smile tugged on my lips. " There are no matches to the death. There are no quarters where I am held captive all day. There is your heart beating in sync with mine. Speaking the language of our old home, in the company of the male that is becoming my new home."
Sigh….
The love they find is so special. And is so them. It was totally worth going on their journey and finding the conclusion to the story of all four brothers. There's so much to say but I don't want to bore you.
I just want to put in that Maya was one of the strongest characters in this book. Even though she is a minor character, her presence is the light in this book. Her  strength shone from the beginning to the end. I loved her with every single part of me. I thank the reading gods she also got a happy ending. 😛 You think she would be meek with the way she has been treated all her life, but she does things that you will love and be surprised by in this book. She definitely is a heroine of her own. She kicks ass like no chiri has done before. I'm so proud of her. Thank you Tillie Cole for bringing Maya into out lives.
"I am a chiri miss. I have no say in anything that happens in my life."
Do you see something forming in my eyes… Well I do. They are tears. Now I am sad. Sad that the Scarred souls series is concluded. The journey of all four soldiers was incredible. Beautifully written and thrilling plots were woven in each book giving us loveable characters and plots. It is sad to say goodbye.
This definitely gets a FIVE stars.
Riot is the riveting conclusion that we have all been waiting for.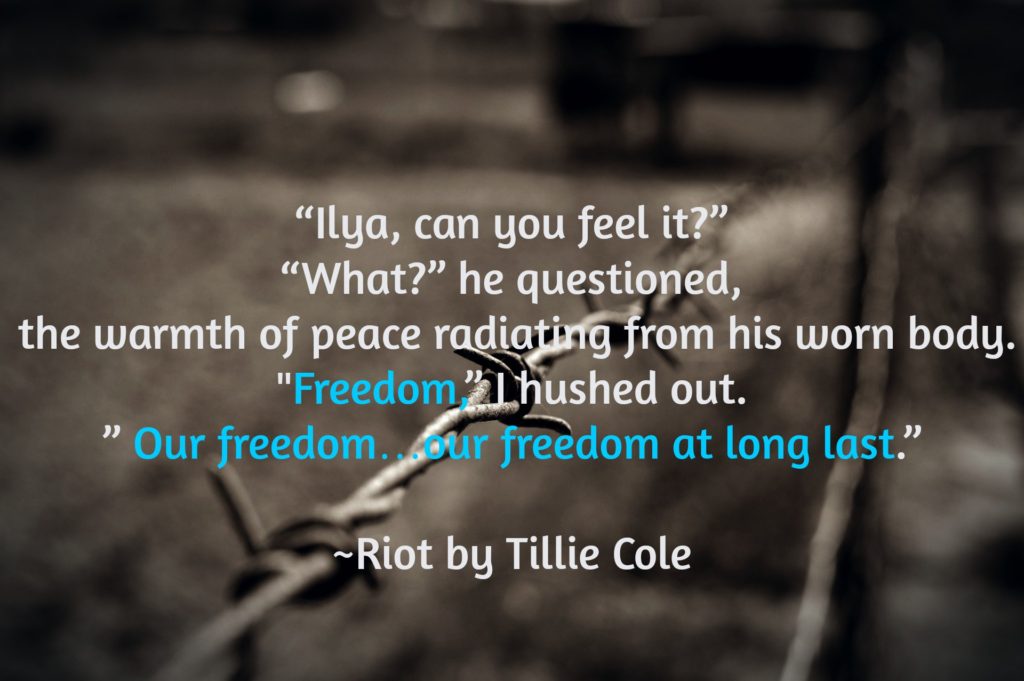 Thank you Tillie Cole!!
5 Stars to Freedom!!
Related Posts