Review: Rock Hard by Nalini Singh + Giveaway
I received this book for free in exchange for an honest review. This does not affect my opinion of the book or the content of my review.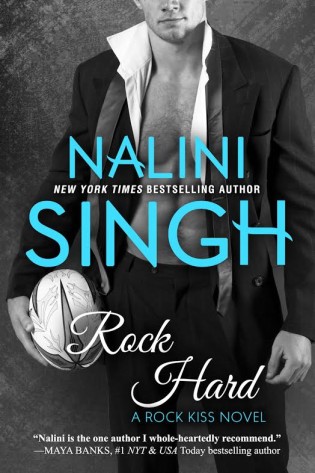 Rock Hard
by
Nalini Singh
Published by
TKA Distribution
on 10 March 2015
Genres:
Contemporary
,
Contemporary Women
,
Erotica
,
Fiction
,
Romance
,
Romantic Comedy
,
Sports
Pages:
351
Format:
eARC
Source:
Netgalley
In New York Times Bestselling author Nalini Singh's newest contemporary romance, passion ignites between a gorgeous, sinfully sexy man who built himself up from nothing and a shy woman who has a terrible secret in her past…
Wealthy businessman Gabriel Bishop rules the boardroom with the same determination and ruthlessness that made him a rock star on the rugby field. He knows what he wants, and he'll go after it no-holds-barred.
And what he wants is Charlotte Baird.
Charlotte knows she's a mouse. Emotionally scarred and painfully shy, she just wants to do her job and remain as invisible as possible. But the new CEO—a brilliant, broad-shouldered T-Rex of a man who growls and storms through the office, leaving carnage in his wake—clearly has other plans. Plans that may be equal parts business and bedroom.
If Charlotte intends to survive this battle of wits and hearts, the mouse will have to learn to wrangle the T-Rex. Game on.
Review
Warning: If you know me then you know I love Nalini Singh's books and her so this review is a tiny bit biased.
Charlotte Baird aka Mouse is a painfully shy woman especially after what happened to her during her college years. She carries scars both inside and out. She is also extremely intelligent and a wonderful best friend to Molly. 
Gabriel Bishop aka T-Rex is is former rugby player and the new CEO at the company Charlotte works at. Gabriel promotes Charlotte as his new PA at the beginning of the book never mind that she threw a stapler at his head the first time they met in person.
I just loved Charlotte, her internal monologue could be hilarious at times and at others self deprecating.
Eventually, she'd turn into a crazy woman with bird's-nest hair who frightened small children and random telemarketers.
She was just a great heroine, she knew that she was shy and could be a coward. She knew that she didn't want to be a scared woman living her life in fear and she was tiring to not let her fears and the nightmare win. How can anyone not admire and love that? She goes through a great development over the period of the book, which was done in a believable way.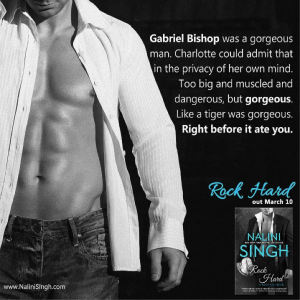 Gabriel was wonderful; he was patient and understanding with Charlotte. He knew he wanted her from the get go. He helped her gain her confidence and made her feel comfortable in her own skin. He's a swoon worthy hero truly, the way he adored Charlotte, cared for her, protected her and yes needled & teased her to get a out of character response from Charlotte. I think those teasing scenes were my favourite. 
 Smart Women were his catnip-and Charlotte Baird was very, very smart.
One thing I did not except was Gabriel having a sense of humor. I have no clue why, maybe because he's supposed to be a T-Rex *shrugs* but I loved it nonetheless.
Gabriel sighed. "I'm crushed, fragile flower that I am"
I think that Charlotte and Gabriel had a pretty darn amazing relationship. Gah and don't even get me started on the romance. It was how you except romance to be; sweet, soft and passionate & sexy at times. Seriously I think I had a smile on my face the entire time I was reading.
That made him growl. "You used to be so compliant. What happened?'

"You did," she whispered.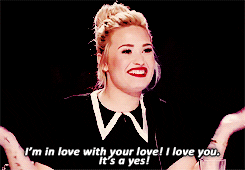 There were few twists and turns including Charlottes traumatic past, Gabriel's biological father before they got their happy ending.
Random thing I liked: I really liked the chapter names, they were pretty much on point on what happens in the chapter but they were also funny and interesting.
Overall, this is my favourite book in the series and I really wish that Nalini can somehow write books for Gabriel's brothers as well. I loved their family dynamic. I adored T-Rex and the mouse together. Happy Reading! 
GIVEAWAY
($50 AMAZON Gift Card)
Author Info
NEW YORK TIMES AND USA Today bestselling author of the Psy-Changeling and Guild Hunter series Nalini Singh usually writes about hot shapeshifters and dangerous angels. This time around, she decided to write about hot and wickedly tempting rock stars (and one gorgeous ex-rugby player). If you're seeing a theme here, you're not wrong.
Nalini lives and works in beautiful New Zealand, and is passionate about writing. If you'd like to explore her other books, you can find lots of excerpts on her website. Slave to Sensation is the first book in the Psy-Changeling series, while Angels' Blood is the first book in the Guild Hunter series. Also, don't forget to swing by the site to check out the special behind-the-scenes page for the Rock Kiss series, complete with photos of many of the locations used in the books.
STALK HER:  Website | Facebook | Twitter | Goodreads
Rock Addiction (Book One) Rock Kiss Series     Rock Courtship (bk 1.5) A Rock Kiss Novel
Amazon US: http://amzn.to/WqA2rj                               Amazon US: http://amzn.to/XXjjxG
Amazon UK: http://amzn.to/1G9piir                               Amazon UK: http://amzn.to/1G9pmhZ
Nook: http://bit.ly/1t5T7Zt                                                Nook: http://bit.ly/1COgaC6
iTunes:  http://bit.ly/1ng9zE9                                           iBooks: http://bit.ly/1lzgNIi
Kobo: http://bit.ly/1lPqB19                                               Kobo: http://bit.ly/1pEeCy6
Related Posts