Review and giveaway: Rock Wedding by Nalini Singh
I received this book for free in exchange for an honest review. This does not affect my opinion of the book or the content of my review.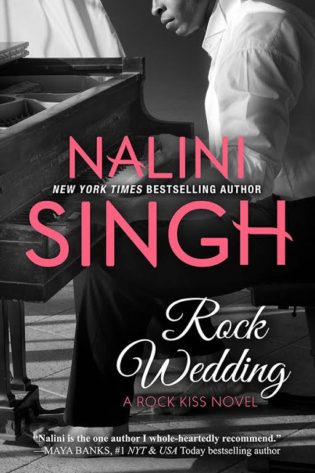 Rock Wedding
by
Nalini Singh
Series:
Rock Kiss #4
Published by
TKA Distribution
on 19 July 2016
Genres:
Contemporary
,
Romance
Pages:
248 pages
Format:
eARC
Source:
the publisher
Buy on Amazon US
, 
Buy on Amazon UK
, 
Buy on Kobo
, 
Buy on itunes
, 
Buy on B&N

New York Times bestselling author Nalini Singh continues her Rock Kiss series with a hot, sweet, emotional contemporary romance about love and forgiveness…
After a lifetime of longing for a real family, Sarah Smith thought she'd finally found her home with rock star Abe Bellamy, even if she knew Abe didn't love her the way she loved him. But their brief relationship, filled with tragedy and heartache, nearly destroyed her. Alone, emotions in turmoil, and already shaky self-esteem shattered, Sarah struggles to pick up the pieces in the wake of their divorce.
Abe knows he's to blame for the end of his marriage. Caught in a web of painful memories, he pushed away the best thing in his life – the sexy, smart woman he adores – breaking them both in the process. Then fate throws him a second chance to get things right, to prove to Sarah that she means everything to him. Abe desperately wants that second chance at love...even if he knows he doesn't deserve it.
But can he convince Sarah – now strong and independent without him – to risk her wounded heart one more time?
This is a second chance romance about two people who loved each other very much but broke apart…. 
Sometimes you love so much that you get sucked in by everything about them and you don't care about anything other than being with that person that's how Sarah Smith felt when she first married Abe. Then slowly like anything shiny their relationship started rusting. With Sarah doing so much to try and make Abe give up the drugs. At the same time trying not to let the man he was becoming let her feelings/heart get hurt. It left her in a fragile state.  
Abraham 'Abe' Bellamy on the other hand after losing his baby sister had been in slowly heading towards a rock bottom, his marriage to Sarah helped for some time but the allure of drugs and alcohol was just too much. He was an ass towards his wife especially near their end of their marriage and divorce. When he finally wakes up, gets help and is getting better…it's a little too late in terms of his relationship with his wife.
The book starts off the with the end of Sarah and Abe's marriage and it is heart breaking seeing someone so in love feeling lonely and trying so hard to make it work. Then it's a couple of years later when the book picks up again. 
Sarah is very different now to the person she was when she married Abe. She had been young and very insecure not only about herself, her self worth but also about her relationship with Abe and his family. She had so much love to give and she was lonely. Now she has her own business, she's more confident and even though she is dealing with grief she is a lot more comfortable being herself then she was before. 
Abe too is in a better place now, he's clean and sober for one. He's also isn't ready to let go of the woman he loves even though she would rather not have anything to do with him. I liked that Abe was upfront about the fact that he messed up and he was the one who was the cause of their divorce. The only woman he had loved was Sarah and he knew that it wouldn't be easy to convince Sarah to give them a second shot. So he starts wooing back Sarah.
Sarah is reluctant to start a relationship with the guy who broke her heart, but she is still very vulnerable when it comes to Abe. The Abe she sees now is the one that she got to see during those brief moments in their marriage when they were happy. There was pull and push going on with Sarah trying not to give in and Abe trying to pull her back to him. 
Sarah and Abe had a great connection and chemistry which as Sarah said was never the problem in their marriage it was other things. Both the characters have suffered pretty badly while Sarah dealt with her abandonment issues by trying to be the perfect wife, Abe with the death of sister did it by doing drugs. Their separation leads them to being better versions of themselves who are however still in love with each other. They both go through quite a lot of development, get to learn/love each other again and find out some aspects of each other that were hidden when they were married. 
This book deals with quite a few issues like addiction, recovery, pain and loss of losing a child/a sister but it also shows love, forgiveness and a happy ever after. I think the author did a good job at dealing with the issues and with Abe without making me hate him and feel like Sarah deserved someone better. I understood where they were both coming from and both their feelings were dealt with equal consideration. It made me as it always does with Nalini Singh a range of emotions, from heartache for Sarah at the start to happiness/feeling giddy for them when they got their HEA.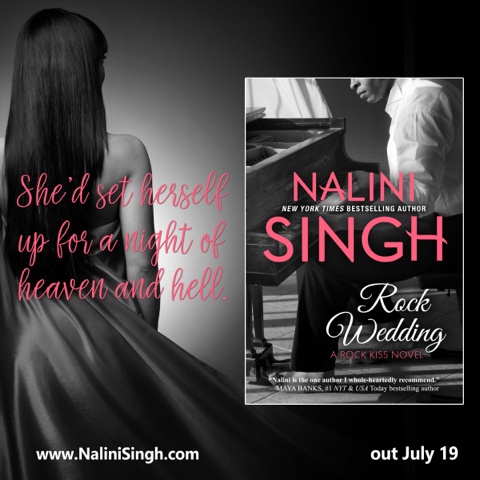 We also get cameo's from other couples from the series and get to see some weddings (David & Thea's, Noah & Kit's). I'll be eagerly waiting to read about Gabriel and Charlotte's wedding!! Also GOOD NEWS Gabriel's brothers will be getting their own stories which makes me happy because that means more of Gabriel and Charlotte 😁😁.
Ultimately the book is about two people who had gone through some pretty tough times together & alone and at the end they found their way back to each other. I really liked it, it was sweet, lovely and it suited the couple. It left me with a smile.
GIVEAWAY
$50 AMAZON Gift Card
a Rafflecopter giveaway

Related Posts