ARC Review: Marriage For One by Ella Maise
I received this book for free in exchange for an honest review. This does not affect my opinion of the book or the content of my review.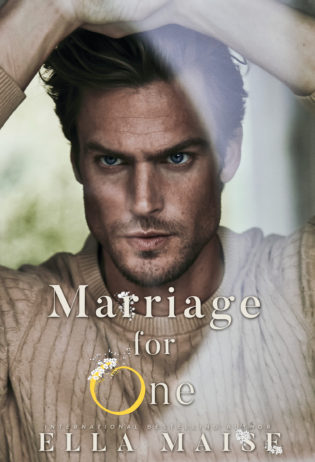 Marriage For One
by
Ella Maise
on 9th May 2019
Genres:
Contemporary Romance
,
Romantic Comedy
Pages:
499
Format:
eARC
Source:
the publisher
Buy on Amazon US
, 
Buy on Amazon UK

Jack and I, we did everything backward. The day he lured me into his office-which was also the first day we met-he proposed. You'd think a guy who looked like him-a bit cold maybe, but still striking and very unattainable-would only ask the love of his life to marry him, right? You'd think he must be madly in love.
Nope. It was me he asked. A complete stranger who had never even heard of him. A stranger who had been dumped by her fiancé only weeks before. You'd think I'd laugh in his face, call him insane-and a few other names-then walk away as quickly as possible. Well…I did all those things except the walking away part.
It took him only minutes to talk me into a business deal…erm, I mean marriage, and only days for us to officially tie the knot. Happiest day of my life. Magical. Pop the champagne… Not. It was the worst day. Jack Hawthorne was nothing like what I'd imagined for myself.
I blamed him for my lapse in judgment. I blamed his eyes, the ocean blue eyes that looked straight into mine unapologetically, and that frown on his face I had no idea I would become so fascinated with in time.
It wasn't long after he said I was the biggest mistake of his life that things started to change. No, he still didn't talk much, but anyone can string a few words together. His actions spoke the loudest to me. And day after day my heart started to get a mind of its own.
One second he was no one. The next he became everything.
One second he was unattainable. The next he seemed to be completely mine.
One second I thought we were in love. The next it was still nothing but a lie.
After all, I was Rose and he was Jack. We were doomed from the very beginning with those names. Did you expect anything else?
Marriage for One is about the Rose Coleson sorry Rose Hawthorne and Jack Hawthorne. I had been waiting for this since I knew it was in the works last year so I was pretty excited to get my hands on it.
As anyone can guess from the blurb its a marriage of connivence story (which I adore by the way), mixed in with a slight animosity that Rose thinks they have. This a slow burn (and I do mean slow burn) romance of two individuals who are complete opposites in all but the fact that they both very alone in the world.
Rose wants nothing more than to have her own Coffee Shop, and it seemed she would get her dream before everything comes stumbling down on her, her fiancé dumbs her, she finds out the clause in her uncle's will which means saying goodbye to her dreams and apparently her savings as well. So when a stranger asks her to marry which would win-win for both of them, she'd get her dream coffee shop and he'd get to present the image of a family man and as crazy as it seems to her, she says yes.
Jack is a lawyer, the youngest partner in his firm. He seems like a very serious, pretty closed off, not interested in anything  other than work guy at first, but you start to see it from early on that he's hiding something and of course he really can't seem to stay away from his fake wife no matter how many times he tells himself too.
Quibbles: View Spoiler »It has a very slow start, I think for me the book doesn't really pick up a pace till half way through. I kinda wished the author had maybe either sped through bits in the first half or maybe just given a more this stuff happened kinda thing, just because it took a lot of time to the point where you kind of start understanding Jack's reasons. It kinda just felt nothing was happening in the first half of the book which is why this doesn't have a higher rating. The premise of their marriage, Jack's reasoning behind it, I mean I knew why he had made that decision it just felt weaker at the end of the book. Another thing was sometimes things were given in a lot of detail but other at times, things I wanted to know about were glossed over. Also Rose doesn't seem like a person who would forget meeting someone, so it just seemed a bit questionable that she didn't seem to have any memory of that event. « Hide Spoiler
Rose and Jack are both very lovely characters, but they couldn't be more different from each other. Rose is very bubbly, friendly and Jack is standoffish and more glower kinda guy. We get to see their relationship develop, from strangers, to awkward fake wife/husband to friends and then more. They also had great chemistry, they also go through some serious stuff together which cements their bond further to each other. I did really like seeing their domestic life bits, along with Jack's inability to stop being completely absorbed with his wife. I loved the smile counter Rose had for Jack. They were adorable together, they had such sweet moments that make you smile and of course Jack can be very swoon worthy (without even realising it). He really is so gone for her, it's amazing to see (or read as the case is) everybody can tell how much he really loves her and how much he had changed over the course of the book. Rose for her part, has no idea why she's attracted to the man who doesn't even smile but everything he does or anytime he's there for her makes her fall harder for him.
"You have me, Rose. You've had me the entire time" ~Jack Hawthorne 
I have been a fan of Ella Maise's writing since I read To Hate Adam Connor and this is one is no different! It really is a love story about two characters who had no home, were alone even with family and who found each other and were made complete with each other.
Overall despite my issues with the length and the pacing, I really enjoyed this. Anyone who's a fan of slow burn romance and likes marriage of connivence story should give it a try!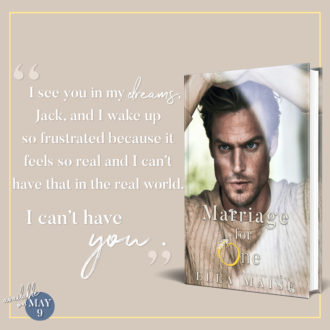 Related Posts