Review: 72 Hours by Bella Jewel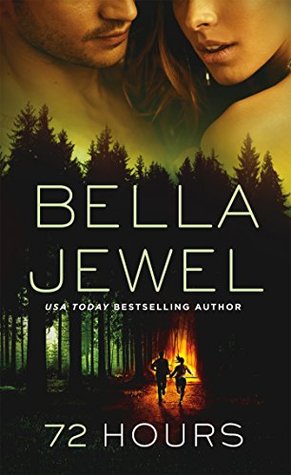 72 Hours
by
Bella Jewel
Published by
St. Martin's Paperbacks
on April 4th 2017
Genres:
Adult
,
Contemporary Romance
,
Dark
,
Romantic Suspense
,
Thrillers
Format:
eARC
Source:
Netgalley
Buy on Amazon US
, 
Buy on Amazon UK
, 
Buy on Kobo
, 
Buy on B&N

A FATE WORSE THAN DEATH.
It's all part of his sick game. A game he's been planning for an entire decade. Now everything is perfect: One woman and one man have been selected. They used to be a couple—and they can no longer stand one another. They are the perfect victims. He doesn't intend for the game to be easy. He wants to push them to the brink of insanity, to make his hunt real. . .
A DESIRE WORTH FIGHTING FOR. . .
The couple has been captured and dumped into a massive wooded area. There's only one rule in this fatal game: They will have 72 hours to find a way out before the sadistic serial killer begins his hunt . . .But what he never could have expected was the explosive passion that ignites between the two ex-lovers—one that makes them strong. Fierce. And determined to do whatever it takes to escape—and to survive. . .
Oh my freaking god. This book is amazing.
The story of 72 Hours is chilling.
Each page is gripping and the plot will take you on such a unique ride. I hope you will be just as stunned as I was. Bella Jewel, in all honesty, came out with a romantic suspense novel that has never been seen. It's refreshing. It's new. It's mind blowing. I have read many Bella Jewel novels and I must say, this is one of the best I have read from her.
72 Hours tells the twisted story of two ex-lovers Lara and Noah, who are put together into some nightmarish hell for the fun of some psycho. I am telling you the truth. It already sounds crazy right? The two had been together for two years and had been through so much during the time they were together. This book describes what happens when Noah comes back to town after leaving for firefighting training. I honestly don't want to spoil the plot so I will leave it there. It's chilling the stuff that is in this book.
"I've been watching them long enough, setting up my game, to know I have found the perfect pieces. They have no idea. Not a single clue how many times I've infiltrated their lives without their ever knowing it. Stupid. I can't wait to see their faces when they find out just how close I've been all this time.
They're going to wish they never met me by the time I'm done with them."
Creepy right!!?! Enthralling right?!!? This book, the writing and the plot, will give your shivers. It is such a well created story with a very twisted plot and it is hard to know what will happen next. I think it is one truly amazing book when you come across something like this. It will take you out of your comfort zone. I was putting myself in Lara's shoes all the way throughout this book and just to imagine such events happen to you…. It is truly freaky.
Let's talk characters:
I really loved our heroine, Lara. She is small, sassy and super, super brave. At the beginning of the book, Lara is extremely troubled from previous events in her life. I am totally not saying what the event are. You have to read to get the goss. 😛 And it took a huge toll on her self-esteem, personality and her relationship with Noah. So in turn, they go on a break due to some events (again not telling 😛 ) When I heard of the events that brought them to their break-up I was pissed at Noah because from the beginning you find yourself on Lara's side, however after the explanation everything settles. So, time is lost between them two for a while until they're put in the worst position ever together.
"Noah told me he fell in love with me because I was sweet, sassy , and gorgeous – a rare mixture that was hard to find. He said I was the kind of woman that made a man's heart melt, that made him want to protect her and love her as long as he possibly could, yet at the same time wasn't afraid to stand up for herself and speak her mind."
Noah is a dream guy. He is tall, beautiful and so damn strong. From the beginning right until the end you can see he is a fighter. It was very special to see him lead the way through their battle and then at some points lean on Lara. He is strong, loyal and understanding.  His character and personality were so well written. I wish he was mine … sigh
Just read this damn book. Seriously. It's to die for. The events… the suspense!! It will drive you insane to finish the book and see what happens to Lara and Noah. They only had 72 hours. Read to know what happened in those 72 damn heartbreakingly good hours!!
5 Strong and Brave Stars!!
Related Posts