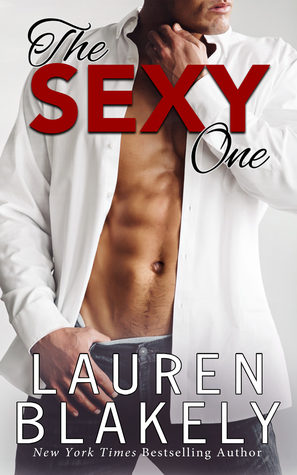 The Sexy One

by Lauren Blakely
Published by Lauren Blakely Books on October 17th 2016
Genres: Fiction, Romance, Contemporary, Romantic Comedy
Pages: 300
Format: Kindle
Source: Purchased
Buy on Amazon US, Buy on Amazon UK


From the NYT Bestselling author of MISTER O, comes a sexy new standalone romance…
Let me count the ways why falling into forbidden love is not my wisest move…1. She works with me every single day.Did I mention she's gorgeous, sweet, kind and smart?2. She works in my home.Playing with my five-year-old daughter. Teaching my little girl. Cooking for my princess. Which means…3. She's the nanny.And that makes her completely off-limits…But it doesn't stop me from wanting her. All of her.
***
The other nannies in this city don't call him The Sexy One for nothing. My boss, the amazingly wonderful single father to the girl I take care of every day is ridiculously hot, like movie star levels with those arms, and those eyes, and that body. Not to mention, the way he dotes on his little girl melts me all over. But what really makes my knees weak are the times when his gaze lingers on me. In secret. When no one else is around.
I can't risk my job for a chance at something more…can I? But I don't know how to resist him much longer either…
Rating ~ 4.25 Stars
This was so adorable!
Anyone looking for a extremely low on angst, romantic comedy with a good happy buzz should try it.
From Well Hung near the end of it we find out about Simon and Abby (Harper's friend from Mister O) and that they might have something going on and I was really interested to read about their relationship.
Simon Travers is a single dad with primary custody of his daughter Hayden. While he tries his hardest to be there was for his daughter, and most of the time he is. Simon hires a nanny for Hayden when he is busy with work, Abby Becker (who was recommended to him by Harper their mutual friend).
"I've been falling in love with you since the day we met," ~Simon. 
Both Simon and Abby are really attracted to each other from the moment they met but the boss/employee relationship makes it a bit difficult but while taking care of Hayden they have come to really like each other and become this sort of family unit unknowingly. They both seem to also really enjoy the one on one time they get with each other. There are hurdles between Simon and Abby's happily ever after and reasons for them to get involved with each other but the temptation they each present to each other is a lot more than they can handle.
"Trouble is, it's morphed into a helluva lot more than lust in all this time she's spent in my home, with my family, with my kid.
Admiration. Fondness. The real deal.
It's turned into exactly what I cannot have.
A big thing for the nanny." ~Simon. 
Simon was all around a great guy, not to mention a wonderful father to Hayden, he really loved his daughter. She was his entire world and it was just really nice seeing him trying to be there for Hayden and being the best dad he could be to her. Abby was also great, she was a lovely, extremely smart character with the love of animal documentaries especially bald eagles which all three of them (Hayden, Simon and Abby) adored looking at. Abby was lovely with children and I loved how she was with Hayden.
He's sweet, kind, smart, funny, and good. So damn good. And, for a bonus prize, add in that he's an amazing father. That's some sexy kryptonite right there.~Abby.
Simon and Abby were so sweet and cute together, they had great chemistry as well but I just loved the sweet and caring side of their relationship. It's a quick feel good book with great characters, romance and humour  that I adored. I can't wait to read the next book by Lauren Blakely. She writes great romantic comedies that leave me with a happy slightly sappy smile.
Related Posts