Reviews: Big Rock, Mister O and Well Hung by Lauren Blakley
Well Hung
by
Lauren Blakely
Published by
Lauren Blakely Books
on September 12th 2016
Genres:
Contemporary
,
Fiction
,
Romance
,
Romantic Comedy
Pages:
300
Format:
Kindle
Source:
Purchased
Buy on Amazon US
, 
Buy on Amazon UK

From the NYT Bestselling author of MISTER O, comes a hot and hilarious new standalone...
Here's what you need to know about me—I'm well-off, well-hung and quick with a joke. Women like a guy who makes them laugh—and I don't mean at the size of his d*ck. No, they want their funny with a side of huge… not to mention loyal. I've got all that plus a big bank account, thanks to my booming construction business. Yup. I know how to use all my tools.
Enter Natalie. Hot, sexy, smart, and my new assistant. Which makes her totally off limits... 

Hey, I'm a good guy. Really. I do my best to stay far away from the kind of temptation she brings to work.
Until one night in Vegas… 

Yeah, you've heard this one before. Bad news on the business front, drowning our sorrows in a few too many Harvey Wallbangers, and then I'm banging her. In my hotel room. In her hotel room. Behind the Titanic slot machine at the Flamingo (don't ask). And before I can make her say "Oh God right there YES!" one more time, we're both saying yes—the big yes—at a roadside chapel in front of a guy in press-on sideburns and a shiny gold leisure suit. 


But it turns out what happened in Vegas didn't stay in Vegas. And now, my dick doesn't stay in my pants when she's around. I try to resist. Honest. But the more we try to keep our hands to ourselves, the more we end up naked again, and the more time I want to spend with her fully clothed, too.
The question now is…do I take this woman to be my ex-wife?
So sometime around September I found myself binge reading Lauren Blakely's contemporaries and I never got around to fully reviewing them, I decided to write smaller reviews for each of them because they were all pretty great reads!
From standalones Well Hung was the first book I read by Lauren Blakely and I really enjoyed this and this is what persuaded me to read the other romantic comedy books by her.
Wyatt Hammer has a thing for his personal assistant Natalie, has had a thing for her ever since she started working for him six months ago at his construction business.  They have a wonderful work relationship, Natalie makes his life so much easier with her immaculate organizational skills and they make a great team. Wyatt doesn't want to change anything even though he is extremely attracted to Natalie because she happens to be great at everything; she smart, funny, beautiful and a total sweetheart.
So when a work related Vegas trips ends up with them getting drunk and waking up next morning realising they got hitched is a shock to say the least. Side Note their drunken antics were hilarious!!
Obviously they think getting their marriage annulled is the way to go but alas they got can't stop from wanting each other and having sex amongst other things. The only issue is Wyatt's previous relationships hang ups and a promise which is stopping them from being with each other.
I really enjoyed this, it has kind of the vibe of the movie what happens in Vegas but is more romantic and funny! I loved how Wyatt was a genuinely nice guy and caring/loving towards Natalie.
All the book are written from the guys POV,  I think this one did include Natalie's POV but mostly the book was from Wyatt's and the heroes are all very interesting and unique so their POVs made me laugh and grin.
The next book I read was Big Rock!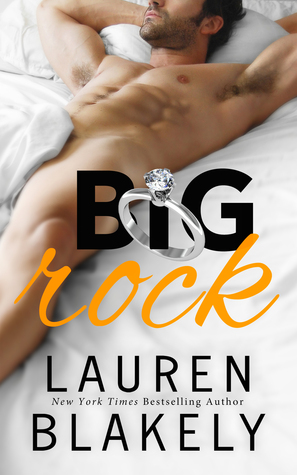 Big Rock
by
Lauren Blakely
Published by
Lauren Blakely Books
on January 6th 2016
Genres:
Fiction
,
Romance
,
Contemporary
,
Romantic Comedy
Pages:
300
Buy on Amazon US
, 
Buy on Amazon UK

It's not just the motion of the ocean, ladies. It's definitely the SIZE of the boat too. And I've got both firing on all cylinders. In fact, I have ALL the right assets. Looks, brains, my own money, and a big you-know-what. You might think I'm jerk. I sound like one, don't I? I'm hot as sin, rich as heaven, smart as hell and hung like a horse. Guess what? You haven't heard my story before. Sure, I might be a playboy, like the NY gossip rags call me. But I'm the playboy who's actually a great guy. Which makes me one of a kind. The only trouble is, my dad needs me to cool it for a bit. With conservative investors in town wanting to buy his flagship Fifth Avenue jewelry store, he needs me not only to zip it up, but to look the part of the committed guy. Fine. I can do this for Dad. After all, I've got him to thank for the family jewels. So I ask my best friend and business partner to be my fiancée for the next week. Charlotte's up for it. She has her own reasons for saying yes to wearing this big rock. And pretty soon all this playing pretend in public leads to no pretending whatsoever in the bedroom, because she just can't fake the kind of toe-curling, window-shattering cries she makes as I take her to new heights between the sheets. But I can't seem to fake that I might be feeling something real for her. What the hell have I gotten myself into with this…big rock?
BIG ROCK is a standalone romance novel written from the guy's POV by NYT Bestselling author Lauren Blakely…
I think this might be my favourite of the three, because I loved Spencer and Charlotte's friendship and their relationship it was just so natural for them to be in love.
Spencer Holiday is the owner of three bars around with his best friend Charlotte. Spencer and Charlotte have known each other from college and few years ago decided to go into business together. Previously, they have pretended to each others significant others to stop women/men from hassling them so when Spencer's dad needs help landing a business deal, Spencer says Charlotte is his girlfriend. While Charlotte is reluctant at first with lying to people she cares about, the circumstances force her to pretend to be Spencer's Fiancée. And everything is going according to plan all accept the fact that they are now falling in lust and love with each other.
I loved Spencer's POV, his honest confusion with what was happening with his relationship with Charlotte, his humour and caring for his family even though going through it the wrong way all made me adore him.
This book has the friends to lovers and fake relationship trope which just made me gobble this book up like a piece of yummy chocolate cake. The pace of this is quite fast but I guess I was okay with since they had known each other for quite a while and they were best friends and once they realised that they were attracted to each other it was all systems go kind of the thing. It as great humour, a couple with great chemistry and endearing characters.
After reading Big Rock I decided to read Mister O.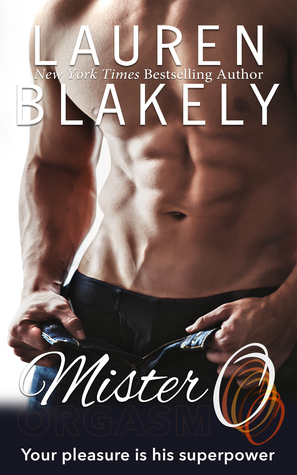 Mister O
by
Lauren Blakely
on April 30th 2016
Genres:
Fiction
,
Romance
,
Contemporary
,
Romantic Comedy
Pages:
308
Buy on Amazon US
, 
Buy on Amazon UK

Just call me Mister O. Because YOUR pleasure is my super power.
Making a woman feel 'oh-god-that's-good' is the name of the game, and if a man can't get the job done, he should get out of the bedroom. I'm talking toe-curling, mind-blowing, sheet-grabbing ecstasy. Like I provide every time.
I suppose that makes me a superhero of pleasure, and my mission is to always deliver.
BUT then I'm thrown for a loop when a certain woman asks me to teach her everything about how to win a man. The only problem? She's my best friend's sister, but she's far too tempting to resist--especially when I learn that sweet, sexy Harper, has a dirty mind too and wants to put it to good use. What could possibly go wrong as I give the woman I've secretly wanted some no-strings-attached lessons in seduction?
No one will know, even if we send a few naughty texts. Okay, a few hundred. Or if the zipper on her dress gets stuck. Not on that! Or if she gives me those get-over-here-and-take-me-eyes on the train in front of her whole family.
The trouble is the more nights I spend with her in bed, the more days I want to spend with her out of bed. And for the first time ever, I'm not only thinking about how to make a woman cry out in pleasure -- I'm thinking about how to keep her in my arms for a long time to come.
Looks like the real Adventures of Mister O have only just begun....
Nick Hammer is a cartoonist, a pretty famous one and has a TV show based on his comic as well 'Mister Orgasm'. He also happens to be a very cocky, slightly nerdish and very much in lust with his best friends sister Harper Holiday (Spencer's sister from Big Rock). Harper is a magician, a confident beautiful woman who goes all awkward and doesn't know how to act in front of men she's attracted to or likes.
Nick is slightly horrified when Harper asks him to help her win a guy and not be an awkward mess around men. As the lessons progress, their relationship starts changing and Nick starts to really fall for Harper and who wouldn't, the woman is gorgeous, funny and sassy but what about Harper?
I really liked Nick, inside of his hot tattooed covered body is still the guy who would doodle alone in classes and wasn't sure about the opposite sex. Again I loved his POV! Harper and Nick were great together, they had fantastic chemistry, banter and the progression from friends/tutor to lovers was pretty fun to read.
I have really enjoyed Lauren Blakley's romantic contemporaries with their hilarious POV and lovely couples and I can't wait to read more of them.
Related Posts