Review: The Truest Thing by Samantha Young
I received this book for free in exchange for an honest review. This does not affect my opinion of the book or the content of my review.
The Truest Thing
by
Samantha Young
Series:
Hart's Boardwalk #4
Published by
Amazon Digital Services
on 18th August 2020
Pages:
390
Format:
eBook
Source:
the Author
Buy on Amazon US
, 
Buy on Amazon UK
, 
Buy on Kobo
, 
Buy on itunes
Nine years ago, Emery Saunders moved to Hartwell to start her life over as a bookstore owner. Her inability to trust people made it hard for her to find a place in the small community until Jessica Lawson moved to town and befriended the shy beauty.But there was one person in Hartwell who tried to befriend Emery long before Jessica arrived…
Jack Devlin has his secrets. One of them is that he fell hard for Emery the moment she appeared in Hartwell. Another is that his father blackmailed him into covering up a dark family tragedy. It forced Jack to sever his relationships to protect the people he cared about. Yet, staying away from Emery has not been easy throughout the years and he hasn't always succeeded. When Jack's mixed signals hurt Emery once again, she puts him out of her heart for good.Until the Devlin family secret is finally revealed, freeing Jack from his father's machinations. What Jack wants more than anything is to repair his relationships, starting with Emery.
However, Emery isn't ready to forgive and Jack's not ready to give up.And when the town's latest scandal ties Jack and Emery together, Jack is not above using their new reality to prove to Emery once and for all that their love is worthy of the legend of Hart's Boardwalk.
Rating~ 3.75 stars
After reading the first book in the Hart's boardwalk series, I had wanted Emery's book (you can see that in my review for the first book) so I was pretty excited for that. Less so when I realised who the Hero was, I'd forgotten who Jack was and what he done but because this was Emery's book I wanted to go in with a completely open mindset. 
Emery Saunders is the shy and sweetheart of a woman, who opened a bookstore in Hartwell nine years ago. There she met Iris (the pizzeria owner), who would be her sole friend in that town for years to come till the arrival of Jess which helps her be a bit more social. Jack Devlin, nine years ago when he met Emery was completely taken by her. Due to circumstances not under his control and his father blackmailing him, Jack became person non grata in the town. The town turned against him when they saw that he was exactly like his douchebag father and brother EVEN THOUGH FOR YEARS he was the BEST guy (but let me not get ahead). Jack makes some very bad choices, makes unforgivable mistakes. He is an all around miserable person, doing the wrong things for the right reasons for the past ~5 years. All to protect his mother and sister. 
In the present everything is now in open, Jack and Emery finally have a chance to give their attraction a go EXCEPT because of Jack's behaviour while understandable has made Emery loose trust in him, he hurt her quite badly and she's not ready to take that chance again. And from there on is where we actually get more of Jack and Emery spending time together, being friends and Emery learning to trust Jack again. And of course Jack doesn't has to be an ass anymore and is free to show his love and be with Emery like he'd wanted for nine years. I really liked that part, I was glad that Emery hadn't just said cool now we can be together the end. She makes him work for it. 
I loved Emery! Jack is also likeable. I did like them together, Emery and Jack had good chemistry. Some of their earlier scenes had much more sweetness than the later scenes but they were still cute.
Quibbles: I think the thing that affected my enjoyment was there was just too much going on, in the past as well as the present. From Jack's reasons for behaving the way he did, from the way he actually behaved to Emery's past & trauma. The whole gun scene, court cases, the small mindedness of small town people, the pregnancy etc etc. It was too much. Also I hated the whole Jack Dana/Vanessa/random tourists thing. Jack and Cooper are best friends again, just like that. I found the whole Cooper forgiving Jack just a bit too sudden, I'm not saying he's wrong to do so just that it happened like in a snap, regardless of his reasons Jack behaved horribly. He does something that's awful and he does deliberately. I can understand that perhaps he saw no other option ( I don't agree that there wasn't) I don't know I wanted more then just that. While I'm glad for Jack's sake but at the same time the town and Cooper just become buddy buddy with Jack in what seems like a matter of mins. The town is so fickle tbh. Also for some reason the whole Hart boardwalk legend isn't a part of this story. It's mentioned but not there as much. 
I enjoyed seeing the other couples in the series in the book here, we also get some little teases of the budding relationships in Hartwell. I was glad to see Emery finally standing up for herself, demanding more people around her and not letting people be mean to her. I was happy that she finally got the happy ending she deserved and Jack didn't have to spend his whole life working for his father. Emery had family and friends and she wasn't the little poor rich girl anymore. 
Overall, despite my quibbles I did enjoy this one. Not as much as I'd hoped too but this was engrossing nonetheless and Samantha Young did a good job in keeping the reader invested in the couple. This book does make you feel a range of emotions. Anyone looking for a small town romance with drama, angst and a time coming relationship and HEA will enjoy this one.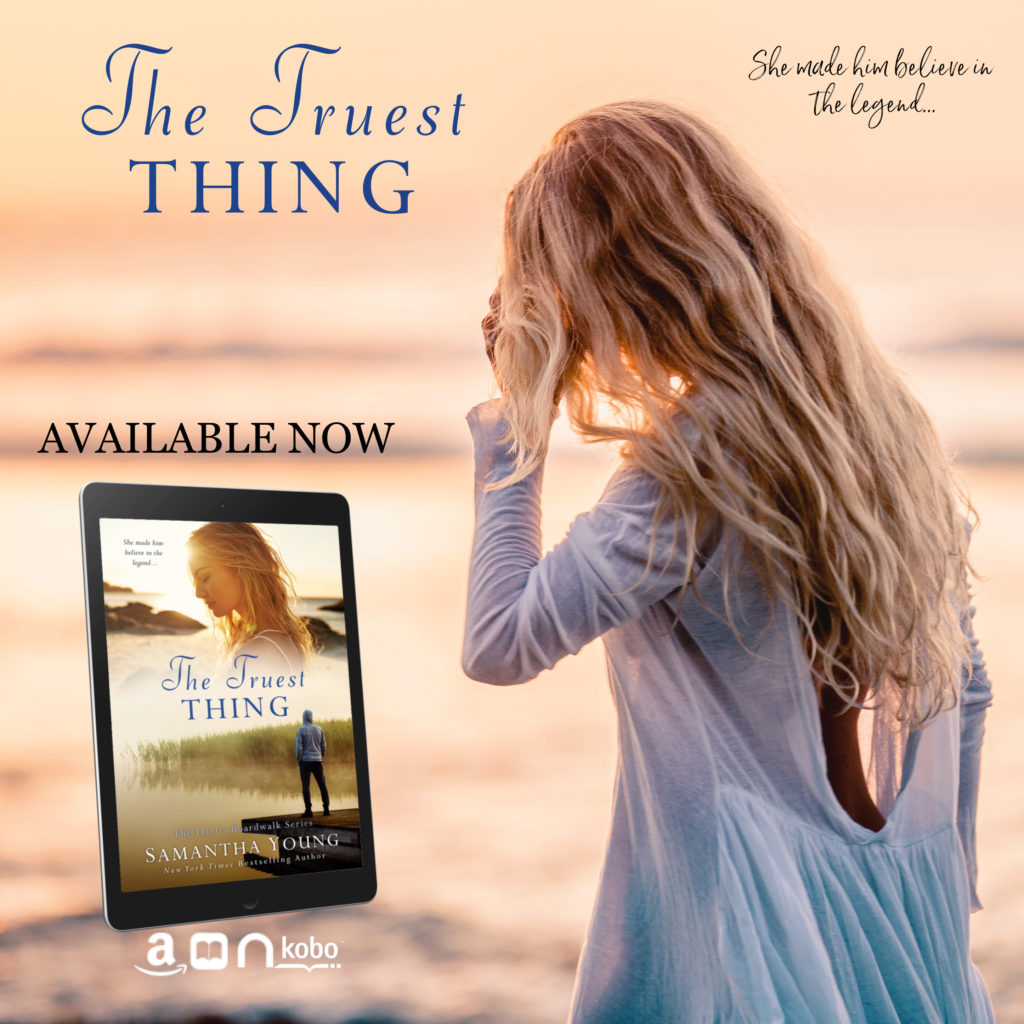 Related Posts