The Hooker and the Hermit by Penny Reid & L. H. Cosway Review + Giveaway!!
I received this book for free in exchange for an honest review. This does not affect my opinion of the book or the content of my review.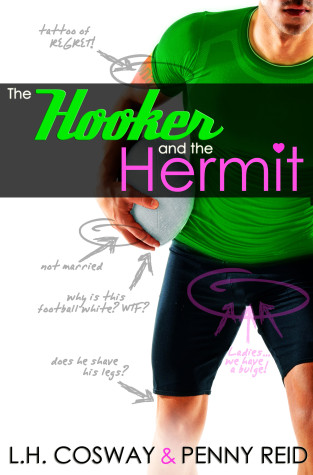 The Hooker and the Hermit
by
L.H. Cosway
,
Penny Reid
on 02 Feb 2015
Genres:
Contemporary
,
Fiction
,
Romance
Pages:
338 pages
Format:
eARC
Source:
the Author
LADIES AND GENTS! I have an announcement!
You know that guy I featured on my blog a few months ago? The really, really hot Irish rugby player who plays the position of 'hooker' in the RLI (Rugby League International)? The one with the questionable fashion choices leading me to ask whether he was the lovechild of a leprechaun and a hobbit? The one with the anger management issues and the body of a gladiator and the face of a movie star? Ronan Fitzpatrick? Yeah, that guy.
Well, I have a confession to make…
THE HERMIT
Annie Catrel, social media expert extraordinaire at Davidson & Croft Media and clandestine celebrity blogger, can make anyone shine in the court of public opinion. She is the Socialmedialite, anonymous creator of New York's Finest and the internet's darling. Virtual reality is Annie's forte, but actual reality? Not so much.
THE HOOKER
Ronan Fitzpatrick, aka the best hooker the world of rugby has seen in decades, despises the media—social or otherwise. The press has spun a web of lies depicting him as rugby's wild and reckless bad boy.
Suspended from his team, Ronan has come to Manhattan to escape the drama, lay low, fly under the radar. Only, Ronan isn't easy to overlook, and he can't escape the notice of the Socialmedialite…
THE PLAN
When Ronan is sent to Davidson & Croft Media to reshape his public image, he never expects to cross paths with shy but beautiful Annie, nor does he expect his fierce attraction to her. He couldn't be happier when her boss suggests pairing them together.
What lengths will Annie take to keep her virtual identity concealed? And what happens when the hooker discovers who the hermit really is?
Buy Links: Amazon US | Amazon UK | B&N | Kobo | Smashwords 
Review
Annie Catrel aka the hermit in the story, by day she works for a Media marketing company helping celebrities with their public image and by night she is the anonymous infotainment blogger known as Socialmedialite who blogs about celebrities and she happens to be pretty good at this in her online life. In real life, Annie's completely different. She is reserved, finds it difficult to make conversations with people or even look them in eye while talking and the only thing she thinks she's good at in RL is her job. She prefers her alter ego where she's confident, witty and not to mention actually social. 
Hide your puppies and kittens, New York. Cruella, aka Dara Evans, is looking for a new sweater, and your little Fido is the perfect shade of innocent to match her baby koala mittens – <3 The Socialmedialite
Ronan Fitzpatrick aka the hooker in the story (and no, not that kind of a hooker as Ronan would say get your mind out of the gutter). He is a rugby player who has the position of a hooker in the team. He is obsessed about his diet and health, cares nothing about how others see him and doesn't give a rat's ass about social media either. He also recently broke up with his long time girlfriend.
Dearest Annie, Roses are red. Violets are blue. I'm using my hand But I'm thinking of you. – Ronan P.S. Just to clarify, I'm using my hand to write this note…get your mind out of the gutter.
Unlike many other heroes, our rugby player isn't actually a player which I liked. Though he was funny, has a foul mouth he could also be quite serious and intense. When he looks at Annie, he sees a beautiful, intelligent if shy woman, that's completely different from all the other women around her. Annie on the other hand doesn't know how to deal with people in real life mainly due to her childhood. Now there's Ronan, who she wrote a post about in her blog calling him a love child of a leprechaun and a hobbit (and who doesn't know that it was her that wrote it) and is asking her out she doesn't really know what to do with him. He doesn't seem to care that she sometimes has no coordination skills, sucks at making conversation and has some baggage. 
And it's often you come across two unique protagonist who are also both so lovable, know they both have flaws and gah I just loved them as individuals and as a couple. 
The book had just the right amount of humour, love, angst and chemistry.    
They were adorable together seriously there interactions made me grin and smile like I was a teenager at some famous boyband's concert. 
This is me while reading the book:
Quibbles: Apart from it being so good that I didn't want it to end. I wanted a bit more of something near the end after Annie's gesture.
I didn't quite know how the co-authoring of the book would work but the writing was seamless. Really if someone didn't know it was written by two authors they wouldn't even think that it was a collab. I really enjoyed their brain child and I hope that they co-author more books together.  
Random Quote that I loved:
Therapists always struck me as a hire-a-friend service. Therapists are to mental and emotional purging as prostitutes are to physical urges.
Overall, this book was a breath of fresh year, truly unique and a joy to read! Definitely a book for my best of 2015. Happy Reading!
P.s If my review doesn't make much of a sense it's cause I'm high on pain medication. 
Giveaway!
Enter to win signed books from: Mia Sheridan, April White, Daisy Prescott, Tara Sivec, Penny Reid, LH Cosway AND a signed Tote from Wicked Book Weekend and has a ton of author signatures, including Kristen Ashley, Tara Sivec, Chelle Bliss, etc.
Related Posts