Review: The Hard Truth about Sunshine by Sawyer Bennett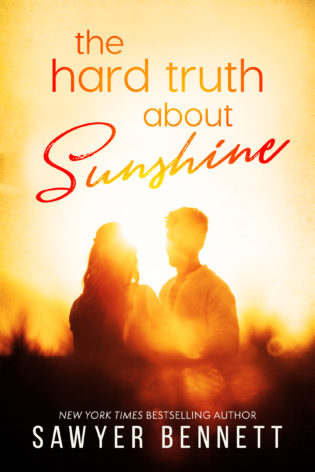 The Hard Truth About Sunshine
by
Sawyer Bennett
on March 28th 2017
Genres:
Contemporary Romance
,
Abuse
,
Romance
,
New Adult
Format:
eARC
Source:
Promotion Company
Buy on Amazon US
, 
Buy on Amazon UK
, 
Buy on Kobo
, 
Buy on B&N

Despite having narrowly escaped death's clutches, Christopher Barlow is grateful for nothing. His capacity to love has been crushed. He hates everyone and everything, completely unable to see past the gray stain of misery that coats his perception of the world. It's only after he involuntarily joins a band of depressed misfits who are struggling to overcome their own problems, does Christopher start to re-evaluate his lot in life.
What could they possibly learn from one another? How could they possibly help each other to heal? And the question that Christopher asks himself over and over again... can he learn to love again?
He's about to find out as he embarks upon a cross country trip with a beautiful woman who is going blind, a boy with terminal cancer, and an abuse victim who can't decide whether she wants to live or die.
Four people with nothing in common but their destination. They will encounter adventure, thrills, loss and love. And within their travels they will learn the greatest lesson of all.
The hard truth about sunshine...
Warning: This book deals with some tough issues including suicide and sexual abuse.
 "This. This right here. It's the hard truth."
This book is beyond beautiful. It's heart wrenching, blunt and unique. There is something about people with scars both mental and physical finding comfort and love on their journey that will twist you in special ways. This book is exactly that.
There are so many parts in this story where you stomach will turn. Where you'll feel good knots and bad ones. Where you may even face your own issues. So to be able to understand this book, our main character is Christopher Barlow. He has gone through a lot for a couple of years. He has been recovering from an injury all alone and it has taken a toll on him physically and mentally. Mentally he is suffering, and physically he suffers. To him, everyday is living in hell. Christopher was one a marine… until the day he wasn't. But his story is really his to tell.
He ends up going to group therapy after an altercation with the law, let's just say that. His group is made up of three exceptional people in their own ways. With them he goes on a country wide tour as a last wish to a boy in the group. I can't say much there are too many spoilers. But Christopher's journey not only helps him in finding something to live for, but helps the rest of them. There are points where each person in the group faces their fears and dreams. And at each point they all have the help of each other.
"I said it's bullshit." This comes out forcefully and with firm resolve. She blinks at me in surprise." Listen… it's okay if you want to sunshine your way through life and look on the bright side of things. And it's also okay if you get scared and think the world is falling in on you. You can have both. You can have moments of great confidence in yourself, and then moments where you're so low you don't think you can make it another day. But the one thing you can never do if give up the belief that it will all be okay. And you'll know it will all be okay because regardless if you're up or down, I'll be with you through it all.""
This books is not only about recovery and learning each other's deepest darkest secrets, its about love. Christopher is taken away by a girl Jillian. She lights up the whole room with her aurora. She tries to makes each day as special as possible before it's too late. Her character is extremely interesting. The beginning shows Jillian almost this goddess. She shines so damn bright, but somewhere in her is her fears and dream like any human. It's beautiful. The messages in this book are fantastic. Jillian's strength is so strong, she pushes her fears like no other in their group. And she has things to fear. But she appreciates the small things. Not many of us do. It is something to take away from this book. Her persona is truly inspiring.
"Christopher, I'm going to tell you a hard truth I had to learn and maybe you'll understand where I'm coming from." She takes a deep breath, blinks those heavy eyes once, and continues. "I won't miss the sun because it's not going anywhere. It will always be there for me, continue to bestow its magnificence upon me until the end of my days. I might not be able to see it, but I can feel it. I can feel the warmth that caresses my skin on a late spring day and the tingle on my skin when I start to get a sunburn in high summer. When I go blind, I'll merely open my other senses…"
Cristopher learns a lot from not just Jillian but also Barb and Connor. There's just so much to learn and talk about. I don't want to spoil it. But this book does cover heavy topics. It also covers them in ways where it's okay to go through tough times.
It teaches you that it's okay to lean on someone. To learn from them, their mistakes, their dreams and their regrets.
It teaches you about acceptance and love as you read this book and I think it is such a special book to be able to convey such devastatingly beautiful messages. There is at least one thing to learn for each reader of this book. With all my heart I wish you all would take up your time to learn a thing or two from Christopher, Jillian, Barb and Connor.
 "You've taught me so much in such a little bit of time, and I am so fucking lucky that you can see past the broken parts of me. You made me see that hope is a wonderful thing, and I want to work hard to turn those dreams into reality. Jillian, you were my bucket list and I didn't even know it."
5++ hard truth stars
Related Posts