Review: Keepsake by Sarina Bowen
I received this book for free in exchange for an honest review. This does not affect my opinion of the book or the content of my review.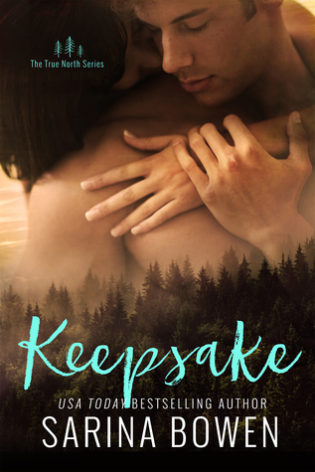 Keepsake
by
Sarina Bowen
Series:
True North #3
Published by
Rennie Road Books
on October 29th 2016
Pages:
300
Buy on Amazon US
, 
Buy on Amazon UK
Lark Wainright used to be fearless. She led her life as a series of adventures, each one more exhilarating than the last. But her last overseas adventure was one too many. She's safe now, but her family is still consumed with worry and her nights are filled with terror.
When her best friend offers her a stay at the orchard in exchange for help at the farmers' markets, Lark jumps into her little car and heads to Vermont. But her night terrors don't stop. Desperate to keep her fragile state a secret, she relies on the most soft-spoken resident of the Shipley Farm to soothe her when her dreams prove too much.
Zachariah is a survivor, too. It's been four years since he was tossed aside by the polygamist cult where he grew up. He's found a peaceful existence on the Shipley's farm. He's good with animals, and he's good with his hands. But getting thrown away by your own people at nineteen leaves a mark on a guy. He doesn't always know what to make of a world where movie quotes are the primary means of communication. Before hitchhiking to Vermont, he'd never watched TV or spoken on the phone.
Actually, there are a lot of things he's never done.
Zach and Lark slowly grow to trust one another. One night they become even closer than they'd planned. But Lark may still be too broken to trust anyone. When she pushes Zach away, he will have to prove to himself that he's good for more than farm labor.
Rating ~4.75 Stars
I LOVED THIS ONE!!
Excuse this mess of a review because I don't really know how or where to start from.
Zachariah "Zach" is such a lovely hero, he is sweet, hard working and with his insecurities which only endeared him to me more and made him completely swoon worthy. His heroine is, Lark Wainwright, a very strong survivor, slightly damaged (but who wouldn't be in her position) and suffering from PTSD .
I don't even want to dissect a lot of the book just because I loved this and I loved their story. Their relationship started off as acquaintances to friends and turned into lovers and ended up with them being each other's love.
Both of them have gone through so much in their young life but they survived and got the happily ever after they deserved.
Lark who used to be this adventure girl with no fear had turned into a shadow of her previous self barely holding on.  After a horrible incident during her job she has become someone she doesn't even recognise. She comes to visit her best friend to get some peace working at her friends family's farm called the Shipley's farm.  Lark goes through quite a lot of development in the book, she starts off as slightly broken and eventually hitting rock bottom but comes out strong and happy at the end.
Zach has had also had a pretty terrible life. After being thrown out by the only home and people he knew, especially when he was living in a polygamist cult which had no interference with the outside world. For the last four years after he hitch-hiked to the other two members of the cult who had left years before and moving to the Shipley's farm, his life has been a vast improvement but it is difficult to assimilate to this newer world that Zach has found himself in. Zach was sweet, shy and genuine. I just loved how utterly devoted he was to Lark and to the Shipley's. Not sure if its quite the right word but he had such a pure soul.
Zach has never been attracted to anyone as he is to Lark but seeing how different she is now to when he first met her, the bubbly and full of life girl who is nowhere to be found. He wants to help her because while no one else can see, Lark is barely holding on with her nightmares and the never ending guilt.
Their romance was sweet and passionate. It just a very soft and squishy kind of love that made me smile. They had a strong connection to each other and with their great attraction/chemistry with each other just made me love them together. The stuff that Lark goes through is heart-breaking and I just loved how Zach was there her and helped her through the painful memories and nightmares. It was very touching!
The book also had a great family dynamic with the Shipley's all being very different to each other, their usual squabbling/bickering between cousins and siblings. Along with their Thursday night dinners with friends and family all together.
Even though the book deals with issues like PTSD and anxiety and other issues which made me teary at times, it also had the hopefully and lightness to it that made me love the book. I just don't even know what else to say except BUY THE BOOK!
Going to read the second book in the series now!!!
Related Posts