Guest Post with Author Lara Adrian + Giveaway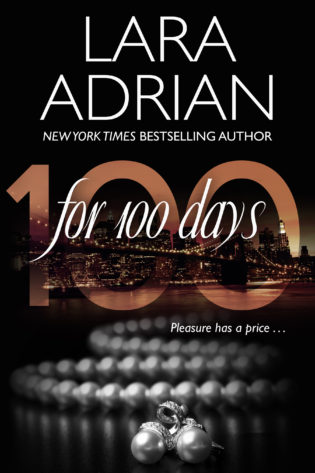 For 100 Days
by
Lara Adrian
on 24 May 2016
Genres:
Contemporary
,
Romance
Buy on Amazon US
, 
Buy on Amazon UK
, 
Buy on Kobo
, 
Buy on itunes
, 
Buy on B&N
Pleasure has a price . . .
Just when everything in my life is falling apart, I find a chance to turn it around--to step into someone else's glittering world, if only for a little while. I become someone new, no longer the woman defined by an ugly past, but a woman freer and bolder than myself. A woman who isn't afraid to explore every passion, even at its darkest, with a mysterious and seductive man who believes my mask is real.
Handsome and commanding, enigmatic and irresistible, billionaire Dominic Baine is an obsession I cannot afford and should not risk. He ushers me into consuming new pleasures and addicting new desires, until the line between my real life and the fantasy one I've stolen with him begins to blur.
I know I cannot keep my truth from him. I know my past will not stay buried forever. But before I can make it right, everything comes crashing down. I have deceived this powerful, dangerous man . . . and now there is a price to be paid.
* * * * * * * *FOR 100 DAYS is the first novel in a passionate new contemporary romance trilogy from New York Times and #1 international bestselling author Lara Adrian.
Coming soon: FOR 100 NIGHTS and FOR 100 REASONS.
Happy Release Day to "For 100 Days" by Lara Adrian!! Below an exclusive note from the Author.  
Thank you for inviting me to guest post on your blog today!
Avery and Nick have been living in my mind for a quite some time now, waiting (not so patiently) for their turn on the page. The series began in a Paris cafe in June 2014 while I was on book tour in France. As my husband and I were having lunch, I told him about a Cinderella-with-a-twist story idea I had that centered on a struggling artist who gets a temporary housesitting gig at a posh Manhattan highrise and finds herself swept into a glamorous, sensual world with a handsome, powerful man whose secrets run as deep and dark as her own.
John and I had planned to visit a bunch of museums that day, but instead we spent the next several hours obsessed with Avery Ross and Dominic Baine's story. By the time we left Cafe Mucha, we had sketched out the bones of all three books in the series. I couldn't be more excited to finally share Nick and Avery's story!
FOR 100 DAYS is the first in the trilogy, which will continue with FOR 100 NIGHTS later this year, and FOR 100 REASONS in early 2017. Be sure to sign up for my VIP Reader List at http://bit.ly/LaraAdrianNews to get notified of all my new releases!
Happy reading!
Lara Adrian
Giveaway
Related Posts