Review: Midnight Untamed by Lara Adrian
I received this book for free in exchange for an honest review. This does not affect my opinion of the book or the content of my review.
Midnight Untamed: A Midnight Breed Novella
by
Lara Adrian
Series:
Midnight Breed #14.5
Published by
Evil Eye Concepts
,
Incorporated
on October 11th 2016
Genres:
Fantasy
,
Paranormal
,
Romance
Format:
eARC
Source:
the publisher
Buy on Amazon US
, 
Buy on Amazon UK
The mission was supposed to be simple. Infiltrate an enemy's stronghold outside Rome and eliminate its leader. For a Breed warrior as lethal as Ettore Selvaggio, AKA "Savage", stealth assassinations are only one of his many cold-hearted specialties. But the last thing Savage expects to find behind enemy lines--in his target's bed--is a woman he once adored. It's been years since Savage last saw beautiful Arabella Genova. Years he's strived to banish to his past, along with the fierce desire he once felt toward Bella . . . and the irresistible calling of her blood that stirs in him even now, despite the fact that she belongs to another male. But when fate throws Savage and Bella together again in a race for their lives, will his long-lost love prove to be the one woman he can't live without, or the perfect weapon to destroy him?
Such a cute, fluffy and sweet short story!
The story follows Ettore 'Savage' Selvaggio and Arabella 'Bella' Genova. Three years ago, they were young and deeply in love when something makes Ettore leave Bella. Now circumstances have put Bella in a difficult position. Ettore is about to go ahead with his mission for the order when he notices that the only woman he had ever loved is involved in what looks like very unsavoury and treasonous situation. 
"In her heart-in the depths of her soul-she only he was the only man she would ever love"~ Arabella.
This is a quite short story so I don't want to spoil anything but I enjoyed that it had action, a bad guy ,some sweetness and sexy times thrown in giving a well balanced book. With the limited amount of words we don't get to know the characters as we do in normal length books but I think here it was done fairly well. We get to see a bit of how they were when they were young and how besotted Ettore was with Bella.

It was a great addition to the 1001 dark nights and the midnight breed series. Anyone looking for a short pnr read would enjoy it!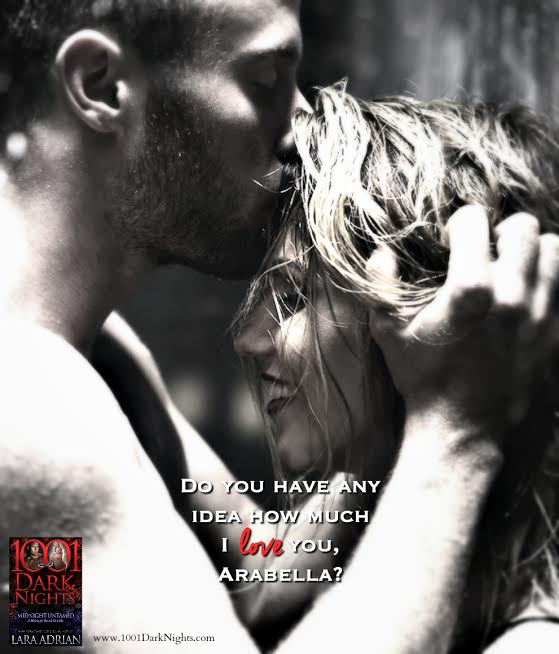 Related Posts