Release Day: When the Walls Come Down by Aly Martinez and M. Mabie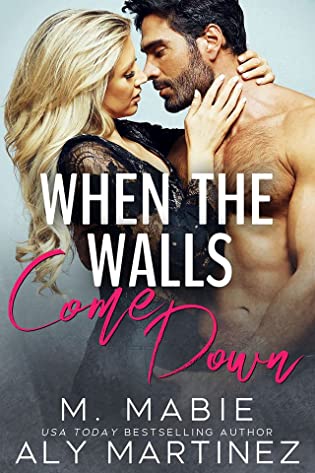 When the Walls Come Down
by
M. Mabie
,
Aly Martinez
Published by
Amazon Digital Services
on 4th June 2020
Genres:
Contemporary Romance
,
Romantic Comedy
Did you ever hear the joke about the guy whose wife cheated on him with his best friend? So he quit his job, moved into his parents' basement, and gained fifty pounds?
No? Because that wasn't a joke. It was my life.
Four years later, I'm back with a dream job, a killer apartment, and a set of abs that are better than ever.
So, when Maggie Light, a stunning, snarky blonde moves in next door, and we spend the hottest weekend of our lives together, I think this could be the greatest comeback story ever.
That is until I realize Maggie has moved to town to do one thing—steal my job.
Maybe this isn't a comeback story after all. Maybe this is war—one I intend to win.
What I never anticipated was that maybe I'd rather win her.
Perhaps, if I'm lucky, the universe has finally run out of jokes and I can somehow win both.
A genius collaboration! All the stars for this quick-witted, sexy, and endearing cast of characters. Aly and M. Mabie delivered rom-com perfection!
– Jewel E. Ann, USA Today Bestselling Author
When the Walls Come Down, an all-new, not-to-be-missed, witty workplace romance from USA Today bestselling author Aly Martinez and M. Mabie is available now!
I was fortunate enough to get the ARC of this one and seriously this was a great read!!! 
Download your copy today or read for FREE in Kindle Unlimited!

Related Posts