Excerpt: How to Cross a Marquess by Jane Ashford
How to Cross a Marquess
by
Jane Ashford
Series:
The Way to a Lord's Heart #3
Published by
Sourcebooks Casablanca
on 27th August 2019
Genres:
Historical
,
Regency
Pages:
352
Buy on Amazon US
, 
Buy on Amazon UK
, 
Buy on Kobo
, 
Buy on itunes
, 
Buy on B&N
The Marquess of Chatton and his neighbor Fenella Fairclough have known each other all their lives. They refused to marry each other years ago when their parents demanded it, and they won't concede now―even if circumstances have brought these former enemies much closer than they ever could have anticipated...
Enjoy the except of the latest release by Jane Ashford, "How to Cross a Marquess" and enter the giveaway for a chance to win "A Lord Apart" below!!

The warmth in his expression left Fenella shaken. She'd been braced for blame. She knew how to dismiss unjust accusations, taught by those her father had been tossing at her for as long as she could remember. But not to have to. That was another matter entirely. Relief was a pale word. Her throat thickened with tears.
She looked away to hide them, blinked them back. Their horses had ambled along at their own direction while their riders talked, and she saw that they'd veered closer to Clough House. Before them lay a dip in the land that was filled with bushes. "The raspberry thicket," said Fenella. "I used to come here and pick berries whenever I could sneak away. How Mama scolded me for spoiling my dresses! But I couldn't resist. I love raspberries."
"I'll pick some for you."
"The thorns will tear your clothes."
"No, they won't. You can sit in the shade over there." He turned his horse toward a cluster of saplings at the side of the thicket, grinning over his shoulder. An antic mood seemed to have overtaken him.
The breeze carried the scent of sun-warmed raspberries. Fenella's mouth watered. "I could pick my own," she said.
"Please allow me."
He spoke like a knight offering some perilous feat of chivalry. She decided to let him.
They dismounted, leaving their mounts to the rich grass on the side of the hill. Fenella settled in the shade and watched Roger plunge into the raspberry bushes. He pulled out his handkerchief and began to fill it with ripe berries. Stains spread over the linen as he added to his haul. She saw the thorns catch at his coat sleeves and riding breeches. They scratched his glossy boots as well. His valet wouldn't appreciate that. But Roger didn't appear to care. He moved deeper into the thicket, until only his hat was visible above the arching canes. And then that too vanished. "Are you all right?" called Fenella.
"Dashed briars snatched my hat," he replied. "Just a… Got it." The crown of his hat reappeared above the branches. He was near the center of the thicket, at the bottom of the dip. It was much harder to get out of that little valley than to go in, Fenella remembered. The slant of the bushes seemed to push one back down.
Roger's face showed above the vegetation. He must be standing on tiptoe. "There you are," he said. "I got turned around."
He moved slowly toward her, obviously having to fight his way out. His head, and then his broad shoulders, came into view. He held one arm in front of his face to stave off the thorns.
"Hotter in there," he said when he finally emerged. Sweat gleamed on his face. He came over to her, bowed, and set his bundle of berries beside her as if they were indeed the result of a knight's quest. Fenella noted an angry scratch across the back of his right hand. At least it wasn't bleeding. She took a raspberry and ate it. The fruit was warm from the sun, sweet and tart at the same time. It melted on her tongue, utterly delicious. "Berries picked here are always better than any others," she said.
Roger sat down in the grass beside her.
"You must have some, too. You did all the work."
He ate one. "Very good."
"Better than that," Fenella said. "Luscious." She held out a berry. He bent a little forward and took it, his lips brushing her fingertips, light as a butterfly's wing, and still it stirred her.
"Luscious," he agreed.
The word vibrated between them, expanding out to encompass far more than berries. The air was heavy with the hum of bees and the scent of fruit under the heat of the August sun.
They were hidden from the world here, Fenella noted. Even the horses would not be easily visible, due to the dip in the land and the height of bushes. They might have stepped outside of time. Her everyday life seemed far away.
Roger took a raspberry and held it out to her. Fenella leaned forward and opened her lips. He put the berry on her tongue. She bit into it, the intense flavor filling her mouth—piquant, delicious, another dart of pleasure. She held out a berry. He followed her example, bending toward her. She set the crimson fruit in his mouth without touching him. He held her gaze as he bit down.
The sultry atmosphere went to her head—the languorous warmth, the rustle of leaves overhead, the soft grass beneath her, Roger's lips red with berry juice. Hers must be as well, Fenella thought. The same hue, the same taste. The idea seemed to pull her forward, and the next time he held out a berry, she leaned past it and kissed him.
He did taste of raspberries. But the kiss was so much more than that. The sweet taste of the fruit slid slowly into a melting of her whole body.
Strong arms came around her and pulled her close. She put hers around his neck and let herself sink with him onto the grass. The world contracted into a kernel of dizzying sensation.
What kisses, she thought. She'd known she was drawn to Roger, but she hadn't realized it would be like this. His touch set her vibrating with desire. She wanted to give him all he could ask, to take everything he could offer. She pressed up against him. Their kisses wove a tapestry of longing, begging to be unraveled. He murmured her name.
"It went this way," shouted a boy's voice from other side of the thicket.
"Into the brambles?" replied another.
"Right under, the cunning little devil."
"I ain't desperate keen to crawl in there."
"It's John and Tom," whispered Fenella.
"Deuce take them," replied Roger.
"Perhaps it will come out the other side," said John. "We can go around." Footsteps pounded along the edge of the thicket.
Roger pulled her closer as if to protect her from this intrusion. But his instinct was wrong in this case. They couldn't be found embracing. Fenella pulled away and sat up. Her hat had fallen off. She retrieved it and set it on her head, plucking and pinning stray strands of hair into place.
"Must speak to you," Roger whispered.
"Shh. Not now."
"Must." He couldn't stay silent. He had to tell her. This was the tricky bit, where he could win her, or lose everything. If only he could make his damnable tongue form the right phrases, and in a hurried whisper, no less.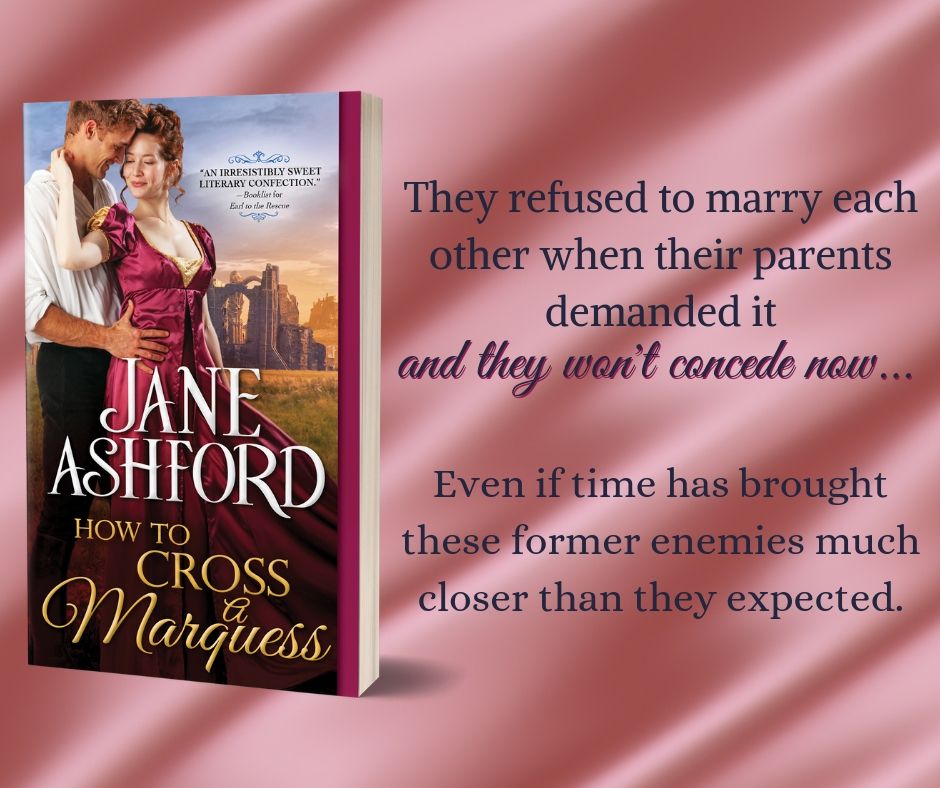 Related Posts