Review: Razer's Ride by Jamie Begley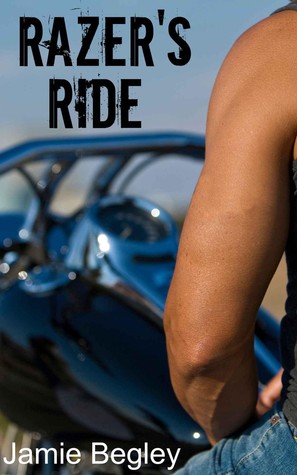 Razer's Ride
by
Jamie Begley
Series:
The Last Riders #1
on June 8th 2013
Genres:
MC Romance
,
Adult
,
Contemporary Romance
,
Erotica
Format:
Kindle
Buy on Amazon US
, 
Buy on Amazon UK
, 
Buy on Kobo
, 
Buy on itunes
Beth Cornett is the town good girl, so staying out of the way of the motorcycle club's dangerous members was a no brainer. Unfortunately, she manages to catch the eye of Razer, who has every intention of tempting her to take him on despite her misgivings. When her worst fears are realized, she is left heartbroken, determined to forget her walk on the wild side.
Razer was not going to change for any woman, not even Beth. Their lifestyles were too different; betrayed she ran. Realizing his mistake too late; she was not about to forgive and forget. It takes a killer intent on targeting Beth to bring her back to him and The Last Riders for protection. Razer may have learned his lesson, but this time, as long as she is at the club, she has to play by their rules.
It's funny when you go back to the start. You don't realize how much you missed. Well, how much you forgot. Jamie Begley has once again consumed my world. Her Last Riders are a force to be reckoned with. Razer's Ride is book about love, loyalty and … open-mindedness.
If you haven't already figured out from the title, Razer's Ride tells the story about Razer. Razer is a player. He is all about the woman. Making them happy. Making them make him happy: P He lives his life free and open. Until he meets the beautiful and timid Beth Cornett. He is quite the asshole until long way past half way. It's will frustrate you to the point of no return.
"I don't know how much more blunt I have to be, but here goes. We had fun, but I don't want or need a permanent roommate."
Douche much right?
Beth is our heroine of the story. And she really is that. She is one tough, sweet and loving heroine. She has been taken for granted as a young child and bears so much responsibility as an adult. The story follows Beth as she becomes introduced to a world where judgement is not allowed and where loyalty and family are key. She lets herself become immersed in Razer after a couple of meetings and falls into the life of The Last Riders.
From the beginning you realize how deserving Beth is to be happy. She is the elder sister to one of the sweetest girls you'll ever read about, Lily. Beth goes to great lengths to give them both a life they deserve after all the hurt they have been through. There is not much detail about their pasts, but you know it's bad with the small amount you get to see. It makes their characters even more lovable.
It took a long time for Razer to do right by Beth, that's all I can say. When you get to the point where you can finally say there's a HEA, you'll be sighing in relief. It takes a lot to get the whore out of the man whore in Razer. But sweet, sweet Beth manages to do it.
"We are going to take the best of both of our worlds and make our own."
Their love is beautiful. I think the book mostly focuses on their rough path to find their love, but they get their nonetheless. And the best thing about Razer, is once he learns what he could lose, he makes sure to keep it.
This book is a fantastic ride, no pun intended into the Last Riders world. It is a sweet romance that makes you want to immerse yourself in their world. Which is what I plan to do. This series will always get a 5 stars from me. I'm in love. Thank you, Jamie Begley.
Give this a read if you think you can handle it. It's not the best book for someone who is not willing to open their eyes to many situations.. sexually 😛 Welcome to the Last Riders world. I hope you enjoy your ride with these sexy bad boys and fall in love.
Ps. The sexy and sinful as hell Shade will be back.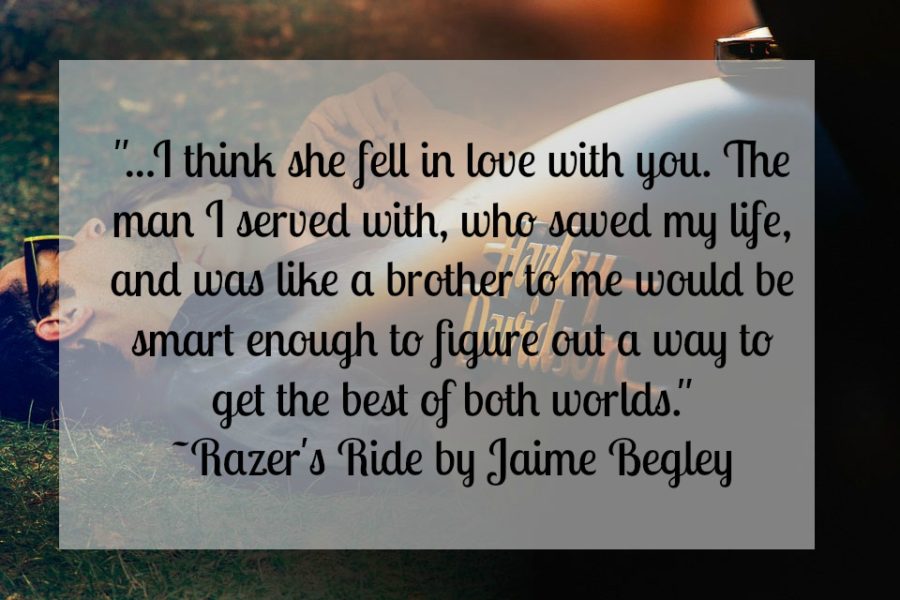 Related Posts