Review: Lucca by Sarah Brianne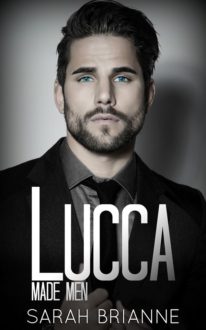 Lucca (Made Men Book 4)
by
Sarah Brianne
Series:
Made Men #4
on January 31st 2017
Genres:
Romance
,
New Adult
,
Contemporary
,
Dark
,
Abuse
Format:
Kindle
Buy on Amazon US
, 
Buy on Amazon UK
, 
Buy on Kobo
, 
Buy on itunes
, 
Buy on B&N

Lucca was made the underboss, being what nightmares are made of. Chloe was scarred by her past, learning too young that nightmares are real. He has waited long enough to claim her soul, but he must take it from the devil first. Her soul might have been better off claimed by the devil. The only way to save her from her past is to delve into his. The world as she knows it will come crashing down. I'm the fu**ing boogieman. I'm just a fu**ing freak.
*WARNING*
This work of fiction is intended for mature audiences only. All sexually active characters portrayed in this ebook are eighteen years of age or older. Please do not buy if sexual situations, violence, drugs, child abuse, and explicit language offends you.
*NOTE TO READERS* To receive the full experience these books are recommended before "Lucca" in the following order:
Nero (Made Men, #1) Vincent (Made Men, #2) Chloe (Made Men, #3)
5 Blooming Love Stars!!
Have you ever read a book which you have anticipated for months? I can't even give a specific amount of months, all I know is there was a long waiting period. For 31 days there were teasers. So many freaking teasers I was about to burst. Then the release day for Lucca arrive and it was a no brainer to purchase the book. Not one second after I pushed the "Buy Now with 1-Click" button have I regretted my decision.
Lucca Caruso is the be-all and end-all of underbosses. He is 2017's Mafia hottie. There is no doubt you will fall in love with him. No single, freaking doubt. He. Will. Bring . You . To. Your. Knees. The anticipation that was created with Sarah Brianne's last 3 books in the Made Men series lead up to this book. And this book delivered. It was honestly touch and go with Chloe (Made Men #3)….But this book delivered.
"The mafia practically oozed off him. The underboss screamed from him. The boogieman…"
If you haven't read the previous 3 books you probably would need to so you can understand the magnificence that this book contains.
Lucca is so special. He has an evil streak. One where he can crush bones (literally, he did with a baseball bat) and torture for days and days. He is the judge, jury and the executioner for the mafia. And it is downright scary. No one likes to get on the bad side of Lucca. He is The Boogieman you never see coming. This book is how he captures Chloe. At every corner, he has planned how their love will grow starting from taking her at an airport before she can leave for Stanford.
"He was letting the most beautiful creature slip through his fingers, and even though the dark part inside of him begged him not to let her go, knowing she belonged to him, he knew he had to, even if it killed him. He couldn't cage her in, at least not yet."
Chloe Masters is beautiful but broken. She's so afraid, even of her own shadow as the story begins. I mean there isn't much improvement, however she lets Lucca in. And it is something so special that she lets him touch her. It shows the faith she has in him. It's beautiful and hard not to love.
"Her tortured soul called to his dark one, whispering for him to save her. His heart was now slow and steady, finding its purpose—Chloe Masters."
And the garden!! That's all I am going to say. Lucca is one sweet guy and the garden is the connection these two need to have something  strong.
"Gardener, master chef, handsome… He's almost perfect. Almost."
Their love is beautiful, something that has grown from the darkest and deprave pits of people's aggression.
For fans of the Made Men series there are lots of answers to be read in this book. Hopefully you will love it just like I did!
5 STARS!!