Teaser Review: Do You Want To Start A Scandal by Tessa Dare
I received this book for free in exchange for an honest review. This does not affect my opinion of the book or the content of my review.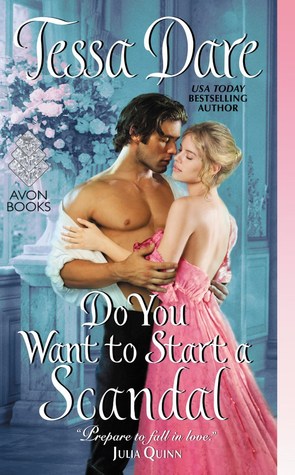 Do You Want to Start a Scandal (Spindle Cove, #5)
by
Tessa Dare
Series:
Spindle Cove #5
Published by
Avon
on September 27th 2016
Pages:
384
Format:
eARC
Source:
the publisher
Buy on Amazon US
, 
Buy on Amazon UK
, 
Buy on Kobo
, 
Buy on itunes
, 
Buy on B&N

On the night of the Parkhurst ball, someone had a scandalous tryst in the library. Was it Lord Canby, with the maid, on the divan? Or Miss Fairchild, with a rake, against the wall? Perhaps the butler did it.
All Charlotte Highwood knows is this: it wasn't her. But rumors to the contrary are buzzing. Unless she can discover the lovers' true identity, she'll be forced to marry Piers Brandon, Lord Granville—the coldest, most arrogantly handsome gentleman she's ever had the misfortune to embrace. When it comes to emotion, the man hasn't got a clue.
But as they set about finding the mystery lovers, Piers reveals a few secrets of his own. The oh-so-proper marquess can pick locks, land punches, tease with sly wit . . . and melt a woman's knees with a single kiss. The only thing he guards more fiercely than Charlotte's safety is the truth about his dark past.
Their passion is intense. The danger is real. Soon Charlotte's feeling torn. Will she risk all to prove her innocence? Or surrender it to a man who's sworn to never love?
I couldn't help myself, I still have quite a few books to read for August but when this landed on my kindle it become very difficult to resist so I didn't.
The prince and the Sea monster ~ Charlotte 
So what happens when a jaded spy meets his match in a young, all too seeing woman you get Do You Want To Start A Scandal?
Miss Highwood, Charlotte is such a wonderful lead, she's hilarious. Her intelligence, bluntness and innocence made her fascinating to the spy/Marquees Lord Granville, Piers Brandon. 
Piers never saw it coming, one minute he is trying to collect information and in the next few minutes proposing marriage to one of the most unique woman he's ever met when they are discovered hiding in the library. 
Both the protagonists, their individual behaviour and as a couple made me smile. I think I pretty much smiled all the way through! It was funny and sweet. This book is so refreshing, it has the near perfect blend of romance, humour and mystery. 
Few teasers:
Oliveview (you'll understand when you read it 😍😍) 
Perhaps this wasn't love after all, but malaria. ~ Charlotte 
Full review to be posted near release date, 27 September. 
Related Posts