Review: Unchained by Elisabeth Naughton
I received this book for free in exchange for an honest review. This does not affect my opinion of the book or the content of my review.
Unchained
by
Elisabeth Naughton
Series:
Eternal Guardians #8.5
Published by
Evil Eye Concepts, Incorporated
on 14 June 2016
Genres:
Paranormal
,
Romance
Format:
eARC
Source:
the Author
Buy on Amazon US
, 
Buy on Amazon UK
PROMETHEUS – One of the keenest Titans to ever walk the earth. Until, that is, his weakness for the human race resulted in his imprisonment.
For thousands of years, Prometheus's only certainty was his daily torture at Zeus's hand. Now, unchained by the Eternal Guardians, he spends his days in solitude, trying to forget the past. He's vowed no allegiance in the war between mortal and immortal, but when a beautiful maiden seeks him out and begs for his help, he's once again powerless to say no. Soon, Prometheus is drawn into the very conflict he swore to avoid, and, to save the maiden's life, he must choose sides. But she has a secret of her own, and if Prometheus doesn't discover what she's hiding in time, the world won't simply find itself embroiled in a battle between good and evil, it will fall in total domination to Prometheus's greatest enemy.
Review
It was very nice to return to the world of eternal guardians, it's been quite some times since I read from this series. This is review is going to be short since the novella is quite short and I don't want to giveaway too much.
Prometheus now finally free from the torture of Zeus prefers living alone, looking over his daughter but generally staying far away from everyone so when a voice starts calling to him he thinks he's finally starting to los it. That haunting voice turns out to belong to Keia/Circe who later changes from her ghost like appearance to corporeal form. Prometheus becomes enchanted with Keia who is begging him to save her.
Keia/Circe is a witch who is currently a prisoner of Zeus. Zeus needs to find the water element Orb and to do that he needs Prometheus. To escape Zeus, Circe decides to use Zeus need of getting Prometheus back for gaining her freedom. But like Prometheus, Circe seems to be getting enchanted and obsessed with him . Circe now is conflicted about using Prometheus. What will happen to the two lovers when Prometheus finds out that Circe is leading him to a trap or will Circe be able to stop Prometheus in time?
It's pretty fast paced with little bit of battle, an attraction to something that could mean the death for their selves. And with good chemistry between Prometheus and Circe. I wasn't sure if the length of the book wouldn't affect the development of their relationship and the plot but rest assured it didn't. It works out pretty well. 
This can be read as a standalone however to fully enjoy it one needs to be familiar with the series. It was a great addition and reminded me why I enjoyed the series so much in the first place. I will be going back to read the books I've missed. 
Now Enjoy an Excerpt from Unchained.

"Who are you? And how did you get here?"
This was where she needed to be careful. Circe slowly pushed to her feet and brushed the thick curls over her shoulder. If he suspected too much, all her efforts would be for naught. She had to play this cool, had to stick to the plan, had to wait for just the right moment to strike.
"My name is Keia." Not entirely a lie, she figured. For thousands of years, humans had called her a goddess pharmakeia, which was just a fancy nickname for witch or sorceress. She was simply borrowing from that label. "But I am not here. I am only an apparition."
"I don't believe you." Prometheus stalked forward. He reached out to grab her but his wide palm and long fingers passed through nothing but air.
His hazel eyes widened as he looked from his hand back to her. "What the hell?"
He was only a few inches taller than her nearly seven feet, but he was bigger everywhere. A wall of solid steel that stood between her and eternity. Power radiated from his broad shoulders and chiseled muscles. A power that made her heart beat faster and her blood warm in a way it hadn't done in ages.
His dark hair was cut short, his jaw strong and square and covered by three days worth of stubble that made him look both dangerous and sexy. He was thousands of years old—like her—but he didn't look a day over thirty. And when his eyes narrowed and his luscious lips thinned, she had an overwhelming urge to dive into his mouth to find out if he tasted as good as he looked.
"How did you find me?" he said. "What do you want with me?"
Circe blinked, his voice pulling her back to the moment. She'd not been sexually attracted to anyone in so long, she'd forgotten what that rush of excitement felt like. Then again, she'd not had the chance to be attracted to anyone. Zeus kept her locked up tight and had for way too long.
Focus. Sexy as hell you can use to your advantage.
She lifted a foot-long length of heavy chain. "Look familiar?"
His face paled as he looked at the chain Zeus had used to bind him to that rock. The rock where he'd been tortured daily by a giant eagle that had torn into his side and consumed his liver day after day. "Where did you get that?"
"Find me and I'll tell you."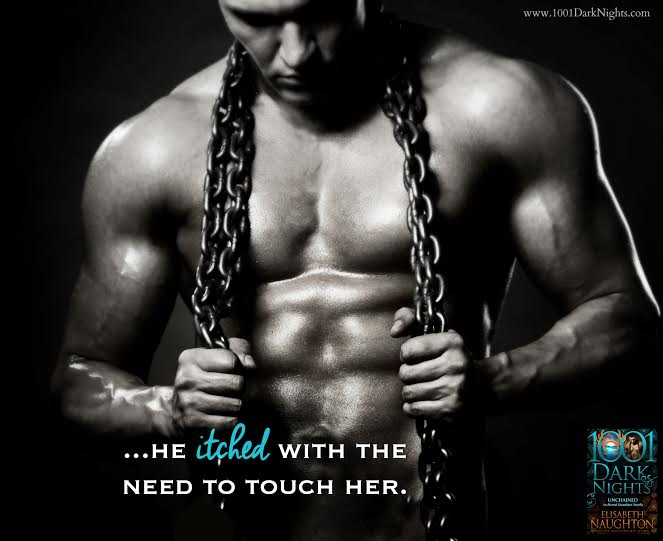 Related Posts