Series Review: Kiss and Make up by Sara Ney
I received this book for free in exchange for an honest review. This does not affect my opinion of the book or the content of my review.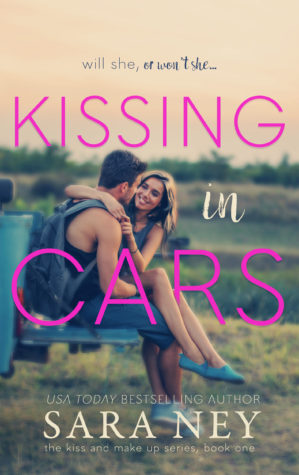 Kissing in Cars
by
Sara Ney
Series:
Kiss and Make Up #1
Published by
Amazon Digital Services
on January 26th 2014
Genres:
Contemporary
,
New Adult
,
Romance
,
Sports
,
Young adult
Pages:
231
Format:
eARC
Source:
the Author
Buy on Amazon US
, 
Buy on Amazon UK

Will she, or won't she...
Studious and (mostly) sensible, the only thing Molly Wakefield wants to do is get through Senior Year and graduate. Well, that and hit the beach in her spare time. Okay, fine - and go shopping every once in a while for a new dress... (and who could blame her?)
And things are going according to plan - until the day she spies Weston McGrath, handsome star athlete and scholar, spying on her in study hall.
A tad creepy? Maybe. Thrilling? Absolutely.
You see, Weston McGrath happens to be one guy no one can get close to.
Despite her best efforts to avoid it (because let's face it - the guy isn't exactly "boyfriend material") Mollly and Weston form a friendship. And more.... Sort of. But it's a friendship that comes with a price - because Weston just cannot seem to stop screwing things up. Or saying all the wrong things. Possibly in that order... And who has time for an 18 year old "fixer-upper" that should know better? Not Molly. Or does she?
This is book one and includes chapter one of book two, Ke Kissed Me First. This book is a stand-alone with no cliffhanger. Note: This YA book is intended for 17+ due to the vulgar language used by its male characters (and occasionally the females as well, even though they're too lady like to do it throughout the entire book). Some adult sexual situations that steam up a few car windows. This title is approx. 63,000 words.
Weston McGarth is a ice hockey Player and the most popular guy in the school. Molly Wakefield is a studious student who isn't really into the whole party and boy's scene.
Weston and Molly share a moment in the school library and after which he shows up at the same restaurant as her, they get talking and soon are friends and more. The problem is Weston has strict parents really, just his father who doesn't him to be distracted by girls and anything that isn't hockey related so Weston is reluctant to put a label on their relationship.
I really liked them together, Weston had his douchey and blurt out whatever moments but he did really love Molly. Molly was in my opinion in a pretty great heroine, because she didn't just decide to do something that needed time to be thought over and she was great. I did think that it was a bit quick timeline wise but other than that I really enjoyed it. It had a very young love feel to it with all the emotions and hormones all over the place but it really worked.
I received this book for free in exchange for an honest review. This does not affect my opinion of the book or the content of my review.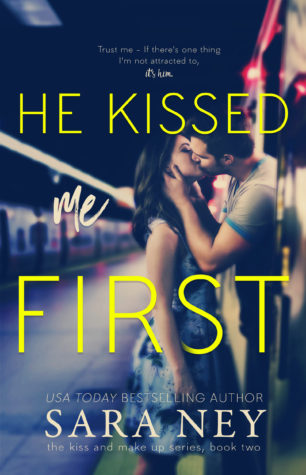 He Kissed Me First
by
Sara Ney
Series:
Kiss and Make Up #2
Published by
Amazon Digital Services
on November 27 2014
Buy on Amazon US
, 
Buy on Amazon UK
"Trust me - If there's one thing I'm not attracted to, it's an arrogant, selfish and foul-mouth hockey player. I know what I want, and Matthew Wakefield isn't it." - Cecelia Carter
From the first moment they laid eyes on each other, all Cecelia Carter and Matthew Wakefield do is bicker. Fight. Even though he is her roommates brother, Cece just can't stand the sight of him, and Matthew - well. He could never resist a challenge...
That can't be a good combination, can it? But sometimes, love happens when you least expect it.
This book is intended for those 17 and older - If you're offended by "F" bombs, sarcasm, sexual situations and Alpha Male jackasses - this book is not for you...
Rating~ 3- 3.5 stars
This was a enemies to lovers book in the series and as well all know I'm a sucker for those. Matthew Wakefield (Mollys brother) is a hockey player and Cecilia "Cece" Carter is Mollys roommate and they bicker like children.
Their relationship involves witty banter, some immature and assholish behaviour and a push and pull relationship between the characters. I did really enjoy parts of the book, there are pretty good moments at the start and some funny moments. Matthew and Cece were good together even I felt like some of the behaviour was questionable. I guess I just liked the first one better.
I received this book for free in exchange for an honest review. This does not affect my opinion of the book or the content of my review.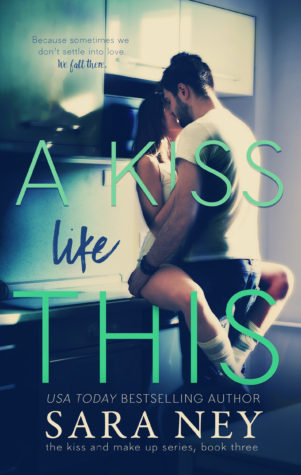 A Kiss Like This by Sara Ney
on May 31st 2015
Buy on Amazon US, Buy on Amazon UK

ABIGAIL DARLINGTON IS AWKWARD…
She will never be "that" girl. You know the one: that girl on campus, confident in her own skin. Always saying the right things. Putting herself out there. Knows how to talk to a guy without stammering.
Nope. Shy but clever, and easily embarrassed, Abby is fine being the wallflower in her circle of outgoing, beautiful friends; she would rather read about a sexy book boyfriend than actually have a live, breathing one.
…BUT CALEB LOCKHART IS WORSE.
Star goaltender for the University's hockey team, Caleb is quiet and broody, preferring the solitude of his orderly, regimented life. He doesn't like, or need people—and plans to keep it that way. One more year left of hockey and he'll be long gone.
AWKWARD NEVER LOOKED SO GOOD.
Both their lives change the day that Abigail falls for Caleb. Well, falls directly on top of him, to be accurate. Because sometimes we don't settle into love.
We fall there.
WARNING: This book contains cursing, and LOTS of it. It also has sex, uncomfortable sexual situations, and secondary characters who say some really inappropriate shit. RATING: R
Abigail Darlington is awkward but not as awkward as Caleb Lockhart. They meet under unusual circumstances that is too stay Abigail is climbing out of window of her cousins room. They both can't stop thinking about each other but at the same time are reluctant to start something.
If this book didn't have Abby and Caleb's friends I would have really loved it! Abby and Caleb were adorable in their awkward and hesitation behaviours. They really liked each other but had no idea how to go about confessing. Their moments were sweet and sometimes funny and cute.
Why 3 stars? Dear god did Caleb and Abby's friends annoy me. I mean Abby's best friend lives with her boyfriend and so now Jenna is her roommate .I liked Jenna in the first book but in this book she's like 10x her behaviour of the first book. Both their friends just made me feel really uncomfortable with how they treated Abby and Caleb separately and when they were together. Their behaviour wasn't funny to me, some of it immature and some of it was gross. I think one of my issues was the age of the characters, If they were younger maybe I would have had a lesser issue with it but ‍♀️ *shrugs* and then there was the case where Abby would agree to things even when she didn't want to because of her "friends" and even if things worked out okay it just left a bad taste and me wishing that Caleb and Abby get new friends pronto.
Regardless of that, it was still enjoyable and Abby and Caleb were adorable little things whom I adored.
Related Posts