Review: Saving Mercy by Abbie Roads
I received this book for free in exchange for an honest review. This does not affect my opinion of the book or the content of my review.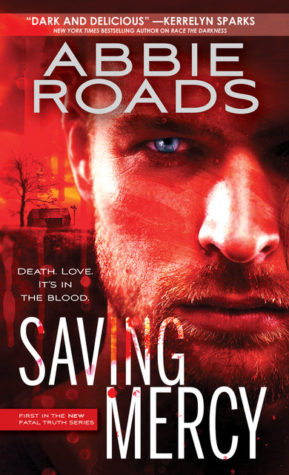 Saving Mercy
by
Abbie Roads
Series:
Fatal Truth #1
Published by
Sourcebooks Casablanca
on April 4th 2017
Genres:
Contemporary
,
Dark
,
Mystery & Detective
,
Paranormal
,
Romance
,
Suspense
,
Thrillers
Pages:
320
Format:
eARC
Source:
the publisher
Buy on Amazon US
, 
Buy on Amazon UK
, 
Buy on itunes
, 
Buy on B&N

First in a chilling new paranormal romantic suspense series from award-winning author Abbie Roads
He's found her at lastCain Killion knows himself to be a damaged man, his only saving grace the extrasensory connection to blood that he uses to catch murderers. His latest case takes a macabre turn when he discovers a familiar and haunting symbol linking the crime to his own horrific past-and only one woman could know what it means.
Only to lose her to a nightmareMercy Ledger is brave, resilient, beautiful-and in terrible danger. The moment he sees Mercy, Cain knows he's the one who can save her. He also knows he's beyond redemption. But the lines between good and evil blur and the only thing clear to Cain and Mercy is that they belong together. Love is the antidote for blood-but is their bond strong enough to overcome the evil that stalks them?
Rating~ 4.25 stars
This was my first time reading Abbie Roads and I honestly can't wait to read more from her. I don't want to give away anything because trust me it's better to go in blind then knowing all the spoilers, it made the book so much better for me!
Cain Killion is the son of a convicted serial killer, he has spent his life either suffering at the hands of his father or suffering to save others. Mercy Ledger's life has only gotten bad to worse in recent years, now someone's out trying to kill her again.
Cain and Mercy have a past and they are both reluctant to face each other however with Mercy is danger Cain decides to finally face her. I really liked them both, Cain is badly damaged from his past, his face which resembles his father not to mention the work he does for the FBI makes him face his demons everyday. Mercy on the other hand is a survivor, she was strong and smart. Cain and Mercy have felt this connection to each other which only becomes stronger when they meet again and can't help be attracted to each other and while falling in love seems easy, a happily ever after seems impossible for them. 
There's a creepy and sadistic killer out there that is somehow connected to not only Cain but Mercy as well and then there's the man obsessed with Mercy. I found the whole who is it/done it aspect done pretty well, while it was kind of obvious (just because I read quite a few mystery/thrillers) but I still enjoyed the execution done here. The power/pnr aspect was also done quite well and how it was all tied together.
Quibbles: I do wish we would have gotten a bit more about their powers and how they worked in *that* world and if anyone else has them and how they actually came into being in more detail. I also wish it was longer so we could have seen more of  Cain and Mercy's background but other than that it's a pretty solid read.
The book had this mystery/thriller, dark and slightly pnr vibe that I really enjoyed!  I'm really looking forward to what Abbie Roads brings us next.
Final Verdict: A great start to a new series and I am definitely a fan of the writing and the characters .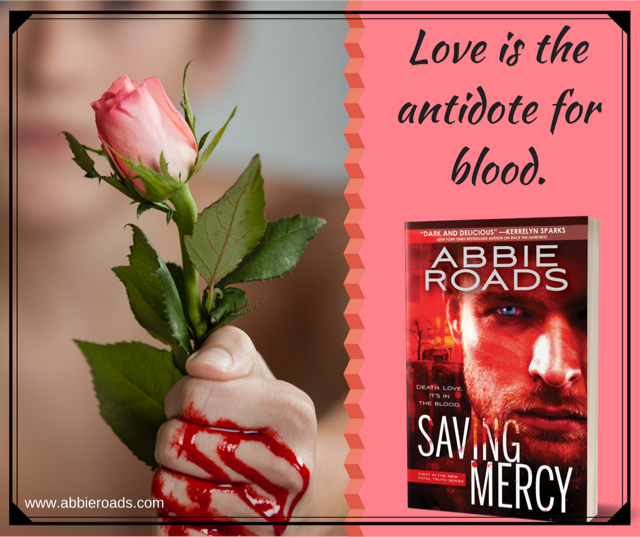 Related Posts