Guest Post with Author Gina L. Maxwell and Giveaway
Hot for the Fireman
by
Gina L. Maxwell
Series:
Boston Heat #1
Published by
Entangled Publishing
on 27 March 2017
Genres:
Contemporary
,
Romance
Pages:
328
Buy on Amazon US
, 
Buy on Amazon UK
Ex-Army Ranger Erik Grady lives for the job. So when his chief at the Boston Fire Department offers him two choices—mandated therapy for supposed PTSD or a permanent desk job at the station, he reluctantly agrees to see a shrink. Only this doctor is unlike anything he expected. Female and curved in all the right places? Check. Hotter than a four-alarm fire? Check. The kind of woman that can heat his blood in and out of bed? Check, check. And oh, yeah, he just happens to have first hand experience...
Of all the men to walk into psychologist Olivia Jones' office, why did it have to be him? Her one-night stand isn't playing by the rules of just. One. Night. She's had her heart broken in the past, and no way is she going there again. And now he's blackmailing her into three dates? Well, if that's what it takes to make him see a different therapist, fine. She can handle it. So what if the chemistry between them is combustible? She's a professional, damn it. She'll date Mr. I'm Too Sexy For My Bunker Pants. But it won't end in the fun he expects.
It's time to see how much heat this fireman can take...
My Favorite Kind of Hero ~ Gina L. Maxwell
I have a friend who will buy any romance book that has a CEO hero. If the acronym is in the title, she won't even bother reading the blurb or judging the cover. She one-clicks. I have another who does the same thing with billionaire heroes.
There's definitely a huge trend of readers falling head over heels for the more dapper romance hero. And who wouldn't? For the most part, these heroes are every woman's dream. Handsome, wealthy, worldly, intelligent, and devoted to the heroines of their story. What more could a woman ask for, right?
Well, if you asked me, I'd tell you dirt, grease, calluses, and permanent ink is a definite bonus.
Yes, you heard me. I'm a sucker for blue-collar. A man that works with his hands in a wife beater smudged with motor oil and I'm done for. A man whose muscles are borne of hard labor or workouts that use tractor tires and some other dude's body, instead of an overpriced gym with more machines than NASA. A man reasonable enough to try and talk his way out of a fight, but who can brawl with the best of them when reason doesn't work. Give him and I've hit the mother lode.
I love the kind of men who look just as fabulous in a suit or tux—though they'll probably grumble about the "damn monkey suit" you made them wear—but will change the tire instead of calling AAA if one blows on your way to the event. Just knowing that is a turn-on for me.
And outside of those rare "monkey suit" occasions, I prefer my men in a T-shirt and jeans. (T-shirt optional…and maybe the jeans, too.) You can keep your CEO's and billionaires. Give me a man who can fix his car. Give me a man who fixes his car and has a military background with a current job that has elements of mortal danger (*cough* firefighter *cough*) and my clothes will more than likely spontaneously combust. Poof! Gone. Just like that.
But why am I so fond of heroes smudged in filth, unconcerned with their appearance, and occasionally covered in painfully applied artwork?
Maybe it's because for all their outer simplicities, they're still enigmatic and complex on the inside. Their shells may be tough to crack, but once you do, your reward is marshmallow fluff. They'll take you out to dinner, pull out your chair, slow dance while everyone watches, and later that night, fix the leaky faucet that kept him from falling asleep with you sprawled across his chest. This is the guy that falls hard for the woman he knows he shouldn't.
This is all true of the hero in my new release, Hot for the Fireman. Erik "Wolf" Grady is a born leader and is used to the weight of responsibility for his men, both when he was an Army Ranger and now that he's lieutenant of Rescue 2 at the Boston Fire Department, so when the shit hits the fan, he's the one calling the shots. He also knows how to unlock a car using only his shoelaces, which he demonstrates upon meeting Olivia Jones after she's had a rather crappy night. And that's not the only trick Erik has up his sleeve. He uses everything in his arsenal to convince Olivia to give him a chance, and once she agrees, he holds nothing back.
As far as I'm concerned, he's the hero dreams are made of: all tough-n-stuff on the outside, but warm-n-melty on the inside. And coincidentally, Olivia agrees. How about you?
Hot For the Fireman Teaser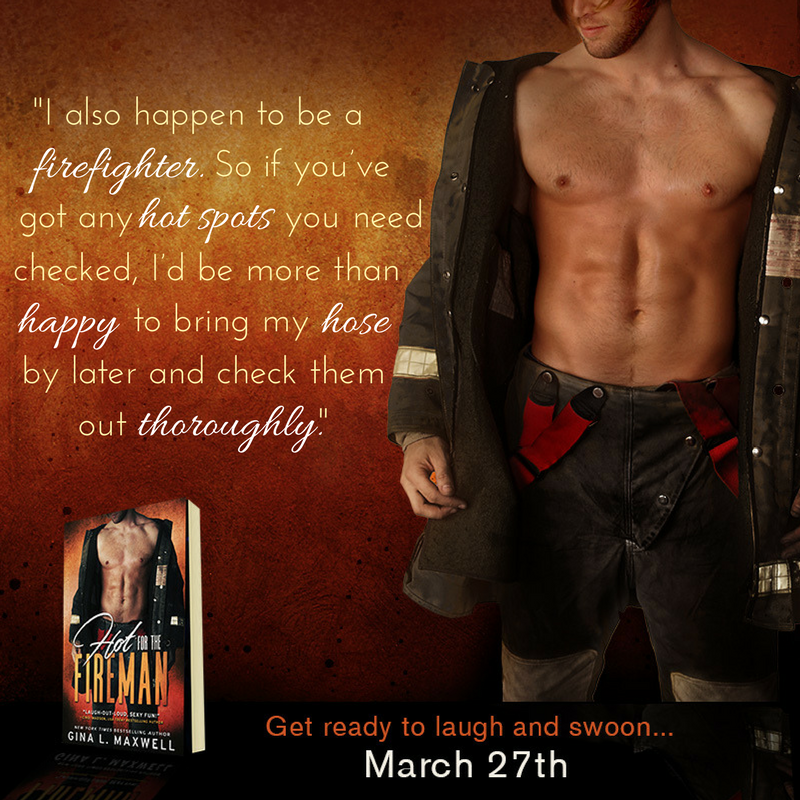 Related Posts