Review: Hot for the Fireman by Gina L. Maxwell
I received this book for free in exchange for an honest review. This does not affect my opinion of the book or the content of my review.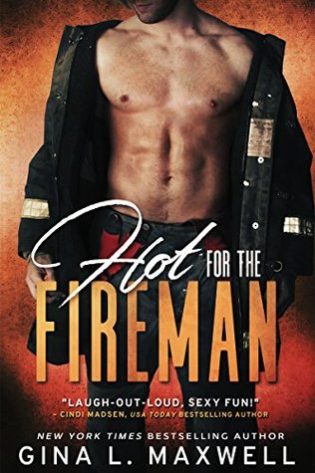 Hot for the Fireman
by
Gina L. Maxwell
Series:
Boston Heat #1
Published by
Entangled Publishing
on March 20th 2017
Genres:
Contemporary
,
Romance
Pages:
300
Format:
eARC
Source:
the publisher
Buy on Amazon US
, 
Buy on Amazon UK

Ex-Army Ranger Erik Grady lives for the job. So when his chief at the Boston Fire Department offers him two choices--mandated therapy for supposed PTSD or a permanent desk job at the station, he reluctantly agrees to see a shrink. Only this doctor is unlike anything he expected. Female and curved in all the right places? Check. Hotter than a four-alarm fire? Check. The kind of woman that can heat his blood in and out of bed? Check, check. And oh, yeah, he just happens to have first hand experience...
Of all the men to walk into psychologist Olivia Jones' office, why did it have to be him? Her one-night stand isn't playing by the rules of just. One. Night. She's had her heart broken in the past, and no way is she going there again. And now he's blackmailing her into three dates? Well, if that's what it takes to make him see a different therapist, fine. She can handle it. So what if the chemistry between them is combustible? She's a professional, damn it. She'll date Mr. I'm Too Sexy For My Bunker Pants. But it won't end in the fun he expects.
It's time to see how much heat this fireman can take...
A series about current firefighters and former military heroes, who wouldn't want to read that!!
Lieutenant Erik Grady, after a recent fire that re-awakes his PTSD from his military days is making his current job difficult….Erik has always felt responsible for the death of the men in his team when he was in active duty and firefighting had usually made it easier to focus on the now but the panic attacks and nightmares are leaving him with nothing but pain and feeling out of control. His boss decides that he should take leave from active duty till the therapists declares him fit, Erik just never counted on the therapist being the woman he can't stop thinking about.
Olivia Jones is a therapist, her speciality being PTSD cases. Olivia has finally decided to get back in the dating game after the urging of her friends following the death of her husband two years ago. She, like Erik is struggling. After having a miserable time with the dates she had, Olivia thinks it would be best to just stop which is when she meets a certain man who not only helps her out when she's in distress but makes her feel alive for the first time in years.
Erik and Olivia first meet ends up them having a fabulous one-night stand that Erik wishes could have been a bit more. They had no idea that they were to be patients/therapist the coming Monday so Olivia finding a certain Lieutenant at her door for her appointment shakes her up. Convincing Olivia to get on three dates with him, takes a little manipulation and a whole lot of charm.
"I'm so in love with you, sometimes I can scarcely breathe"…."Then I'll breathe for the both of us" ~Olivia and Erik 
Olivia and Erik together were adorable, the chemistry the had was explosive from the start and that was still present even as their relationship developed and they fell in love. I liked the fact we get to see them both struggle with their own issues and come out stronger and together. 
I liked the fact that the author didn't make Olivia be his therapist just to make their story forbidden etc because this way it gave the story more depth and allowed Erik to be in therapy with someone who could understand what he want through as well talk about Olivia. His PTSD is a big part of the book because of how it only effects his job but also his relationship with Olivia. I believe it was done well and we get to see Olivia be amazing
Quibbles: View Spoiler »I just never understood why Olivia was made out to be insecure about certain things and it never got explained why, certainly not with what we got know of her life. It was a part of her character that I never understood. « Hide Spoiler
I really enjoyed this book; there's humour, romance, angst and a great couple to root for! I'm pretty excited to read the next book in the series because we get a hint/POV of the other couple that also seem to share sparking chemistry with history of heartbreak and that promises quite a lot of angst. 
Related Posts