Review and Giveaway: With Every Breath by Maya Banks
I received this book for free in exchange for an honest review. This does not affect my opinion of the book or the content of my review.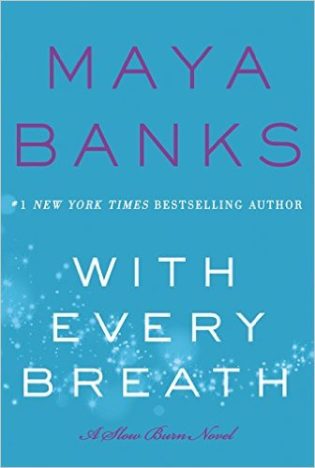 With Every Breath
by
Maya Banks
Series:
Slow Burn #4
Published by
Avon
on August 23rd 2016
Genres:
Contemporary
,
Romance
,
Suspense
Pages:
352
Format:
eARC
Source:
the publisher
Buy on Amazon US
, 
Buy on Amazon UK
, 
Buy on Kobo
, 
Buy on itunes
#1 USA Today and New York Times bestselling author Maya Banks continues her suspenseful and sizzling Slow Burn series with this fourth book—a mesmerizingly sexy tale of a strong, brilliant woman who encounters the one man who makes her lose all control.
Eliza Cummings fought free of a monster who terrorized her when she was an innocent teenager and helped put him away for good. She took a job with Devereaux Security Services and devoted every hour to taking down the very thing she'd nearly become. No one, not even those closest to her, know her darkest, shameful secrets. But now the killer has been set free on a legal loophole and it's only a matter of time before he comes for her. Eliza's only choice is to run and lead the monster away from the people she loves.
Wade Sterling has always lived by his own rules, a law unto himself who answers to no one. He's never professed to be a good man, and he's definitely not hero material. Wade never allows anyone close enough to see the man behind the impenetrable mask—but one woman threatens his carefully leashed control. He took a bullet for her and the result was more than a piece of metal entrenched in his skin. She was under his skin and nothing he did rid himself of the woman with the courage of a warrior and who thinks nothing of putting her life before others.
But when Wade sees a panicked and haunted Eliza he knows something is very wrong, because the fool woman has never been afraid of anything. And when she tries to run, the primal beast barely lurking beneath his deceptively polished façade erupts in a rage. She may not know it, but she belongs to him. This time, Eliza isn't going to play the protector. She was damn well going to be the protected. And as long as Wade breathes, no one will ever hurt what is his.
Eliza Cummings is a member of the DSS (Devereaux Security Services), well respected among her co-workers and a strong confident woman who has a past no one knows about. She's been through some pretty tough shit and has come out stronger and better and nothing could faze her until that phone call from Cavalry telling her that Thomas Harrington is being released in three weeks.
Wade Sterling, best friend to Gracie, hot, demanding, alpha male seems to be unable to keep control over his emotions near Eliza. He took a bullet for her and still the woman didn't even say thank you. I liked their verbal sparring. When Gracie voices her feeling of unease regarding Eliza, Wade takes it upon himself to set the woman straight. But what he comes across is a woman who is broken, with fear in her eyes and who is ready to flee all the people she loves to keep them safe.
The chemistry was not great, it was okayish. I didn't like how fast they moved from hate to love, one second they are hating each other and the next moment they are saying that they love each other? That was sort of weird. I was expecting a little more from Thomas, the book was more focused on Eliza and Wade's relationship and not on Thomas and the danger he posed. He should've been released earlier into the book instead of the very end, I was expecting some great psychic action from him but what happened was pretty dull and uneventful and was over too abruptly and not much to talk about it actually.
I have always loved the way Maya Banks includes the concept of loyalty in her books, in this book too the loyalty that DSS have towards Eliza and vice versa is depicted very strongly and amazingly. I loved how Wade just claimed Elisa without any pretense or hiding his feelings from her.
I liked Dane a lot and the other supporting characters too. This book had so much potential, maybe I was expecting a lot more from Maya Banks. I miss the way she wrote the early KGI books, the detailed missions, amazing rescues and great characters.
~Samra (Guest Reviewer).
Giveaway
An E-book copy of With every Breath (Open Internationally)
Related Posts