Too Hot to Handle by Katie Rose Review + GIVEAWAY!
I received this book for free in exchange for an honest review. This does not affect my opinion of the book or the content of my review.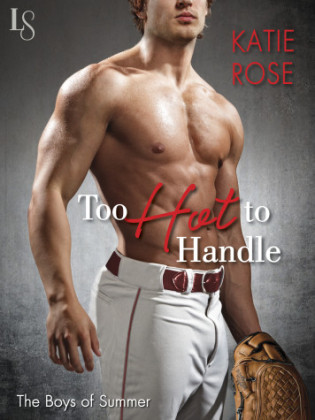 Too Hot to Handle
by
Katie Rose
Published by
Random House Publishing Group
on January 27th 2015
Genres:
Contemporary
,
Contemporary Women
,
Erotica
,
Fiction
,
Romance
Pages:
240
Format:
eARC
Source:
Netgalley
Katie Rose's Boys of Summer series returns for a delicious double-header—with the story of total opposites who are drawn to each other like moths to a flame.  
Nikki Case is no fan of baseball. Her ex gambled away a fortune on the sport, and now her PR firm has tasked her with cleaning up the league's most notorious bad boys. The New Jersey Sonics are known for wild womanizing and booze-fueled brawls, so Nikki expects the worst. Her first stop in the battle to win hearts and minds is star hitter Jake Baldwin—a legendary ladies man so smokin' he threatens to melt her tough-girl armor.
Although his teammates prank her without mercy, Jake admires the way Nikki gives as good as she gets. She may be the queen of frost, but there's kindling beneath those sultry curves—and he's just the man to ignite it. But when a PR nightmare lands the Sonics in headlines across the country, Nikki is ready to walk. Only then does Jake realize how important she is to the Sonics' success—and that winning the love of a good woman is no game.
Review
Nikki Chase is the new PR for the baseball team of New Jersey. Nikki doesn't know much about baseball (like me but the reason for me baseball isn't a big thing in the UK) but since she considered the best in field. She is given the job of cleaning up the image of the team. Nikki is a serious person but she is very passionate about her job. 
Jake Baldwin is the team's star as well a playboy. He's the fun guy, who hides a good heart beneath his lover boy/carefree persona. Jake take his baseball career very seriously, he is also the teams unofficial mascot/lead. Other team members look upto him.  
Jake and Nikki feel attracted to each other from the moment they meet. Nikki doesn't want to get involved in a relationship with anyone let alone her client and Jake who's a ladies man but Jake pursues/woos her and she finally accepts. Now Nikki doesn't know the reason that Jake started going out with her was because of a bet and Jake is falling harder for Nikki with every moment he spends with her. 
I liked their relationship but at times it felt the book was about the team, their image or Jake's involvement with other people. I wanted to see more of them together and get to know them in more detail than I did. 
Quibbles: First of all the whole team was really immature, seriously I don't I have ever come across any fictional team that is this immature. It felt, apart from the three guys Ryan, Chase and Jake, they didn't even care about their careers or their image or the team. That bugged me a lot. I also thought that players were not allowed alcohol etc during the season but the New Jersey team at the start of the book was apparently going to a bar after every game hmm? Lastly, it was predictable, maybe too predictable at times. 
Overall, it was a decent read and makes a good light hearted read with very little angst.  
Rafflecopter Giveaway ($25.00 eGift Card to Choice Book Seller, Loveswept Mug and Romance at Random Nail Polish)
a Rafflecopter giveaway

Author Info
Award-winning historical author Katie Rose makes her contemporary debut with the Boys of Summer novels, Bring on the Heat and Too Hot to Handle, which combine Katie's true loves: baseball and romance! When not watching baseball, Katie is at her lake house in New Jersey, hard at work on her next book.