Review: #Nerd by Cambria Hebert
#Nerd (Hashtag, #1)
by
Cambria Hebert
Genres:
Adult
,
Contemporary Romance
,
Family Life
,
New Adult
,
Romantic Comedy
,
Sports
Source:
Purchased
Buy on Amazon US
, 
Buy on Amazon UK

Two people from completely different worlds are about to be thrown together...
In more ways than one.
She wants to keep her scholarship. He wants to stay on the team. An awkward alliance doesn't even begin to cover Rimmel and Romeo's relationship.
But that's about to change.
It starts with a dare. An initiation. A challenge.
Quickly, it turns into more. But when you're a victim of your status, there is no room for anything real. The rules are clear and simple.
Stick to your circle.
And never fall in love with anyone on the outside.
WOW!! For the last two weeks, this series has been my life. This series is extremely captivating to me. I am not sure about the rest of you out there, but I couldn't put a single book down. With exams around the corner my procrastination levels were at an all-time high thanks to this goddamn fantastic series. There are not many words that can describe how connected I felt to these characters and their story. Cambria Hebert surprised me and has made it to the top of my favorite authors list.
#Nerd was an utterly captivating and enjoyable books in the Hashtag series. This book follows Roman "Romeo" Anderson and Rimmel. It has a cliché story line of nerd and jock but, somehow Cambria twists this story to become a unique and very special new adult series. This book made me laugh, swoon and shed a few tears.
""You're killing me, Smalls."
"Smalls?" I giggled.
He grinned. " That's what we call the small payers on the team."
"I'm not on your team." I pointed out.
"No. But you are mine.""
Romeo is the sexy as hell quarterback of the Wolves at Alpha University. The story gets cliché as he is lacking academically and is forced to be tutored. Rimmel our dark haired, mess of a heroine who is academically thriving is forced to be his tutor to keep her scholarship. Shall we call that blackmail, yes, I think so.  So, she does what anyone would do in her situation and agrees. It is the best decision she ever made in her life. Their meeting is hilarious and from the first chapter of #nerd I was captivated. These three books follow their story the last two-ish years of college life and a further.
""What do you want from me?" I whispered.
He turned his head and pressed a kiss into the crook of my neck.. My eyes closed.
"Right now?" he breathed, his words fanning out across my skin. " Right now I want to kiss you.""
Let's talk characters:
Romeo is officially a top favorite book boyfriend. We meet him as this super cocky bastard at the library only to find out there is more to him. He has a dream of signing with the NFL and is about to reach it. He is the much-loved quarter backed, loved by everyone on and off campus. #Nerd shows him trying to pledge for a fraternity at Alpha U and through that we see his strength and cunningness. It is so sexy, you can't deny why Rimmel fell for him. One of the most admirable qualities of Romeo is his loyalty for his family. He will protect his family through and through. His complexity and growth which Cambria captures is truly fantastic. He will always be my main man in the Hashtag series.
""You're scared I'm going to disappear. Like your mom, like assholes in your past, hell, even your dad." He surged forward and grabbed me by the shoulders. " I'm not going anywhere. You can push me away all you want, but it won't stop me from loving you.""
Rimmel is a pillar of strength. What is captivating about her however is her fragility and vulnerability we see in the beginning. She doubts herself, but is confident with who she is. She is the girl we all want to be. She is the typical wall flower that is seen to be more. She really does shine in Romeo's eyes as you read the books. Her past is filled with a few tragedies and #Player goes deeper into her past, but #Nerd gives us the first glimpses of who she really is. She has come to Alpha U to get away from a house that isn't a home. She has found a place at Alpha U where she is comfortable. Her roommate Ivy, puts up with her and throughout #Nerd and the rest of the books, their friendship blossoms. I wish I had a friendship like Ivy's and Rimmel's. Their love runs deep. Rimmel has been through a lot and through #Nerd and #Hater is forced to go through some tough experiences also. But her strength, loyalty and love grows and is well written by Cambria. She is the clumsy and funny girl that no one can resist. I loved her from the start and will continue to love the girl who took Romeo's heart.
"" There's something about her… She's innocent and real. She's the only girl I've met on campus who wouldn't chew off her own arm just to claim some kind of connection to you.""
Rimmel is beautiful both inside and out but Romeo must look hard to find that she is what he has been missing. And once he finds out who she is and what she stands for, he keeps her. Their story is truly special. I giggled and swooned as Romeo unintentionally wooed her. He had both her and I from the beginning. I have literally never loved two characters more than them. They will forever be my favorite quarterback and nerd. #Nerd changed my year. This series has me captivated and deserves to be loved by all who are willing to give it a try. You won't regret it. I went in barely reading the synopsis and an grateful I gave it the chance. You won't feel the love until you get your hands on these books.
"" I love you in spite of yourself, Rim. Can't you love me in spite of myself?""
Definitely 5 Stars!!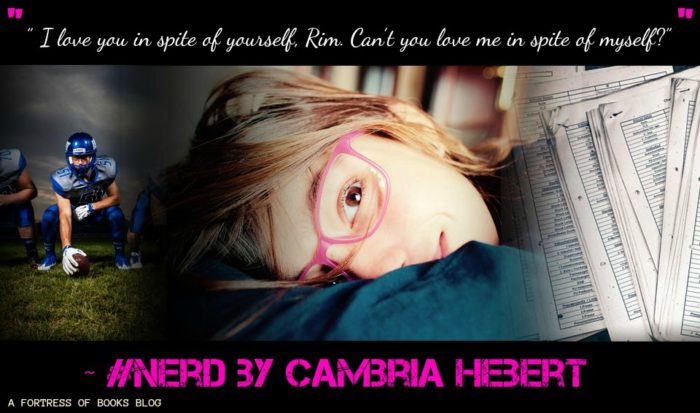 Related Posts