Review and Giveaway: Chain Reaction by Tara Wyatt
I received this book for free in exchange for an honest review. This does not affect my opinion of the book or the content of my review.
Chain Reaction
by
Tara Wyatt
Series:
Bodyguard #3
Published by
Forever
on February 28th 2017
Genres:
Contemporary
,
Romance
,
Suspense
Pages:
336
Format:
eARC
Source:
the publisher
Buy on Amazon US
, 
Buy on Amazon UK
, 
Buy on Kobo
, 
Buy on itunes
, 
Buy on B&N

New York Times bestselling author SHE NEEDS A LOVER AND A FIGHTERBlonde. Beautiful. Talented. Alexa Fairfax is practically Hollywood royalty. But growing up in a family of legendary movie stars also puts her in the spotlight for danger. And after she discovers a plot more deadly than any movie script, Alexa desperately needs a bodyguard. A man like Zack De Luca. A true friend with a good heart, a protective nature-and the hard, chiseled muscles to back it up.
Zack has always been wildly attracted to Alexa. But since he's training day and night to be an MMA fighter, he's afraid his gorgeous friend will only distract him from his goal. Indescribably sweet and irresistibly sexy, Alexa needs Zack to pretend to be her boyfriend after her life is threatened. Now this fighter-in-training will have to fight his own intense feelings - to keep their little charade from turning into a major disaster...
Being a part of Hollywood royalty has done Alexa Fairfax no favours. Growing up with her family was filled loneliness and emotional abuse. Finding out that her father is possibly in something dodgy shatters any remaining illusion she had of her family.
Zack De Luca, is a MMA fighter and part of the Virtus bodyguard group. His life consists of doing his day job as a bodyguard and following his dreams by training to be a champion MMA fighter.
To protect Alexa, Zack offers to be her bodyguard and later to be pretend boyfriend to protect from the dangerous new world she has found herself in. Zack has a had a thing for sweet, shy and very kind Alexa for months now. Pretending to be her boyfriend is not a hardship at all what is trying to not let all the pretending go to his head because being with Alexa makes me feel a little a too much. Alexa has been attracted to Zack ever since she first saw him and being shy and uncomfortable with relationship she never knew what to do.
I really liked Zack and Alexa individually and together. It took a lot of guts to do what Alexa had to do no matter it was the right thing, losing family is never easy. Zack and Alexa were friends and really cared for each other along with liking each other (and utterly oblivious to the others feelings). Pretending to be in a relationship finally gave them the nudge they needed to get together.  They had a cute relationship, Zack was protective of Alexa who he didn't want to see hurt. The chemistry and their relationship was done quite well and went along perfectly with the plot and their characters. Their relationship had trust and honestly and team work as Zack really wanted which made them a great couple, willing to share what they felt and the difficulties they had faced in their lives. They quite cute together! 
This was my first book by Tara Wyatt, I'm going to go back and read the rest of the books in the series because all the couples seem really interesting as does Ian…I hope we get his book. I really liked the writing style and the suspense was done quite well as well with the romance. Having another POV along with H/h gave a better understanding of the *bad guy*.
Overall, a pretty decent suspense plot with a lovely romance read. I'm looking forward to reading more from the author.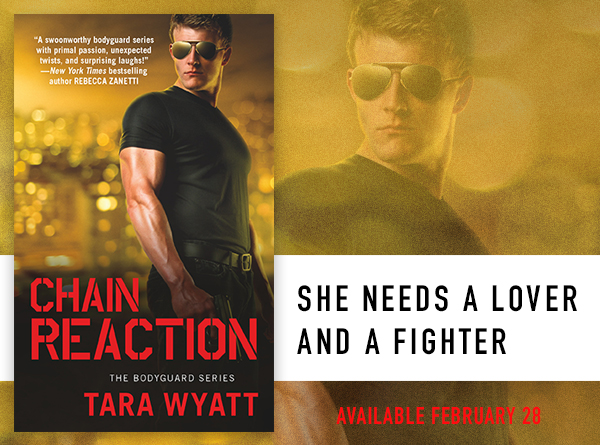 Giveaway