Review and Giveaway: Sparking the Fire by Kate Meader
I received this book for free in exchange for an honest review. This does not affect my opinion of the book or the content of my review.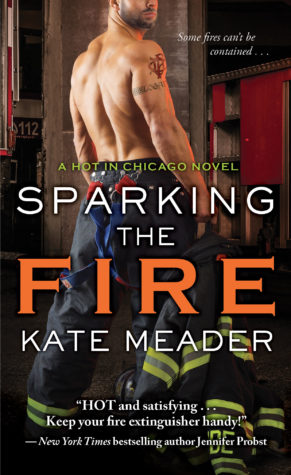 Sparking the Fire
by
Kate Meader
Series:
Hot in Chicago #3
Published by
Pocket Books
on September 27th 2016
Genres:
Contemporary
,
Romance
Pages:
400
Format:
eARC
Source:
the publisher
Buy on Amazon US
, 
Buy on Amazon UK
, 
Buy on itunes
, 
Buy on B&N
Kate Meader's blazing Hot in Chicago firefighter series has "everything you want in a romance" (RT Book Reviews, Top Pick)! The flames of desire burn out of control in this sexy third novel when ex-lovers unexpectedly reunite for a sizzling affair that will have the director yelling, "Quiet on the set!"
Actor Molly Cade, America's fallen sweetheart, finally has her shot at a Hollywood comeback with a dramatic new role as a tough-as-nails firefighter that promises to propel her back to the big time and restore her self-respect.
Wyatt Fox, resident daredevil at Engine Co. 6, needs a low-key job to keep him busy while he recovers from his latest rescue stunt. Consulting on a local movie shoot should add just enough spark to his day. Especially when in struts Molly Cade: the woman who worked his heart over good, and then left him in the Windy City dust.
Their story is straight out of a script: irrepressible, spunky heroine meets taciturn, smoldering hero. But these two refuse to be typecast, and when the embers of an old love are stoked, someone is bound to get burned…
3.5-4 stars
Wyatt Fox the former Marine and current firefighter spend an intense and very passionate week with the actress Molly Cade five years ago, neither have really forgotten each other and regret that it didn't go further than just that week. Meeting now, when Molly is going to be playing the heroine in a movie that is about his sister's love story and he gets to be the consultant is not something he wants.
Wyatt and Molly are really different from each other, he prefers the quite and loner lifestyle while Molly being a famous actress has to live her life in the limelight. Wyatt has a lot of insecurities that comes from his family history and hence feels like he doesn't belong even with his siblings but he loves and protects them with all he has. Molly is dealing with her own problems with her now ex-husband and the media the photos that should have never been public. Seeing Molly again brings up feelings for Wyatt that he doesn't really know how to deal with and neither does Molly.
"Falling in love with you was the easiest thing I've ever done. Falling is easy. Staying that way is hard. but I've been choosing hard all my life, so why the hell would the life I make with the woman who completes me be any different? I love you like a madman. You're the air I breathe, my next heartbeat, and I'm never letting go."
I loved them together, Molly brought out Wyatt's feelings to the surface instead of him just keeping everything inside which he tends to do. I also enjoyed their banter, it made for quite a few laughs on my end. They saw each other for who they were really were instead of the mask that they both presented to the world, they also made each other crazy. Also it's Kate Meader, so the scorching chemistry between the couple is a given and with the added slow burn makes it all the more interesting.
It was great seeing the other couples from the series making cameos as well, just a nice treat to the fans of the series. I can't wait to see what Kate Meader writes next, it was as always a pleasure reading her books.
Related Posts