Tour: Paranormal Picks from Lyrical Press
Releasing February, 2015
Lyrical Press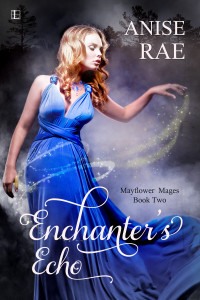 Enchanter's Echo by Anise Rae
Mayflower Mages # 2 
Blurb
Aurora Firenze lives a quiet life hiding in a junkyard. Her repair shop is the last hope for gadgets and gizmos before they get tossed onto the trash towers. Fortunately, Aurora can fix almost anything, including mages, though repairing people with metal enchantments is highly illegal.
Edmund Rallis, heir to the Rallis senate seat, has spent months hunting down his errant enchantress. He'll play every game he knows to win her back and entice her to share the secrets she hides. But he's inadvertently put her on the frontlines of a new game, one with an opponent who's determined to destroy Rallis Territory and drive the Republic toward war. If the new enemy isn't stopped in time, Edmund will lose his enchantress again—and this time there won't be another chance.
Buy Links: Amazon US | Amzon UK | B & N | iTunes | Kobo | Publisher
Author Info
Anise Rae grew up among the cornfields and soybeans of Ohio, dreaming of being a ballerina, an astronaut, and a romance writer. With no turn-out and a soul deep love of chocolate, her ballerina dreams floated away as high as the moon, equidistant with the astronaut aspiration. She stuck with writing. After 22 years, she got the call. Or rather, she got the email. Syphon's Song, a 2012 Maggie Award of Excellence finalist, will be released March 3, 2014 from Lyrical Press.
Now transplanted to the South, Anise lives in Georgia with her family and a cast of characters that flit around in her head. A select few of those imaginary people are ever so grateful for their chance to escape into the real world of books. The remaining characters, enough to form an army, still clamor for freedom.
Author Links: Website | Facebook | Twitter | Goodreads
            ❅❅❅❅❅❅❅❅❅❅❅❅❅❅❅❅❅❅❅❅❅❅❅❅❅❅❅❅❅❅❅❅❅❅❅❅❅❅❅❅❅❅❅❅❅❅❅❅❅❅❅❅❅❅❅❅❅❅❅❅❅❅❅❅❅❅❅❅❅❅❅❅❅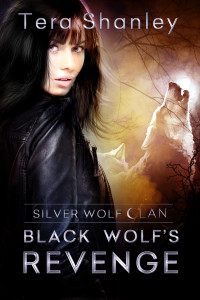 Black Wolf's Revenge by Tera Shanley
Silver Wolf Clan # 2
Blurb
He'll risk it all to bring her home.
Morgan Carter witnessed her sister's murder, has been turned into a werewolf and is now raising her young niece. Then her fiance, Greyson Crawford, proves he wants to be with her for the wrong reasons, and she knows her life couldn't be any stranger. Devastated, she retreats to her cozy house in the city with her sister's little girl, Lana. There, they'll have normalcy, and maybe eventually, even happiness.
But Morgan's the only living silver wolf. Her uniqueness—the ability to produce werewolf offspring—means, without Grey's protection, she's unknowingly put herself and Lana in deadly danger. Other werewolves want to claim her for their pack, and she's the easiest, most tempting prey ever.
When they strike, Grey has to find her and rescue her before it's too late. Not so simple a task; he has only the uncontrollable beast inside him, Wolf, and an unlikely pack of allies he's forced to rely on. Can he get to her in time? And if he does, can he convince her he's there for the right reasons, saving them both?
Buy Links: Amazon US | Amazon UK | B & N | iTunes | Kobo | Publisher
Author Info
Born and raised in small town Texas, Tera Shanley grew up in books. Her cousin gifted her a signed copy of Beauty by Bill Wallace when she was young and that was it for her. So smitten was she with getting lost in a story, that while other eleven year olds her age were groaning at the accelerated reader program in school, she was racking up the points just for fun.
Balancing chronic book-wormyness is her devotion to the outdoors. Hunting, fishing, hiking, horseback riding, camping – her soul is happiest out of doors. And lucky for Tera, her family feels the same. She grew up a wild child helping her grandma ranch cattle, and has a hundred memories out in the wilderness which tend to influence her books.
When she's not eating chocolate, slinging rifles, or soaking up some sun, she's lost in a book, but these days it's more often one she's writing. From historic western romance, to paranormal romance, to apocalyptic (zombie) romance, the genre doesn't matter quite as much to her as the love story.
She currently lives with her husband and two young children, and is owned by two crazy mini-cujos.
Author Links: Website | Facebook | Twitter | Goodreads
❅❅❅❅❅❅❅❅❅❅❅❅❅❅❅❅❅❅❅❅❅❅❅❅❅❅❅❅❅❅❅❅❅❅❅❅❅❅❅❅❅❅❅❅❅❅❅❅❅❅❅❅❅❅❅❅❅❅❅❅❅❅❅❅❅❅❅❅❅❅❅❅❅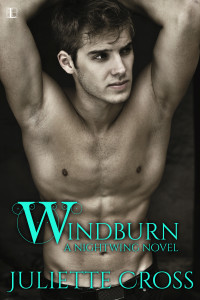 Windburn by Juliette Cross
Nightwing # 2

Blurb
In the Gladium Province, the boundaries between humans and Morgons, the dragon-hybrid race, continue to blur as a new generation surrenders to long-forbidden temptation…
Sorcha Linden does whatever she wants whenever she wants, and no one can stop her. Least of all a man. After all, they're good for only one thing—warming her bed. But then she meets Lorian, brother of Lucius Nightwing. Seductive and iron-willed, Lorian is determined to melt her emotional defenses—and warm her rebellious heart.
The beast within Lorian longs to cage Sorcha and mark her as his own. Forever. Yet the man within also longs to protect her. When a stalker starts leaving Sorcha suggestive gifts with cryptic messages bearing an ancient blood cult symbol, Lorian's dragon side takes over. With her life at stake, Sorcha can no longer deny the love they share. But when evil tracks her into the night, will she be too late to claim it?
Buy Links: Amazon US | Amazon UK | B & N | iTunes | Kobo | Publisher
Author Info
Juliette Cross calls lush, moss-laden Louisiana home, where the landscape curls into her imagination, creating mystical settings for her stories. She has a B.A. in creative writing from Louisiana State University, a M.Ed. in gifted education, and was privileged to study under the award-winning author Ernest J. Gaines in grad school. Her love of mythology, legends, and art serve as constant inspiration for her works. From the moment she read Jane Eyre as a teenager, she fell in love with Gothic romance—brooding characters, mysterious settings, persevering heroines, and dark, sexy heroes. Even then, she not only longed to read more novels set in Gothic worlds, she wanted to create her own. Visit her website at www.juliettecross.com.
 Author Links: Website | Facebook | Twitter | Goodreads
❅❅❅❅❅❅❅❅❅❅❅❅❅❅❅❅❅❅❅❅❅❅❅❅❅❅❅❅❅❅❅❅❅❅❅❅❅❅❅❅❅❅❅❅❅❅❅❅❅❅❅❅❅❅❅❅❅❅❅❅❅❅❅❅❅❅❅❅❅❅❅❅❅
Love, Lattes and Mutants by Sandra Cox
Mutants # 1

Blurb
Finding love is hard, even when you aren't a mutant.
Like most seventeen-year-olds, Piper Dunn wants to blend in with the crowd. Having a blowhole is a definite handicap. A product of a lab-engineered mother with dolphin DNA, Piper spends her school days hiding her brilliant ocean-colored eyes and sea siren voice behind baggy clothing and ugly glasses. When Tyler, the new boy in school, zeroes in on her, ignoring every other girl vying for his attention, no one, including Piper, understands why…
Then Piper is captured on one of her secret missions rescuing endangered sea creatures and ends up in the same test center where her mother was engineered. There she discovers she isn't the only one of her kind. Joel is someone she doesn't have to hide from, and she finds herself drawn to the dolph-boy who shares her secrets. Talking to him is almost as easy as escaping from the lab. Deciding which boy has captured her heart is another story.
Buy Links: Amazon US | Amazon UK | B & N | iTunes | Kobo | Publisher
Author Info
Multi-published author Sandra Cox writes YA fantasy, historic and paranormal romance and metaphysical nonfiction. Sandra lives with her husband, a menagerie of pets, and an occasional foster cat in sunny North Carolina. To see the brood go to her website www.sandracox1.com and click on the cat tab.
Author Links: Website | Facebook | Twitter | Goodreads
❅❅❅❅❅❅❅❅❅❅❅❅❅❅❅❅❅❅❅❅❅❅❅❅❅❅❅❅❅❅❅❅❅❅❅❅❅❅❅❅❅❅❅❅❅❅❅❅❅❅❅❅❅❅❅❅❅❅❅❅❅❅❅❅❅❅❅❅❅❅❅❅❅
Rafflecopter Giveaway (Digital iBook Bundle of ALL Four Releases)
a Rafflecopter giveaway