Review: When Danger Bites by Heather Long
I received this book for free in exchange for an honest review. This does not affect my opinion of the book or the content of my review.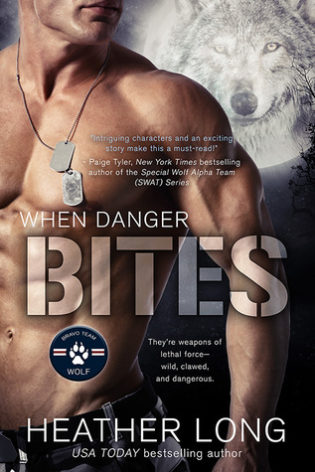 When Danger Bites
by
Heather Long
Series:
Bravo Team WOLF #1
Published by
Entangled Publishing
on May 8th 2017
Genres:
Military
,
Paranormal
,
Romance
Pages:
300
Format:
eARC
Source:
the publisher
Buy on Amazon US
, 
Buy on Amazon UK
, 
Buy on B&N
Buttoned-up Corporal Kaitlyn Amador is dangerous on every level. As a human, she poses a threat to Marine Captain Jax Raymond's special Force Recon unit. Though the team has a reputation among the other recon units, only their commanding officer knows their secret. As a woman, the danger posed is entirely different. Jax can survive the temptation for only so long before his wolf takes over and pursues what it wants.
Military intelligence specialist Corporal Kaitlyn Amador is the first woman in the Marines to be assigned to a recon team. And everyone's watching her. Her mission? Not only prove herself worthy of her place in the group, but uncover the mystery of why Bravo Team is so successful. A mission that gets more difficult every time she's near Jax…
Rating~ 3.75 stars
I was very excited to start this, I mean not only is series about Marines they are SHIFTER marines, a highly specialised/classified group which helps the government and protects people.
When Corporal Kaitlyn Amador, newly assigned to the Bravo team 1 meets Captain Jax Raymond on the site of the road which ends up in him helping her and them getting dinner.  She doesn't realise till later that not only will he be her commanding officer but as her assignment requires she will have to spy on him and them team. Kat used to be an analyst at the pentagon when her boss decides her to check out the BRAVO team due to their high success rate.
Kat and Jax are attracted to each other from the get go, both are stubborn and it's no surprise that they end up falling for each other. Jax and Jax's wolf wants to protect Kat from any hurt while Kat refuses to surrender and aces through the tough training set out for her.
As it's the case with first books in series, we do get to a lot of information on the effect on politics, the inner circle of the bravo team as well an outsider POV looking in on these extraordinary men.
I quite enjoyed it, Kat and Jax relationship is a slow but it's done well since the fact that he is the commanding officer and in charge of her training, their relationship can't be anything more than professional so what can they do?
I also liked the team and I can't wait get to know a bit more about them. I think the author did a great job at building the storyline, showing a bit of the dynamic and the fact that their team is kind of a pack and how dominance comes into play was intriguing.
Quibbles: View Spoiler »At some bits the story dragged a bit and then near the end it was rushed through without much importance being placed on what exactly does it mean to turn and mate (and the whole Kat being there to spy on the team) because in this book apart from when Jax's wolf is actively part of Jax's monologue, their relationship is very contemporary human than a mixture of supernatural I don't even know if that makes any sense. I think if we had a gotten a bit more about the shifter's of that world it would have bought out a more pnr element. « Hide Spoiler
Overall, it's a good start to the series and I'm looking forward to what's going to come next!