Review: The Baller by Vi Keeland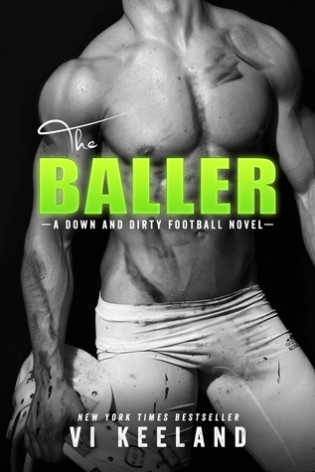 The Baller: A Down and Dirty Football Novel
by
Vi Keeland
Published by
Self Published
on January 18th 2016
Genres:
Contemporary
,
Erotica
,
Romantic Comedy
,
Sports
Format:
Kindle
Buy on Amazon US
, 
Buy on Amazon UK

From New York Times and USA Today Bestseller, Vi Keeland, comes a sexy new standalone novel.
The first time I met Brody Easton was in the men's locker room.
It was my first interview as a professional sportscaster.The famed quarterback decided to bare all.
And by all, I don't mean he told me any of his secrets.
No. The arrogant ass decided to drop his towel, just as I asked the first question. On camera.
The Super Bowl MVP quickly adopted a new hobby--screwing with me.
When I pushed back, he shifted from wanting to screw with me, to wanting to screw me.
But I don't date players.
And it's not because I'm one of the few women working in the world of professional football.
I'd date an athlete.
It's the other kind of player I don't date.You know the type. Good looking, strong, cocky, always looking to get laid.
Brody Easton was the ultimate player.
Every woman wanted to be the one to change him.
But the truth was, all he needed was a girl worth changing for.
Turned out, I was that girl.
Simple right?Let's face it. It never is.
There's a story between once upon a time and happily ever after...And this one is ours.
Author's note - The Baller is a full-length standalone novel. Due to strong language and sexual content, this book is not intended for readers under the age of 18.
 : The Baller by Vi Keeland
Review
Rating~ 2.5 – 3 stars
So I decided to give this a go even though nowadays I rarely take the risk of reading new to me contemporary romance authors. Mainly because of Arabella's fab review which got me really interested.
Brody Easton and Delilah's story is about having a second chance at love. 
Positives: I was really enjoying the banter and the chemistry between Delilah and Brody (and how much of a perv Brody is). The author was showing not only their relationship but also relationships with friends and family which was great since it not only added more humor to story but also give us more information about the characters to connect to. I loved the interactions between Delilah and her crazy BFF and Brody and his nursing home buddy Grouper and ofcourse the lovely Marlene. Both Brody and Delilah had a lot in common (in other ways they were completely opposite to each other) which was great to read though. I was thinking this is great but I guess I spoke too soon….
I hadn't actually read any spoilers before I read the book so I didn't know at all what the conflict was going to be when I started but it soon become obvious and its clichéd that it had be another woman. Now, I was ok with that since it was obvious that Brody while had loved Willow (the OW) he wasn't in love with her now however the way that author dealt with this made my enjoyment and rating go down.
WARNING: SPOILERS about the conflict and my issues with it; So it was kind of obvious that Willow was going to be alive but the author not only made the big conflict about the OW she also gave Willow a POV (serval chapters worth) and its filled with her reminiscing about her past love and sex life with Brody along with showing us how she has improved and is helping someone who has a similar childhood to her own. I really dislike when I'm reading a romance book which shows or tells about the sex life of previous relationships…it bugs me so damn much. I don't see the need of why she got the POV and why the author felt the need to tell us about her sexual thoughts about Brody. Willow knows that he is with someone else yet still she goes to seduce him that made me angry.
Another issue that I had with book is it kind of become Delilah and Willow and the guy they both love story instead of Delilah and Brody and the road blocks to their HEA story. I kept hoping that we will get Brody's POV where he is actually thinking about Delilah than just practising football or his banter with grouper. Not only did he only get one (I think it might have been more, I can't recall) chapter where he is like I understand what's happening and thinks about Delilah but other than that nothing?? Why didn't he contact Delilah or think about her during their short separation, it made no sense at all. I understood why didn't go after her at the exact moment she left (because that part was explained, even though I didn't particularly care for it) but why not after that??  Then even at the end Delilah is one that goes to him, he doesn't grovel or apologise for been a complete ass to her (God I hated that scene with the other reporter -_-)  I kind felt like Brody was compartmentalising or treating his life like they were two different Brody's or parts of his life that should never mingle together; e.g. his life/time with Delilah and the football and then Marlene and Willow/nursing home.
I need to feel or atleast read that the guy loves the heroine which didn't come across after the whole Willow POV thing, it was barely there before it but after it just sort of disappeared…maybe If we were given Brodys POV during the time he spent with Delilah it might have been different but most of their relationship is told from Delilah's POV so that was that. I would have liked some one on one time between H/h after Willows POV like discussing Delilah's past and what Brody actually thought of Willow coming back than just one word sentencing etc and them rarely communicating at all.
The epilogue was very cute though.
Wow this turned out to longer that I expected and it became a rant which I never wanted it to be and makes it sound like I hated the book, I didn't I guess I just didn't enjoy the direction it took. Anyhoo I did like the banter and the humor and I will read more from the author but I'll probably read the spoilers next time.
Related Posts