Short Review: Unbound by Sara Humphreys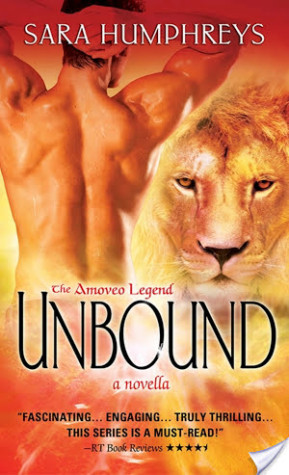 Unbound
by
Sara Humphreys
Series:
The Amoveo Legend
Published by
Sourcebooks, Inc.
on January 6th 2015
Genres:
Fantasy
,
Fiction
,
Paranormal
,
Romance
Pages:
128
Source:
Purchased
A new novella for fans who can't get enough of The Amoveo Legend.The forces that bind them can also tear them apart...Zachary McKenna is a warrior shapeshifter from the Lion Clan, trying to catch a break in the sun and surf of Mexico. Mai Tais and scantily clad beach beauties are just what he needs after his last battle. But the fun doesn't last long before a beautiful young woman is mugged on his doorstep and Zach is pulled right back into the fray.Zach has no idea of the danger Annabelle has unwittingly brought to his doorstep, until he discovers that losing her will almost certainly destroy him...
This is a novella in the Amoveo Legend series, this time it's Zachary Mackenna's turn to get his mate. This book quite short hence my review is short, I don't want to give away much.
Zachary has been a secondary character in the past couple of books I believe. He was injured in the previous book in the series and now is on a vacation in Mexico. He is a lion shifter and is part of the protection for the Amoveo royalty.
Annabelle is a physic who dreams of things yet to happen and her touch leads to memories of things that had happened (usually really bad ones). Annabelle is the daughter of Zachary's enemies, she wants no part of their life and is running for her life.
My thoughts:
People who are already aware this series know how the mate thing works but for those who don't here a short recap of the Amoveo world; There are ten clans of different shifters types in the Amoveo world and they are ruled by their prince. There existence is a secret to all humans apart from the two human families, one of them serves them and the other is their enemy. All the shifters have one mate. The shifters dream of their mate before ever even meeting them in real life and get to know them so that when they do meet they can bond and strengthen their powers. 
The story is essentially quite simple, its a enemies to lovers trope book but it was sweet and cute. Zachary and Annabelle met each other and instantly knew what they meant to each other and there was no looking back.
While I enjoyed it I really thought it was quite short and Zachary and Annabelle had known each other for not even more than few days before, I needed a bit more of connection/bonding or something. I just felt the story was missing something. We also had a few cameo's from the other couples in the series, which was good but again I wanted to know more about the protagonists. I was also left with a few questions after reading it View Spoiler »What about Zach's powers ? How would the blood of a vampire/demon affect somebody? « Hide Spoiler and I always want a definite ending for my book and the ending for this had a slight cliffhanger (not regards to them as a couple just their situation) though we will see them in the next book in the series because of it so I guess I will have to wait. 
While it was still a good edition to the series, it wasn't as great as I was hoping for it to be.
Any recommendations for shifter books I should try ? Let me know in the comment section.
Related Posts