✶Blog Tour✶ Review: Engagement and Espionage by Penny Reid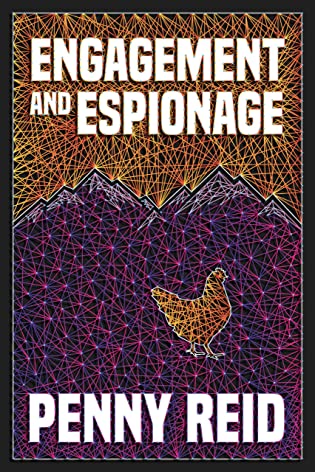 Engagement and Espionage
by
Penny Reid
Series:
Solving for Pie: Cletus and Jenn Mysteries Series #1
Published by
Cipher-Naught
on 14th July 2020
Genres:
Contemporary Romance
,
Cozy Mystery
Pages:
351
Format:
eARC
Source:
the Author
Buy on Amazon US
, 
Buy on Amazon UK
, 
Buy on Kobo
, 
Buy on itunes
, 
Buy on B&N
Jennifer Sylvester made her deal with the devil . . . and now they're engaged!
But all is not well in Green Valley. A chicken choker is on the loose, 61 dead birds most "fowl" need plucking, and no time remains for Jennifer and her devilish fiancé. Desperate to find a spare moment together, Jenn and Cletus's attempts to reconnect are thwarted by one seemingly coincidental disaster after another. It's not long before Cletus and Jenn see a pattern emerge and the truth becomes clear.Sabotage!Will an undercover mission unmask the culprit? Or are these love-birds totally plucked?
'Engagement and Espionage' is the first book in the Solving for Pie: Cletus and Jenn Mysteries series, is a full-length cozy mystery, and is a spin-off of Penny Reid's Winston Brothers series. This novel is best read after 'Beard Science,' Winston Brothers #3.
This takes place pretty much after Beard's Science epilogue. 
Beard Science is my favourite of the Winstons brothers series book and Cletus is my favourite Winston brother so I was pretty psyched to read this. I haven't read cozy mysteries before though, just mystery/thriller or romantic suspense so this was new subgenera to try out. 
In Engagement and Espionage we find Jenn Sylvester and Cletus Winston in a bit of a pickle. On the mystery aspect, someone is running amok in their small town, buying all the eggs, killing chickens, causing mayhem and trying to kill Jenn's mama ????  On the romance aspect, Cletus and Jenn are engaged well kinda. Cletus proposed and Jenn accepted and its been months now but they haven't talked about it. They haven't really gotten to spend time together lately.
Cletus was still my favourite part of this book even though the sparkle that he generally has is dimmed here.
I did enjoy this but I was pretty frustrated with Jenn, it felt like regardless of the progress she'd made in the Beard Science, she is now stuck in this new position. Things are slightly better but not overall. I just wanted to her to speak her mind and do something. Verbal abuse is still abuse, I was getting offended even if Jenn wasn't of how they talked about her. I think part my frustration is because when I finished reading Beard Science, Jenn had made decisions and was independent and I thought that was that. And reading the other books in the Winstons series, we move years and years past that. So now when we're back into the early stages, and due to my previous mentioned misconception relating to Jenn I wasn't expecting her to kinda slide back into her more passive role and overworking etc. I get its difficult to just change completely from who you were for years but perhaps I was just disappointed in her for not being more firm in her stance.
Cletus I thought was being very supportive and biting his tongue for Jenn so it made it even worse. He's trying his best to give her the time, even though it hurts him. I think they really needed to have a full open and frank discussion. Which they don't really have in Engagement and espionage. They really need one before they get married. I guess this is one of the cons of a series, things like these take time.
Also, View Spoiler »I don't know I didn't like the fact that Jenn took a break from a bakery (which came pretty late as well) not for herself, not for her relationship but for external reasons. Obviously it gave her the push needed but it left me with mixed emotions.  « Hide Spoiler
It was a bit predictable, especially the whole plot of how they go around finding the murderer. As soon as she suggested the idea of the plan I knew what was coming. 
I would have liked Jenn and Cletus to spend more time together, also there was just too much coitus interpertus happening. 
Regardless of above mentioned issues I did enjoy it and I'm looking froward to more Jenn and Cletus. If you're a fan of Cletus & Jenn and Penny Reid's then you don't want to miss this one!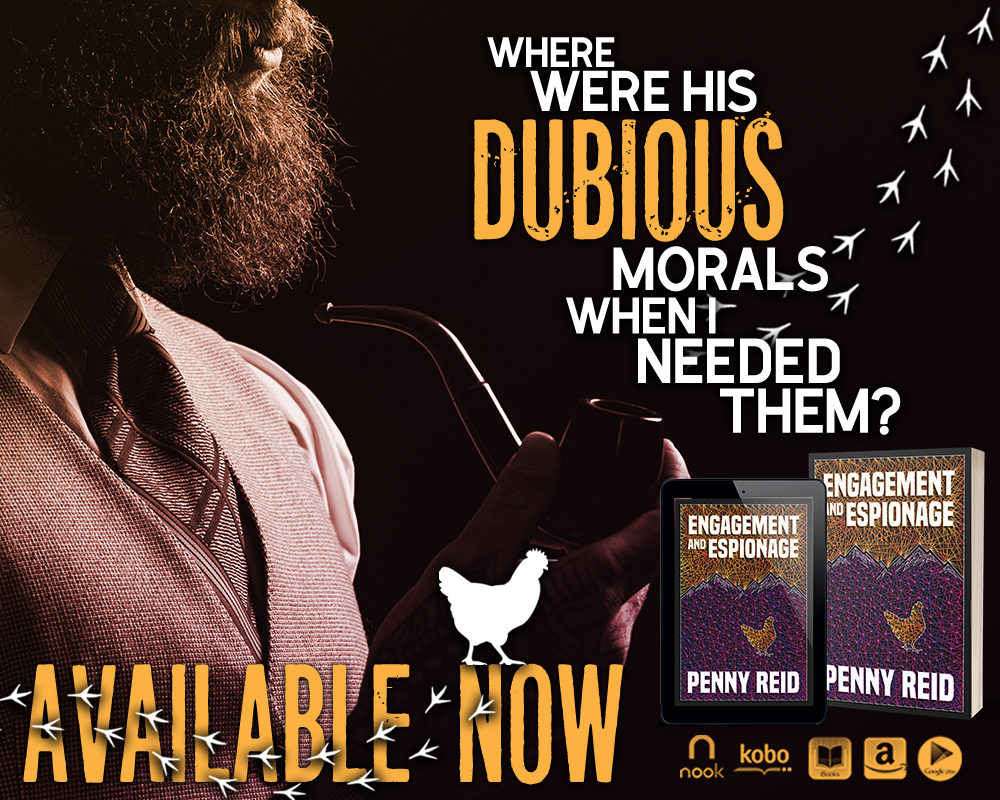 "Don't stop." She reached for my belt again, this time completely undoing it, the button of my pants, and my zipper at world-record speed.
Her phone buzzed. Then it chimed. Then it buzzed and chimed two more times. Then it rang again. Reba.
Cursing, Jenn pulled the phone from her pocket, once again her face illuminated, murderous rage in her eyes. Her finger moved to the power off button. She blinked, hesitating. Her eyes widened, her body stiffened, and she gasped.
"Cletus!"
Something about her tone, like she was horrified, and maybe a little afraid, cut through the heavy haze of lust inertia, and my hands stilled. Shaking myself, it took me a few moments to realize she was showing me the phone screen, and another few to bring the content of the text messages into focus.
Momma: Jennifer Anne Sylvester, pick up your phone. If you're with Cletus, I need his help. Please.
Momma: ALL THE CHICKENS AND ROOSTERS ARE DEAD! PICK UP YOUR DAMN PHONE!
Momma: I'm calling you in a second, pick up the phone. Mr. Badcock's chickens are dead. All of them. I got here and he's running around, deranged, yelling about his dead chickens! I called the police and they're on their way. Please, please, please pick up the phone!
At some point, I must've taken the phone from Jenn and stepped away, because I glanced up upon reading the messages for the third time, finding the phone in my hand and Jenn fixing her skirt.
"This is nuts." Her big eyes searched mine imploringly. "Who could have done this?"
I shook my head, having not yet managed to fully shift head gears—you know, from that head to the one on my neck—and my gaze dropped to the wet patch on the front of her dress just visible in the swath of light. My erection throbbed.
So we're . . . not having sex?
"Why? Why would they do it? And WHO?" She snatched her phone back, her tone bewildered, distracted, and distraught. She was distraught because of the dead chickens, like any normal person would be.
I was distraught also, but my distress had nothing to do with farm animals.
"We have to go." Jenn grabbed my hand and began walking toward the direction of the hall. Meanwhile, it took me until her hand found the door handle to realize my zipper and belt were still undone.
"This is crazy." She paused as I zipped up, her tone halting and distracted. "Poor Mr. Badcock. And those poor chickens." A sound of distress escaped her throat. "This is terrible."
It was terrible.
And I was going to hell.
Because all I could think was, Talk about a cock block.
Related Posts