Release Day and Review: Mayhem by Alexis Noelle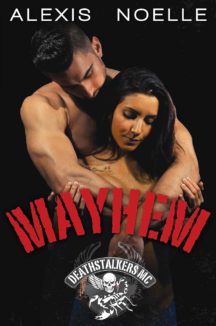 Mayhem
by
Alexis Noelle
on February 27, 2017
Genres:
MC Romance
,
Romance
,
Abuse
,
Dark
,
Family Life
Format:
eARC
Source:
Promotion Company
Buy on Amazon US
, 
Buy on Amazon UK
, 
Buy on Kobo
, 
Buy on B&N

I had to step up, take over,
Save her from herself,
From him.
A jerk who didn't deserve her.
But I sure as Hell don't either
She's too sweet, too soft, too kind.
A broken shell of the woman she once was.
But now, there's more on the line,
She's in too deep.
And I'll be damned if I ever give up
On putting her back together,
Piece-by-piece,
Owning every ounce of the woman,
Who stole my heart.
The fifth book in the Deathstalkers MC series is a book with lots of drama. It's good drama I will tell you now. Lots of crazy sh*t happens to the hero and heroine in a short amount of time. This novel is really fast paced and you can't stop turning the pages.
Mayhem tells the story of Jasmine (Jaz) Burke who is married- and in a horrible, horrible marriage- finding someone who can love the true her. Did I mention the horrible marriage? It's so bad. Our hero, Jason a.k.a. Cutter is taken by Jaz as soon as he meets her trying to apply as his assistant in a strip club. It's a weird start to their love, but it happens 😛
Jaz is really scarred.
Controlled by her husband for five years with no voice has really changed her ability to be independant. No decision in that time period has been her own and this book shows her finding her opinion a little by little. The  fast paced book so it seems like she gains a lot more control in her life very quickly. As she does, she finds support from the other old ladies who are freaking awesome, Lucky, Tracie and Nikki. I think showing that friendship grow was a great part of the book.
Finding this job to look after her and her husband was the one good thing Jaz had in her life. Though it cost her a tonne of pain (you'll have to read to understand what I mean 😛 ) the assistant position is her out from her hell. And I mean it is a true hell. What is described is so sickening, it is hard to think that that sort of abuse happens in our world behind closed doors. There are not enough words to describe the pain Jaz had to go through to get rid of her demons.
But Cutter was there all along to help her. Cutter was her rock from the beginning to the very end. He is so sweet to her and is willing to do anything to protect her, so he claims her for safety reasons ( and selfish reasons). He was a really sweet hero.
Now for The hard stuff…
I didn't really feel like Cutter was well developed, he could have had a back story. Dylan (the sadistic husband) was such a psycho I didn't like reading his parts. I also felt there was depth lacking in this book. But I am a huge critique of MC Romance since I've read what I consider the best books in this genre.
But having an open mind… it is a fun, fast paced read for any MC romance lovers. Give it a try, maybe you will love Mayhem and all it has to offer. 😛
4 stars 🙂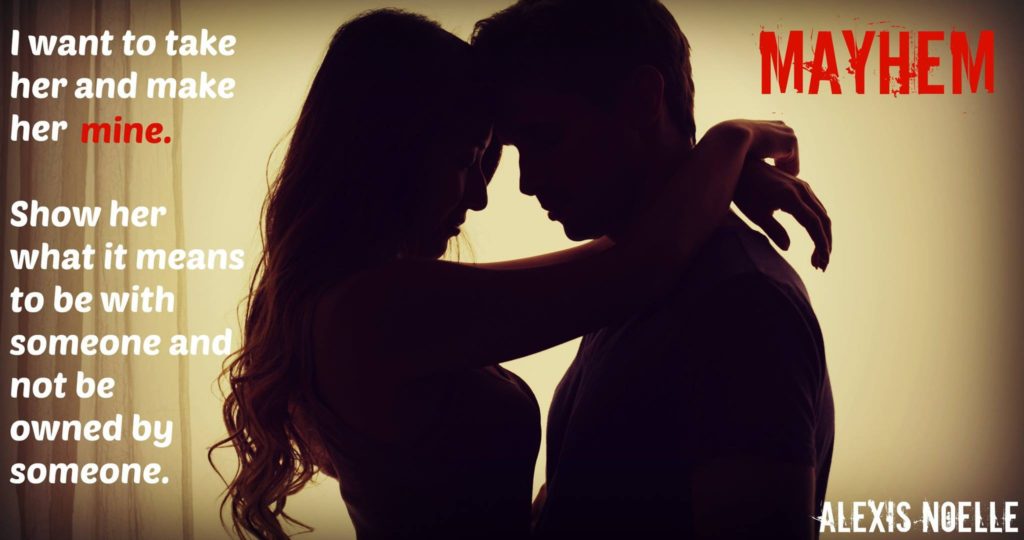 HOSTED BY:
Related Posts