Review: Defy by L.J. Shen

Defy (Sinners of Saint, #0.5)
by
L.J. Shen
Series:
Sinners of Saints #0.5
on January 31st 2017
Genres:
Contemporary Romance
,
Erotica
,
New Adult
,
Romance
Pages:
138
Format:
ARC
Source:
Promotion Company
Buy on Amazon US
, 
Buy on Amazon UK
Defy is a smutty, insta-love, insta-lust short novella. Defy is a prequel to Vicious (Sinners of Saint #1). It is recommended, but unnecessary, to read Defy before reading Vicious.
My name is Melody Greene, and I have a confession to make.
I slept with my student, a senior in high school.
Multiple times.
I had multiple orgasms.
In multiple positions.
I slept with my student and I enjoyed it.
I slept with my student and I'd do it all over again if I could turn back time.
My name is Melody Greene, and I got kicked out of my position as a teacher and did my walk of shame a la Cersei Lannister from the principal's office, minutes after said principal threatened to call the cops on me.
My name is Melody Greene, and I did something bad because it made me feel good.
Here is why it was totally worth it.
Hot. Super steamy goodness. That pretty much explains everything in this Sinners of Saints novella.
Defy follows Melody Greene and her forbidden relationship with her student Jaime Followhill after she hit his SUV.  Jaime Followhill is one of the four Hotholes, Todos Santos's most arrogant and spoilt men. The novella is the story of how they met and how Jaime became Meoldy's anchor. It's short, sweet and beautiful.
"I was a flower and he was a rare sunray, and we were drawn to each other, reluctantly, unwittingly, disastrously. Every cell in my body sizzled, begging for his touch"
In this novella, I feel like there wasn't enough story. It is a novella, so it's impossible to compare it to a full novel. However, what you are left feeling though is a want. No. Even a craving really. A craving for more. For more sweet and sensible Jaime, and more crazy Melody.
"It was wrong.
It was wrong, and I'd be lying if I said I didn't like how wrong it felt.
Whether I was corrupting or being corrupted… I loved how it made me feel"
That being said, for such a small book, I think the characters are developed well in Defy.
Jaime Followhill, from the second you meet him in the book, you want to eat him alive. He is sexy and dangerous. He pushes Ms Greene with his flirtatious remarks and suggestive looks. And just to top it off he loooves to dirty talk, it will make you blush. It's hot to imagine the tension in the classroom. Jaime is commanding in both his school and of your attention as you read Defy.
"I know what you want, Ms Greene. You want to come undone. I'll make you come. And with me, you'll never be done."
He's stalkerish it's true, but he can totally get away with it because of who he is and how good looking he is. And Meoldy Greene does not care one bit about this quirk. I mean seriously, the amount of stalking he did is worrying, yet you can't help but think "nawww sweet". He's so bad, but so damn adorable. I wish we got more of his POV. However, this was Melody's story.
"You were the perfect sin to commit, Melody. Begging to be taken. Untouched by the rest of Todos Santos's posing and entitlement. I got hooked. From that day on, I followed you everywhere like an eager puppy"
Melody Greene is a disaster. Well she has had a huge disaster happen to her, ruining her dream to get into Juilliard and become a prima ballerina. So she ends up an English Lit teacher and despises it. Her life is a mess, and she's wallowing in self pity at the beginning of the book.  You really can't help but feel sorry for her at the beginning.
"Anger, humiliation, and self-loathing coated every inch of my soul, creating a film of desperation I was desperate to scratch away.
Rock. Meet. Bottom."
But as the novella progresses, you see she is witty, smart and beautiful as she comes out of her shell with Jaime. It makes Jaime even sweeter for being able to bring that side of her out. He really does make her better and isn't that what you do to the people you love? You can see he lives for her, even though they try to keep it casual.
"You're it. You're so. Fucking. It. Smart, sassy and witty, and unimpressed with all the wealth and bullshit drama around you. You have no idea how hot you are. Which makes you even hotter. This is fucking happening, baby. We're happening."
Their love is beautiful and special and definitely theirs. It may have been forbidden at the beginning, but you can see they truly do fit together. It's that sort of love and mechanics of a relationship we all love to read about. It was an enjoyable ride to go with as Melody steers forbidden waters.
"He was driving me crazy… but I was driving him wild."
And not to mention we get some sweet Vicious in there as a youngin'. I mean, who doesn't want to read that. 😛
4.5 stars!!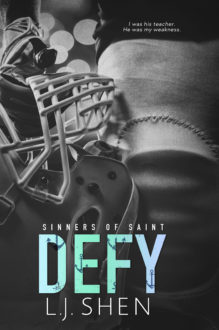 Related Posts